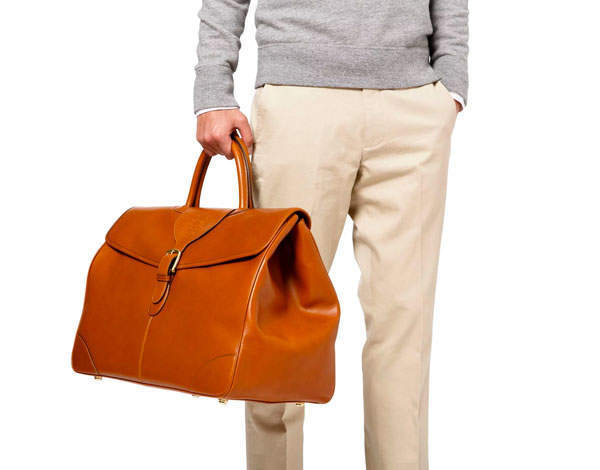 I came upon an extraordinary statistic the other day: one in five luxury handbags sold today turns out to be a man bag. When one thinks of the startling contribution that the sales of women's handbags makes to the great big luxury conglomerates (Chanel, Dior, Louis Vuitton et al), it seems almost inconceivable that today men are not as far behind as one might think.
Last year, according to Bain & Co, 5.9 million luxury man bags were sold, whereas women's sales reached 25.6 million, and altogether the chaps spent some $6 billion on these receptacles. Women, we are aware, have a strange addiction to cute little containers for their daily essentials and seem psychologically to need to possess an enormous number of their kind, but that men are catching up in this arena has taken me somewhat by surprise. And perhaps more critically, it is interesting that they are prepared to spend far more per bag than their female counterparts.
Man bags, in case you're wondering, are not exactly the same as a briefcase, though they seem to perform a similar function — and then some. Consulting some of my more sartorially sophisticated male friends, I discover that the traditional briefcase is seen less and less — 'Only,' said one well-connected banker, 'in the hands of a retro West End solicitor or an etiolated private banker.' He himself travels frequently to Geneva and finds that most of his fellow business travellers have a wheelie-bag and a rucksack.
One of the effects of the ubiquitous use of the rucksack is that designers have put their talents to devising luxe versions, with some, such as Santiago Gonzalez, even making them in mind-bogglingly expensive crocodile. Bottega Veneta, that über-luxe Italian house, does a wondrously soft one using its woven intrecciato leather technique (£1,740), while Lotuff has a version so beautifully pared down that it would look as much at home in the boardroom as in the pub (£925).
My banker friend, too, has swapped his bespoke boxy Tanner Krolle briefcase for a rucksack to deal with the commute to Geneva, as well as for when he cycles in London, like many others. But, crucially, it comes from a cult traditional Japanese maker, Yoshida Kaban (yoshidakaban.com, mrporter.com). 'It's in softest calf leather, is beautifully made, has no surplus pockets, is understated and free from superfluous adornments,' he croons. When he's not on his bike, he doesn't wear it on his back but slings it across one shoulder.
Given the rise of the popularity of the man bag, it's no surprise that there are now more players in the arena than ever before. Although Smythson mostly purveys traditional (and finely made) briefcases, it has produced its rather neat-looking Reporter Bag (£650), which enters into man bag territory.
Troubadour is a newish brand started by ex-City workers who tried to find 'a functional, thoughtfully designed bag that would transition seamlessly between work and play. Eventually we realised the only way we were going to find our "ideal bag" would be to make it ourselves,' says Samuel Bail, one of its founders. Thus began what they call the Troubadour journey.
First, they decided overtly logoed bags weren't appropriate in the boardroom — too flashy, too gauche. A pared-down aesthetic using only finest quality leather in brown, black and navy was the route to go. They developed their own zippers and hardware because too often, they believed, bags were let down by poor-quality brassware. And finally, based around their own needs, they created special features for businessmen and travellers — magnetic passport holder flaps, interior pockets for easy access to currency and travel documents.
The result is a wonderfully modern looking collection — the leathers are so soft that even the briefcase is divested of its usual stiffness and formality, yet the quality shines through. Prices range from £975 for a briefcase to £1,225 for the Rucksack and £1,275 for the Weekender.
For those who like to be ahead of the pack and to sport a little-known label, unrecognised by hoi polloi, it's worth noting that the American brand Ghurka (sic) is now selling some of its wares exclusively at Fortnum & Mason. It has a wide selection which includes, rather splendidly, an Officer's Field Set consisting of a picnic table, two field chairs, a green wool blanket, two pillows and a picnic umbrella (essential kit for the British summer?). But there are eminently appealing man bags too, some made more traditionally from leather but others from the green wool used for Gurkha uniform jackets and lined in red. Check out its Editor, a combination of green twill and leather, which comes with a shoulder strap. Also worth noting is its Tilbury III, a splendidly retro design, reminding one of nothing so much as the grand old days of travel when steamers crossed the ocean and motoring was in its heyday.
At Berluti, which started off making exquisite bespoke shoes, there is now a whole range of matching leather accessories and among them you will find what it calls its 'Jour Après Jour' bag, a splendidly practical receptacle inspired by the utilitarian bags worn by American messengers and which can be worn across the torso for when cycling or on one shoulder when not. Its Venezia Scritto leather, subtly etched with calligraphy, also features the Berluti patina — but the bags aren't cheap at £2,120 a time.
Bill Amberg, too, does a splendid messenger bag made from a combination of what he calls 'tumbled leather and soft nubuck'. It's a fine-looking design with solid brass fittings and is practical as well, having a good sturdy shoulder strap (£410).
For those who mind about status, though, it's interesting that quite often there is an inverted snobbery at work. In the days when Concorde used to run, it was illuminating to check the carry-on bags on show. There, among the coolest of bags, were the ones from those laid-back east-coast stores — LL Bean or Lands' End; an erstwhile chief executive of Goldman Sachs was world-renowned for his battered bag from LL Bean.
Another very senior City figure (now moved on) of my acquaintance always used a bashed-about leather British Rail antique postman's bag with 'British Rail' stamped across it. He loved it not because he was perverse, but because it was as tough as old boots and held all the papers he could ever need.
But, of course, the very smartest bags of all are the ones that money alone can never buy. Each year the conveners of TED, that achingly hip gathering of the world's coolest cats, commissions a special canvas number, and that carries a prestige which nothing from Bottega Veneta or Loro Piana can match. Also nearly as cool are the ones issued by their Munich rival DLD (Digital Life Design). Man bags may be big on the runways, but in real life knowing which is the one for you is an infinitely subtle matter.
Style File
In time for summer, JM Weston, a quintessentially French cobbler, has launched a lightweight version of its iconic 180 moccasin. The idea behind Le Moc' is an insouciant, informal loafer for summer, mostly worn without socks. Its nine different colours range from daring turquoise and orange to more sober browns and blacks. £390. jmweston.fr
Trunk in Chiltern Street is one of my favourite menswear stores. It's small but the collection is brilliantly edited, carefully straddling the line between fashion and tradition. So when Trunk starts selling Hedon helmets, one has to believe they're special. They are the brainchild of Lindsay and Reginald (they seem to go by their Christian names alone), who embarked on a mission to 'rethink the urban rider's protective headgear'. The result is the Hedonist helmet, available in a variety of colours. £299. trunkclothiers.com, hedon.com
It's worth checking out Raey, Matches Fashion's lines for both men and women. For men the look is pared-down yet refined, a capsule collection of clothing for the off duty. The collection is 'modern classics with a sporty feel'. I like best its cashmere and wool charcoal grey overcoat (£695), but it also has raglan-sleeved cashmere-blend sweatshirts (£400). It's all very cool, very contemporary and perfect for weekends. matchesfashion.com