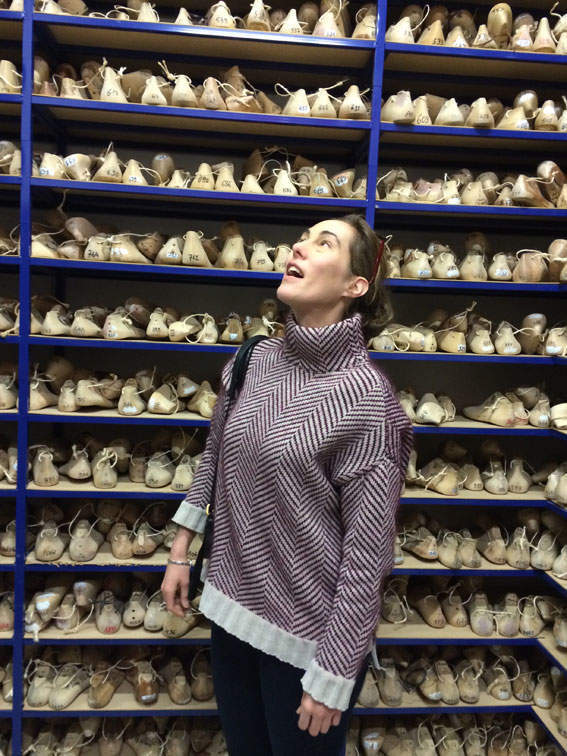 It was Monsieur Legris' idea to invite me into his secret world. John Lobb, in the Ninth Arrondissement, were allowing him to choose the colour of the leather for his new walking boots and he thought I might like to visit the inner sanctum.
Only 600 pairs of bespoke shoes are produced in a year, each requiring more than 50 hours of craftsmanship from the first mock-up to the final product – and that's once your last has been chiselled from hornbeam. Such a shoe will set you back around €5,000, but as I was led through the workroom at 32 Rue de Mogador by the director, Patrick Verdillon, I got a sense of the skill, love and attention from seven craftsmen that goes into each pair.
Forget Louboutin: Lobb has been doing a crimson sole for at least a hundred years. And as for originality of style, you can create any design of your choosing. Monsieur Verdillon shows me antique pairs of shoes and explains how fashion revolves even after hundreds of years; indeed, the thigh-high leather boot or top boot with the tan cuff comes from an eighteenth-century design.
Lobb and Hermès have the same leather supplier so you can be sure it is of the highest quality. I imagine the cows abide in a Tuscan field, are massaged daily and made to drink coconut water while listening to the Marriage of Figaro, conducted by George Solti.
I was shown classic brogues with a twist, a pair of men's evening shoes with red leather lips sewn on the front and a pair of ladies' hunting boots which were so beautiful I just wanted to cradle them in my arms.
The first mock-up of a Lobb shoe is made in a less noble leather; a considerable amount of work has gone into this so it's disconcerting to see its leather promptly slashed and sections removed to research the stress of the foot on the shoe. The whole shoe is then made again and the prototype discarded.
Monsieur Verdillon told me I should be discreet as he showed me through the front office, but I couldn't help noticing some recognisable names written on the side of the purple boxes awaiting shipment. Shoes were bound for Moscow, Milan and China, as well as the Emirates; there were a few counts, two sultans and a Hollywood film star.
I was also told about a client who once ordered his shoes in the same skin of his bespoke luxury car interior, while another ordered four pairs of sandals in two different colours with the request that they be delivered in June to coincide with the delivery of his yacht (complete with Hermès leather interior).
John Lobb himself is an intriguing figure – a Cornishman who in the 1850s followed a gold rush to Australia but, having found no gold, became a successful boot-maker to fortune-hunters. (He designing boots with hollow heels so that nuggets of gold could be stored within.)
He was awarded a Royal Warrant and set up shop in 1866 in St James's keeping the well-heeled, well, well-heeled. As his fame grew, a second shop was opened on 47 Rue du Faubourg Saint-Honoré, just a few door away from Hermès. (Hermès today produces John Lobb ready-to-wear shoes.)
As a special treat in the Rue de Mogador, I am taken downstairs and shown into a room where thousands of wooden lasts are stacked right up to the twenty-foot-high ceiling. I ask Monsieur Verdillon what happens if a client dies: do you send them back? 'Yes, if it's been requested and it certainly has in the past.' I find that notion rather quaint and poetically respectful.
Monsieur Verdillon then leads me to another room where an impressive stock of hides are layered. I can spot crocodile and ostrich among hundreds of layers of leather; the aroma lingers in the air, can be breathed it. What an indulgence it must be to have such beautiful shoes made especially for you. Perhaps if I play my cards right, Monsieur Legris might indulge me with those to-die-for riding boots.
Over coffee in the salon, Monsieur Legris plumps for a deep Burgundy leather from a thick pad of swatches. You don't get this service at Russell and Bromley.
Read more on luxury from Spear's
Follow Melinda on Twitter @melhugsopera