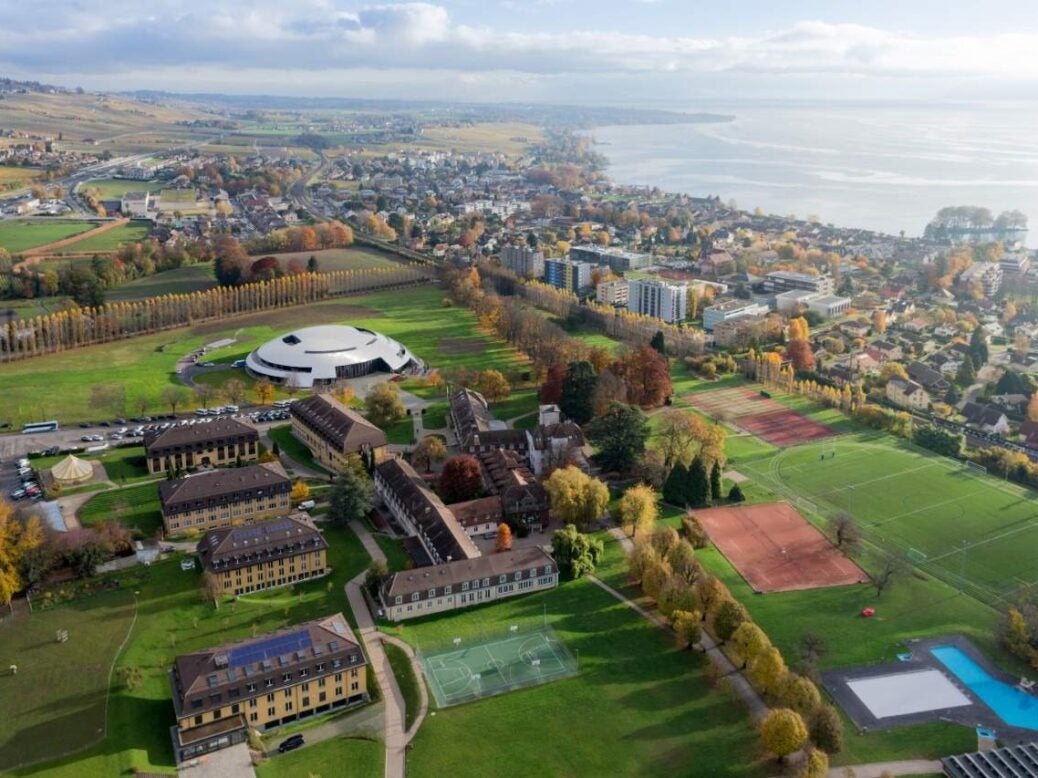 A roll call of Le Rosey's illustrious alumni reads like a guest list for the most exclusive ambassadorial reception ever held. The kind where anyone whose name isn't on the list is not merely turned away, but escorted from the premises by close protection officers who accessorise their bespoke suits with an earpiece and semi-automatic weapon.
They're all there: leading lights from the entertainment industry, finance, shipping, fashion, society, politics – and royalty galore. So many blue-bloods, in fact, that Institut Le Rosey, to give the Swiss boarding school its full name, is known as the 'school of kings'. King Juan Carlos of Spain, King Fuad II of Egypt and King Albert II of Belgium were all students. As were Prince Rainier of Monaco, the Duke of Kent, the Shah of Iran, the Aga Khan and Princess Marie-Chantal of Greece – not to mention her sisters Pia Getty and Alexandra von Furstenberg.
>Take the new 'super-rich' personality test
Then there's French hedgie Arki Busson; a grandson of Winston Churchill; Dodi Al Fayed; Rothschilds and Rockefellers, Radziwills and Metternichs, as well as members of the du Pont and Niarchos clans. John Lennon's son Sean is an ancien Roséen, as are offspring of Diana Ross, Elizabeth Taylor and – somewhat surprisingly – two members of indie rock band the Strokes.
The cost of educating one's son or daughter at Le Rosey is around $130,000 per year. That makes its fees the most expensive in the world; two and a half times those of Eton, which has provided Britain with 20 of its prime ministers.
Then again, Le Rosey claims to be the only school in the world with two campuses. One (as shown main image) is at Le Rolle on the edge of Lake Geneva and boasts two swimming pools, tennis courts, a school yacht, shooting range, an equestrian centre, and a recently completed £40 million concert hall, which resembles a spacecraft and has hosted the Royal Philharmonic Orchestra. But each year, for the winter term, the entire school decamps to Gstaad. Here, students take a large chunk of each afternoon off to ski, with some hurtling through gates as they hone their racing skills.
> The 100 best private schools in the world, according to the Spear's Schools Index
For Pankaj and Radhika Oswal, however, this was not the school's chief appeal. Having lived in Australia for a decade and sold a £360 million stake in Pankaj's fertiliser business, the Indian-born couple left the country after a dispute with ANZ bank (for which they reportedly received a £120 million settlement in 2016).
They then spent several years living between New York and Dubai but, Radhika tells Spear's, she wanted 'stability' for her two daughters. 'We were looking for a very prestigious school,' she adds.
The facilities at Le Rosey were impressive, but it was the ratio of 150 teachers to 420 pupils that impressed her most. She also noted that 'they said they took very seriously verbal and emotional abuse'. The fees were reassuringly expensive, too.
> A day in the life of Rosenberg school in 2023
'What you are paying is like $500 per night,' says Radhika. 'It's like staying at a Four Seasons hotel, so we were hoping for care like that.' Sure enough, when they toured the Lake Geneva campus in 2012, 'it all seemed perfect'. However, the Oswals' relationship with Le Rosey has soured.
The couple now allege that their younger daughter was the victim of bullying and that the school's management and staff failed to deal with the problem.
The Oswals, whose fortune is estimated at £1.5 billion, have begun legal proceedings against Le Rosey and expect a trial to take place in a Swiss courtroom this summer.
Standards at the school, they claim, 'have dropped in recent years, and it is now fast becoming a playground for rich students to do as they please'. According to the Oswals, the mocking and taunting of their younger daughter – then aged 14 – led to panic attacks and insomnia.
On 6 March 2019, while the school was based at its Gstaad campus, the child (whom Spear's has decided not to name) called her mother in floods of tears.
'It burst my heart to feel I couldn't help her,' says Radhika. 'I didn't know who to call or what to do.'
Eventually Pankaj, Radhika and their elder daughter got in the family's Bentley and drove an hour and a half from their home near Lausanne to console her. They eventually left at around midnight.
***
One of the idiosyncrasies of Le Rosey is its management and ownership structure. The 'director' of the school is Christophe Gudin, a former McKinsey management consultant who began to take over – from his father Philippe – in 2014 when he was just 28.
Christophe's sister Marie-Noelle also works at the school, as did his mother Anne. Since the Gudins became owners of the school in 1980, there have been several married couples on the teaching and boarding staff.
According to former pupil Ekaterina Barkho, this imbues Le Rosey with a close-knit 'family environment' that binds alumni together long after they have left. She recently went to a fellow ancienne Roséenne's wedding, which was also attended by former teachers.
'I literally burst into tears because I hadn't seen them for 12 years,' she says. 'One of Le Rosey's things is that it is "a school for life" and that, in a nutshell, explains the whole environment really well.'
On graduation, Le Rosey alumni gain access to a private online portal with the contact details of almost every other living former pupil – a network that, ordinarily, money could not buy. It has been noted that the school's no-donations policy has the dual benefit of preventing the wrong sort of people from muscling their way in, and of keeping alumni events from feeling like cynical exercises in fundraising.
Barkho, who now runs a project management agency, attended Le Rosey's junior and senior school from 1996 until 2007 and remembers being invited to the Gudins' off-campus family home for weekends.
She spent time with Christophe while he was around the age of 18 and would occasionally take short rides on his motorcycle in the grounds of the home. 'He was always really responsible and serious as a young guy,' she says. 'This is not one of those situations where it's a family business and so that's just how it goes. He really is a perfect fit for the job.'
During his time working under Philippe Gudin, Peter Inson, a former head of English, says 'the school was very good at dealing with the parents', even if there were some who 'could be a little awkward at times'.
'The thing about the people who are very seriously wealthy is that they are used to getting their own way,' he adds. 'That's not always good for their children, or for the schools that they have to attend.'
>Unwanted membership: what is the FATF grey list and black list?
Following their late-night trip to the Gstaad campus in March 2019, Pankaj and Radhika Oswal met a senior Le Rosey master, Rob Gray, in Le Rolle. The meeting, in which the Oswals say they asked for a more thorough investigation of their daughter's treatment, did not progress smoothly and ended after voices were raised.
Soon afterwards, the Oswals say, they received a letter cancelling their daughter's re-enrolment for the next academic year. 'I'm not mincing my words,' says Radhika. 'She has been thrown out. She has been expelled.'
It is especially galling, Radhika adds, since until the family raised a complaint her daughter had always been awarded the maximum score of three 'eagles' on her report card, signifying good school spirit.
In a summary of their legal argument seen by Spear's, the Oswals allege that even after leaving Le Rosey their daughter was subject to bullying via WhatsApp messages and other social media. They hope that one consequence of their legal action will be to set a precedent for cyber-bullying law in Switzerland and have vowed to donate any money they receive to be donated to anti-bullying charities.
>A behind the scenes look at theatre investment
In a statement to Spear's, Le Rosey said that, following the Oswals' allegations, the school began an investigation 'to determine the facts, which seemed to be a banal short dispute between teenagers'.
'Unfortunately,' the statement continues, 'the family then declined to cooperate, stopped all communication and hired lawyers, and later on public relations advisors […]. The parents' behaviour unfortunately led to an inevitable departure of their daughter.'
The school noted the couple's previous experiences of legal disputes and said: 'We look forward to having this issue resolved in court and continuing our 140-year-old mission of educating students from more than 60 countries in the Swiss values of respect and mutual understanding in order to build a strong and united community.'
Le Rosey says the safety of students is its 'top priority' and there are 'clear policies in place regarding conduct'. 'Yes, there was bullying, but then bullying happens everywhere,' says a former Le Rosey pupil from the North of England who left the school after little more than a term. 'I remember always being served school dinner over your left shoulder, like in a fine dining restaurant. I didn't fit in. But boarding schools everywhere are just hardcore.'
***
Merely being rich doesn't make Le Rosey students more likely to boast or victimise others, says Ekaterina Barkho: 'What's the point of bragging when everyone's from the same kind of background?'
But, she adds, 'there are brats everywhere' and 'when you're talking about high-net-worth individuals, big, big money also sometimes brings issues as well'. The vast majority of disputes between parents and private schools are settled long before they reach court, says Dominic Carman, author of Heads Up, a book about the challenges facing headteachers at England's leading schools.
'Invariably, the potential damage to a school's reputation, combined with the high level of legal costs when defending an action, act as strong deterrent factors.'
But, in this case, that seems an unlikely outcome. 'I want to make it easier for parents who don't have the means, like we do,' says Radhika Oswal. 'I want to go all the way.'
Main image credit: Iwan Baan
This piece first appeared in issue 74 of Spear's magazine. Click here to buy and subscribe
For a comprehensive list of the world's top schools, visit the Spear's 500.
Originally published online 26 Aug 2020
Read more
The Spear's Schools Index reveals the 100 leading private schools in the world
In search of Eton's 'general, total failures'
The Charities Aid Foundation: 'Covid-19 has been a huge shock to the charitable sector'
Dame Steve Shirley CH on Zoom, philanthropy and her upcoming biopic