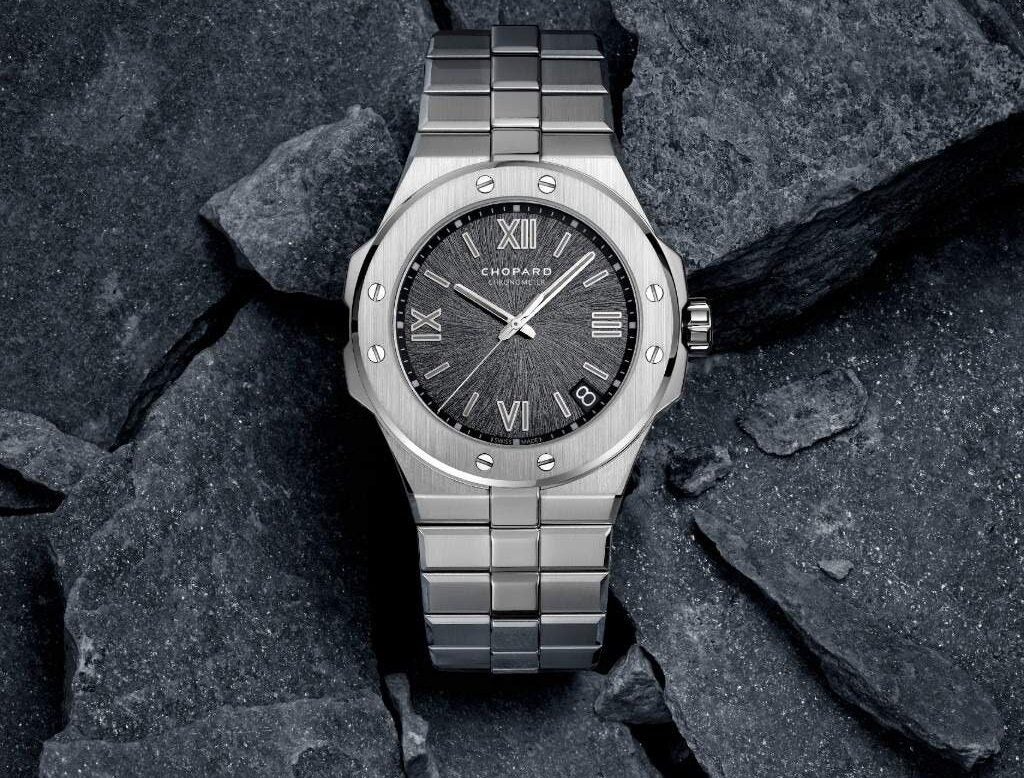 Forget precious metals – in the world of luxury watches, steel is where it's at, writes Timothy Barber
In watches right now, all that glitters is steel. You might reasonably imagine ultimate prestige to be attached to models made from the rarest and most precious metals, as was always the case. But, as with so much else in the world, the watch market has ipped on its axis, and steel bracelet-bound sports watches from the world's most exalted brands are so searingly hot as to have become a new asset class, and one appreciating at dizzying rates.
For instance, examples of Patek Philippe's classic automatic steel watch, the Nautilus 5711, are trading at £62,000-£85,000 on the secondary market. To buy one direct from Patek Philippe would cost you just £23,440 – which, until a couple of years ago, would have been perfectly possible.
Now, however, demand is so strong that stories abound of ve-year waiting lists, with stiff deposits and a history of previous purchases required just to get you that far. Similarly, don't expect to see Rolex's Daytona chronograph in a shop any time soon – when models come in, they're going directly to clients who've been on years-long waiting lists. Well done, though, if you managed to get in there when the latest Daytona version came out in 2016 – officially sold at £9,550, it's going for more than £21,000 in the aftermarket.
Hot metal
In fact, Rolex's entire 'Professional' collection of steel tool watches (the Submariner, Explorer, GMT-Master II) has become borderline unobtainable – some retailers I've spoken to aren't even accepting deposits, since supply is so limited that they don't know whether they'll ever be able to fulfil waiting lists years from now.
A friend bought Audemars Piguet's steel Royal Oak (the classic 39mm 'Jumbo' version) for a bit over £12,000 six years ago; as I write this, he's wrestling with whether to sell it on for £37,000.Sound like a bubble? Maybe – and amid such volatility, brands are sticking to their policy of almost ridiculously restricted supply. After all, they each maintain that gold watches are their primary market, and where brand equity still lies.
However, hyper-demand for these rare, storied steel classics does reflect the general move away from fancy finery to more urban, rugged and adaptable styles; it's also helping drive wider demand through the roof. I'm told that 70 per cent of the luxury watch market by volume is now steel-on-bracelet, wherever you fall on the price scale. Can't wait for a Nautilus or a Royal Oak? Try a steel Overseas from Vacheron Constantin, or a Laureato from Girard-Perregaux. Rolex out of reach? Cartier, Tudor and TAG Heuer have credible alternatives.
A family-owned brand with 159 years in the watch biz, probably better-known now for its high jewellery and red-carpet ubiquity, Chopard's watch collections have tended to have the aura of things made for the older gent, though things were not always that way. In the Eighties, its St Moritz watch was a steel (or gold) bracelet number in the best tradition of the Royal Oak and Nautilus, with case and bracelet integrated into a seamless whole. Designed with the jet set in mind (the kind who'd summer at the Alpine resort of the same name), this bestseller only faded from view in 2005.
Return of the saint
Chopard's new entry into the steel bracelet market is a kind of reimagining of the St Moritz for the modern era – bigger and glossier, it seems like an amalgam of a few popular modern designs (Hublot's Classic Fusion and Patek's Nautilus in particular).
Time will tell whether it is distinct enough to be as signi cant a hit as the St Moritz, but Chopard is expecting big things. It's launching it in both men's and women's sizes (41mm and 36mm), and in several versions, including steel and rose-gold styles. And it's given it a name that is, at the very least, attention-grabbing. World, meet the Chopard Alpine Eagle.
Perhaps the most interesting feature, however, is the manufacture of the cases, made from a kind of recycled steel that Chopard spent four years developing with a German-based foundry. Created through a re-smelting process, the resulting material, Lucent Steel A223, has a few interesting characteristics. According to Chopard, its hypoallergenic properties are comparable to surgical steel, it's harder than conventional steel, and has fewer impurities. The finish and sheen on the watches, which are all machined and polished in-house by Chopard, is very fine. The brand is probably prepared for the idea that some will see it as bandwagon-jumping, but the quality of work is very high.
I do wonder a bit whether anyone will say with a straight face that they have an Alpine Eagle on their wrist. But then, you could really have said the same about 'Royal Oak' – and just look how those are doing.
Read more