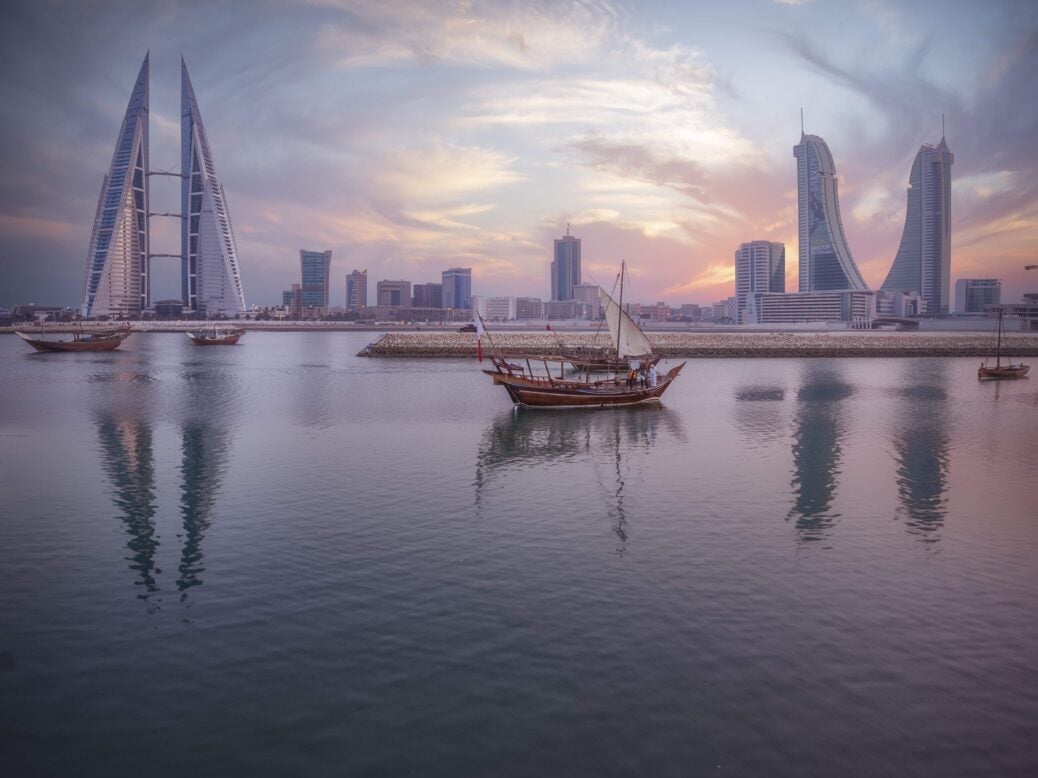 The Gulf state hopes its pearl-diving history can boost its tourism – but is it ready for its big launch, asks Damien Gabet
One of the best TV adverts of the Nineties was for mortgage lender Cheltenham & Gloucester. The scene is of a boy free-diving into the sea from a small sail boat. He slips past a gang of men in old copper-and-canvas diving suits, beating one of them to a huge oyster. Safely back aboard, he opens the bivalve to find an illuminated and implausibly large pearl. I'm not sure why I found that ad so compelling.
The idea of corkscrewing, seal-like, through water to an Enya-style backing track stuck with me, though. Throughout my childhood I was obsessed with trying to swim underwater for as long as possible. I did the full 50 metres of Droitwich Spa lido once – nearly finished me off. Little did I know then, I was in training.
Bahrain has begun offering visitors the chance to plunge into its past by taking part in its new pearl diving activity. Participants board either a traditional dhow or speedboat and head for offshore oyster hotspots, where they rubber up and dive in (by snorkel or scuba, depending on the depth), aiming to fill their net with as many molluscs as possible.The activity arrives with a bedfellow.
Bahrain's (not yet finished) Pearling Trail is a Unesco World Heritage site that comprises 17 buildings, a shoreline (near the majestic Bahrain Fort, also under the aegis of Unesco) and three oyster beds, all connected by a purpose-made pathway. Guests are invited to take the 3.5km walk and immerse themselves in what was once Bahrain's raison d'être. The view of the kingdom's contribution from afar is that of oil, money and the twain's bastard child, Formula One. That prejudice, hitherto, has not been unfounded. But it wasn't always so.
This sandy brooch on the Gulf has a history dating back 5,000 years, when a thriving Dilmun polity cultivated a trade centre. Bahrain's star commodity was its milk-white pearls – or 'fish eyes' – harvested by hand and lung from the temperate, brackish waters around the island. Market dominance was maintained all the way to the beginning of the 20th century. It was then that fashion's demands outweighed supply (only one oyster in 10,000 breeds bling), bringing them to the brink of extinction.
Enter Kokichi Mikimoto and his invention of the cultured pearl. Henceforth Japan produced perfectly round, nacreous orbs. The timing of the British (with their interwar thirst for hydrocarbons) was impeccable. As the island's sure thing nosedived, it made a slick segue to oil – the first Gulf state to do so.
Nearly a century on, Bahrain is diversifying again, with the foreknowledge that oil's glimmer is fading. Tourism and tech are the tenets of its new aspirations, and the former is working hard to channel its iridescent past.
On the day of the dive, I was driven to a small port at Amwaj, a man-made archipelago studded with glass-and-steel monoliths created to lodge the surfeit of expats here to make tax-free green. Onboard I was immediately delighted with our captain: tall, handsome and quite hilarious; painfully honest too; a swarthy Sacha Baron-Cohen. He and I were joined by a threesome of alacritous Indian actors, invited along because of their Insta-influencer credentials.
The prospect of a treasure hunt had us all in high spirits. Our dive site, however, was a sad place. On three sides, the view was of half-built towers with twice as many cranes. The sea had the ashen pallor of a burnt-out banker, and a dull day above didn't help its hue. Things weren't much better underwater: the coral was largely dead, owing, apparently, to over trawling – and of course climate change.
All that notwithstanding, the activity itself was fun. There was no copper-clad competition to deal with, but holding my breath long enough to find oysters was a challenge engaging enough to spend a happy hour yo-yoing in Bahrain's own natural lido.
Far horizons
It transpired I'd been taken to this ailing spot because of my tight schedule. Captain Cohen was keen to impress that further afield – around the rather lovely Al Dar Island, particularly – there are dive sites that honour pamphlet pledges: kaleidoscopic coral, abundant sea life and, of course, lots of oysters. Owing to how damning he'd been of our current location, I was inclined to believe him.Back at Amwaj, we opened our oysters. Alas, no back-lit, gobstopper-sized prize.
What happened next, though, formed the best part of my trip. The diving company's boss and I sat talking for a while until the subject moved to dhow boats, the timber vessels that once kept the industry afloat. We jumped in his Land Rover and made for a dhow-building boatyard near the Fishermen's Port in Muharraq. I was permitted to jump, climb and admire. That these vast, anachronistic barques are still being made at all is remarkable; by hand, even more so.
The next day I walked the Pearling Trail. In principle, Unesco's endorsement is sound: this is purportedly the world's only complete fossil of the natural pearl industry. But with building work still in progress when I visited, and finished elements looking somewhat unsympathetic, its enjoyment factor remains in question. (It did, however, subsequently win the 2019 Aga Khan Award for Architecture.) Calls to prayer and the smell in the air of exotic cooking and oud remind you that this remains a working neighbourhood.
And yet the streets, alleyways and houses were deserted. Eerily so. While this actually served to amp the atmosphere, my immersion was somewhat spoilt by reminders of modernity: gypsum-wash walls decorated with rusting air-conditioning units and exposed electrical wires. If you ignore the Mitsubishis, though, modest murals and occasional ornate plasterwork are worthy of quiet admiration.
Sea change
There are various stopping points on the path that aim to tell the industry's story, of seaman and merchants working and living together, on land and sea, cheek by jowl. One house (or majlis) I visited once belonged to a dhow captain called Nukhidhah. The building's design was elegant, though minimalistic enough to make the most austere Scandi design look cluttered. Curious visitors will hanker for greater detail – the brand-new visitor centre is where to get it. Bahrain's attractions – including the aforementioned fort – can and should be enjoyed over a long weekend. As with the diving, the Pearling Trail merits the benefit of the doubt, but its success will rest on the vim and savvy of your guide. I'd ask for Ali G.
Damien Gabet is a travel and lifestyle writer
This piece first appeared in issue 71 of Spear's magazine. Click here to buy and subscribe.
Read more