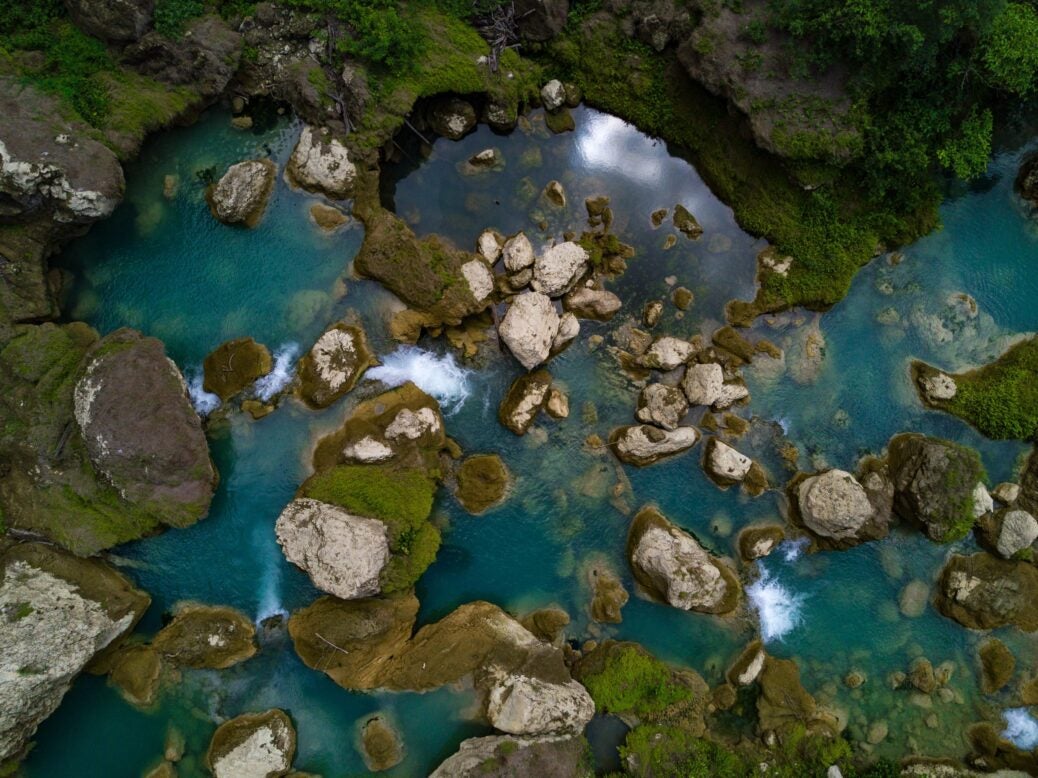 You'll come for the luxury – but it's the big heart of this Indonesian retreat that makes Nihi Sumba unforgettable, writes Max Johnson
It was the beginning of a journey into the wilderness that would leave both me and my girlfriend Gabriela in awe and, as it happened, freshly wrapped in the bonds of holy matrimony. I had proposed several days earlier, and since we were heading to Nihi Sumba, Travel + Leisure's no.1 hotel in the world for two years in row, getting married there as well seemed like an excellent idea – even if it did only give them five days to organise everything. Sumba Island (or Pulau Sumba, as it is known in Indonesia) lies in the province of East Nusa Tenggara, Indonesia.
After landing, it's a two-hour drive cross-country to the South-West coast to Nihi Sumba. You really do feel like you are at the frontier of Asia.
Sumba has been colloquially known as the 'forgotten island' – perhaps a reference to how mainstream tourists spend more time on Bali or the Gili Islands, Komodo or Lombok. But for a select few, Sumba has always been a place of mesmerising beauty steeped in the kind, proud culture of the local Sumbanese.
It was also where, in 1988, free-spirited couple Claude and Petra Graves, found a surfer's paradise. Over many years, stone by stone, with no electricity – and getting malaria more times than they could remember – Claude and Petra built Nihiwatu (as it was first known).
Things have changed a bit since then. American businessman Chris Burch teamed up with James McBride, taking over the hotel in 2012, and rebranding it Nihi Sumba.
It is a supremely luxurious, eco-friendly resort, with food, service and villas of the highest standard. There are outdoor bathtubs and showers, plunge pools, and a hilltop yoga pavilion. I loved the effortless way the villas hide from each other, yet all have a beautiful view of the ocean. Even the limit of 10 people at a time on the legendary wave 'Occy's left' (which you need to book, by the way) preserves both Nihi's surfing roots, and also a level of peace and calm that pervades the whole resort.
For us, the most luxurious part of our stay was being surrounded by nature. Standing on that wide, rolling beach – the horses taking an evening bath, the waves rolling in and a local fisherman casting a line out for his supper – was nourishment for the soul.
Most of the staff at Nihi Sumba are local Sumbanese, and they tend to you with the utmost care and sincerity. Every small detail is taken care of without fuss.
For our wedding, there was a huge effort made to ensure everything went perfectly. Frangipani flowers were carefully threaded together to make a bridal crown and, when my fiancé was overcome by a feeling of sadness that her friends were not with her as she got ready for the ceremony, she was warmly hugged by the girls, who told her, 'We are your girlfriends and we love you'. To call it 'service' is an understatement. It was more than that: it was sharing an intense desire to make you happy.
Sumbanese culture is extremely rich, and has survived through the centuries. A striking sight on the island is that of the traditional houses with their high-pitched vertical rooves, used for storing grains and food (known as uma mbatangu).
Although Indonesia has the largest Muslim population in the world, most of the 700,000 inhabitants of Sumba are actually Marapu, an animist religion, with the rest being Catholic, Christian, and then a small number of Muslims.
Claude realised early on that he felt a deep and fundamental responsibility to the people of Sumba. Malaria, malnutrition and water scarcity are just some of the harsh daily realities facing the villages. The Sumba Foundation is partly funded by the resort, along with generous donations from around the world. Its water, health and economic projects cover a 164 kmsq area in West Sumba, and the four health clinics it has built have reduced malaria infection rates by 85 per cent, while it has developed more than 60 water wells and 240 water stations, and feeds 1,300 school children across 16 primary schools every day.
The Foundation is making a huge difference to the quality of life for the people, and the hotel is the number one employer on the island. It's effecting positive change.
There is never a lack of things to do at Nihi Sumba. One morning we went stand-up paddleboarding on the Wanukaka river, and horseback riding through the surf the next. Nihi Oka is an idyllic spa set on a dramatic clifftop, a decent hike away from the main resort. Guests can enjoy a full-day 'spa safari' trekking through the jungle, followed by a range of treatments while perched on the edge of the sea, listening to the sound of the waves. For the more active, there is a stable on the resort housing ponies, and each October British Polo Day comes to Sumba, with teams flying in from around the world to celebrate polo and raise funds for the Foundation.
James and Chris have a vision for Nihi Sumba, and it's an exciting one: Creating a paradise where luxury experiences sustainably support the environment and communities of the island. It is a harmonious relationship which brings like-minded people together.
One of the most enjoyable nights was the Foundation dinner. Kenny Knickerbocker has known James for years, and now, as GM of the Foundation, he spoke to us all about the work they do.
We had to see for ourselves, and so got up early the next morning to visit a malaria clinic. There was a line of at least 30 people outside, some holding babies, others lying down, resting from the walk there. Some were there to be tested, others were waiting for results; all would be getting vital treatment from this vicious, debilitating disease. Plaques on the wall paid thanks to sponsors.
One guest was so moved by the work, she now comes and offers free dentistry services each year to the villagers. Most hotels you simply visit; a few you really experience. Almost none do you forge an emotional bond with – but Nihi Sumba is definitely a place that stays with you, long after you've left.
Rates range from $795 for a one-bedroom villa, and from $5,995 per night for a three-bedroom estate. nihi.com
This article first appeared in the Spear's Travel Guide 2019
Read more