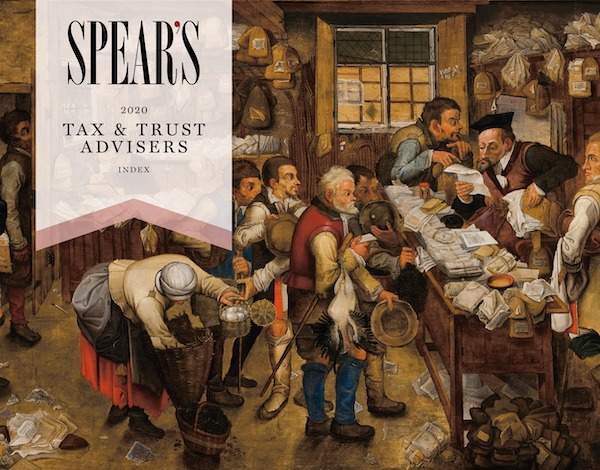 Each year the Spear's Research Unit updates its index of leading Tax & Trust advisers with data supplied by firms, peer-reviews, in-depth research and dozens of interviews. Here, we profile our top recommended private client accountants 
Distinguished individual
Firm size: International
Focus: Estates, non-doms
'The accountancy world over the last 20 years has become more automated,' says Ben Grist. 'Where you can add value for clients is areas like tax, because everyone feels very personal about tax.' Add value he does. Grist has become a general adviser for HNW clients, on everything from simple filings to estate planning and more complex questions.
'I like it because it means you're dealing directly with clients,' he says. 'You start off just talking about taxes, and that brings in lots of questions about how families work, how wealth gets passed down… You go above and beyond the technical question of "what's my tax bill?". And that's what I love to do, speak to real people.'
Distinguished individual
Firm size: International
Focus: UK tax & offshore
Mark Harris qualified in 1985, became a tax partner at Rawlinson & Hunter in 1996 and now commands expertise in domicile and residence, estate planning, personal taxation, trusts and foundations, and wealth reporting. As well as covering all elements of UK tax affecting private and entrepreneurial clients, Harris also oversees the progress of the firm's offices in Bermuda and the British Virgin Islands as chairman of the international grouping of Rawlinson & Hunter offices.
Although it has a significant corporate services department, the firm is predominantly a private client practice. 'It permeates everything we do,' Harris previously told Spear's.
Distinguished individual
Firm size: UK
Focus: High-growth clients, property
'I understand that being an owner manager can be an isolating task,' Jeff Hartstone tells Spear's. 'I act as a sounding board for clients' worries, queries and ambitions, fostering trust and loyalty. Absolute trust and confidentiality are key.' Hartstone is one of BKL's longest-standing partners, with more than 30 years' experience in the private client world.
He has served as managing partner and senior partner. 'I've helped to lead the firm through many economic changes and ambitious periods of growth,' he says. He has a treasure trove of insights to help his clients, who are made up of high-growth clients, largely from the real estate world.
Outstanding in field
Firm size: Boutique
Focus: International private clients
'I act for a range of high and ultra-high net worth UK and international clients,' says James Heathcote.
He started the specialised Private Client Advisory department at Lancaster Knox in 2019, 'with few clients, but big ambitions to create a dynamic and differentiated offering'.
Heathcote has advised 'some of the largest, most influential and most recognisable names in the private client world', ranging from business owners to landed estates. Many of his clients come from bigger firms, seeking a more tailored and director-led approach.
'We've far exceeded all our expectations,' he says of the department, adding that it is on track to expand in 2021 and enjoy 'a really strong second year'.
Outstanding in field
Firm size: UK
Focus: Entrepreneurs & sports stars
Rawlinson & Hunter partner Paul Huggins counts everyone from hedge fund managers to Formula One racers as clients, whom he gives 'specific bespoke advice' on a broad range of tax matters. A specialist in the UK's statutory residence test, remittance basis users and the taxation of 'mixed funds', he heads up the firm's London department and its employment solutions team.
'My strongest attribute is being able to translate complex advice into simple material that a client can digest,' says Huggins. He aims for 'simplicity and clarity' when advising clients – no mean feat given the UK's 'incredibly complex' tax system, which is 'changing on a fairly regular basis'.
Distinguished individual
Firm size: UK
Focus: Global families
'I place great emphasis on getting to know what each family needs and what will be appropriate and flexible for them in the future,' says Caroline Le Jeune in her mission statement. She has overseen succession planning advisory at BDO and specialised in chartered tax advisory at PwC for a decade.
A qualified solicitor, she joined Blick Rothenberg in 2014, where she now focuses on international families. Le Jeune helps HNWs structure offshore assets and find the best tax jurisdictions should the need to move arise. Her specialisms include onshore and offshore trusts, tax issues that arise from separation, divorce and family disputes, as well as intergenerational planning.
Distinguished individual
firm size: International
Focus: IHT, CGT & renewable energy entrepreneurs
The personable and engaging David Mellor believes the tax code is overdue a major simplification. 'I try hard to avoid jargon,' he states. 'We are dealing with complicated things. Clients have really got to understand what we are suggesting, getting to grips with it rather than just being accepting of the advice.'
Mellor has an acute understanding of what clients appreciate when it comes to achieving their objectives. This approach helps with complex issues in taxation, where he works especially on inheritance and capital gains tax, corporate tax and VAT. He is also an expert in advising renewable energy businesses operating in the UK.
Distinguished individual
Firm size: UK
Focus: Estate planning
A partner in Smith & Williamson's private client tax services Birmingham outpost, Julia Rosenbloom has been busy guiding clients through the twists and turns of recent months. A non-practising solicitor, she covers both corporate and personal tax perspectives on matters including tax, intergenerational wealth planning and property structuring. 'There's lots of interesting things happening in the tax world at the moment, lots of upcoming changes,' she says of the current landscape. Rosenbloom's practice is decidedly non-prescriptive. 'You have to get into a client's shoes and understand how they want to work,' she says.
Distinguished individual
Firm size: UK
Focus: Technology entrepreneurs
Nimesh Shah, 38, took the reins as CEO of Blick Rothenberg earlier this year, but seems undaunted by the task ahead of him at the 600-person firm. He tells Spear's that one of his aims is to continue building relationships with entrepreneurs, many of whom come from the tech sector and work with Blick Rothenberg all the way from the start-up stage of their business through to a successful exit.
Another aim is to use technology to make processes easier for clients. 'But,' he warns, 'I don't want us to become robots. The core of Blick Rothenberg is that we are a private client firm.' That means personal interaction and relationships are crucial.
Distinguished individual
Firm size: UK
Focus: Philanthropy, trusts & succession planning
Highly regarded among the Spear's network, Chris Shepard has looked after the tax affairs of families with both inherited and newly acquired wealth for 30 years. A partner at Smith & Williamson since 1996, Shepard often deals with probate matters and estate and tax planning. He also specialises in matters relating to trusts, philanthropy, succession planning and wills.
One question he often faces is at what point the children of an HNW client should receive their inheritance. 'It is a question of giving them enough to take responsibility, but not too much that they completely go off the rails and become dependent,' he has previously said.
Distinguished individual
Firm size: UK
Focus: Tax, mediation, succession planning
Daniel Sopher doesn't mince his words. 'Tax is going up; things are becoming tougher,' he says. With 'big changes in capital gains tax and inheritance tax' on the horizon as a result of Covid-19, he is braced for the challenge.
Sopher, who has been running Sopher + Co since 2014, wields formidable expertise in advising owner-managed businesses, entrepreneurs and HNW individuals and families. Things are also becoming more transparent, he notes: 'People are now having to deal with extra compliance issues, more disclosure for their company to their client base, and things like that.' Offshore financial centres, meanwhile, are trying to compete to see who is 'whiter than white'.
Distinguished individual
Firm size: UK
Focus: Complex structures
Lisa Spearman has described her approach to her work as 'about making complex issues easy to understand'. It's not as simple a proposition as one might assume, given her field is full of complicated detail.
But with more than 30 years' experience, Spearman, who has been a partner at Mercer & Hole since 2003, understands the fundamentals of client service. Spearman advises HNWs on all tax matters and leads the firm's specialised team focused on UK non-doms. 'We don't blind people with science,' she has told Spear's. 'What clients need to understand is what the issue is for them and the options available for solving it – and the pros and cons of each.
Distinguished individual
Firm size: UK
Focus: Non-doms, trusts
James Walker joined haysmacintyre as a private client tax partner in late 2019 from Buzzacott. He began his career in the Channel Islands, working in the tax teams of two fiduciary services companies and qualifying as both a chartered accountant and chartered tax adviser.
Walker has specific knowledge of how the UK taxes non-UK domiciled HNWs, offshore trust/ company structures and related beneficiaries. 'My clients tend to have wealth they'd like to ensure is available for their future generations, which can involve the use of "offshore" structures and complex planning to marry up financial and personal goals,' he says.
Outstanding in field
Firm size: International
Focus: Global family governance
Wendy Walton is one of BDO's key figures, having climbed the ranks since starting as a trainee. 'I decided I wanted to be a partner almost immediately,' she says. At first her role was focused on UK individuals and families; today, international HNWs with complex tax affairs make up most of her client base.
Her strategy is 'to consider what the client wants to achieve and then work through a plan of how to get there, considering the tax implications along the way'. She now sits as the head of BDO's global private client services. Walton's main mission is quite simple: to 'help HNWs succeed'. Her method is building long-term relationships and 'bringing new ideas to the table'.
Distinguished individual
Firm size: International
Focus: US/UK matters & FATCA reporting
Iain Younger's practice covers 'a full range of issues' concerning private clients with 'proactive, planning-based' advice based upon 'a clear understanding of their goals for themselves and their families'. Younger joined Frank Hirth in 2000 and has established and built the trust and estates service within its private client offering.
He joined the board of directors in 2016 and covers numerous areas of US and UK taxation and offers specialist advice relating to FATCA reporting. He is also a trustee of NPT-Transatlantic, which deals with effective charitable giving for US and UK-connected individuals and families.
More from the Spear's tax and Trust Index:
The Spear's Tax & Trust Advisers Index