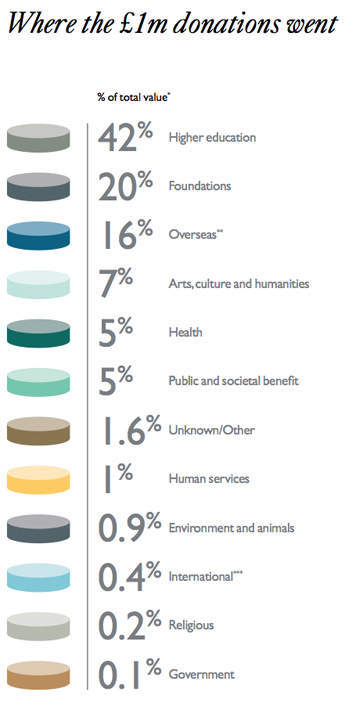 The number and value of million-pound philanthropic donations in the UK rose to a post-crisis high in 2012, with 197 gifts totalling £1.35 billion. The average gift rose from 2010/11 too, going from £5.3 million to £6.9 million.
The Coutts Million Dollar Donors Report, which looked at global philanthropy (previous reports have been UK-centric), found that the US had significantly more million-dollar donations than other regions: $14 billion in America, compared to $1.2 billion in China, $877 million in Hong Kong, $727 million in the GCC and $239 million in Russia.
The research found that 42 per cent of the UK gifts, or £570 million, went to universities, while 7 per cent went to promote arts and culture and 5 per cent to health causes (results pictured below).
Read more on university donations from Spear's
According to the report, universities were often the preferred destination of big donations because of their credibility and because they were able to spend such large sums of money on a number of different activities, including scholarships and research. In addition, the government's matched-funding programme for higher education institutions, which ran between 2008 and 2011, seems to have convinced philanthropists to focus on universities.
The report also found that philanthropy is changing in the UK, with philanthropists increasingly working together, partly to compensate the fact that government funding to charities is decreasing. While the state is still the second largest supporter of charities, with £14.2 billion given in 2012, its funding has fallen as part of its deficit-reduction plan.
Impact investing is also on the rise, the report said, adding that the UK is one of the leading countries in the world where individuals give money to generate a social and environmental impact and to get a financial return at the same time.
Read more on philanthropy and the Sunday Times Rich List from Spear's
Results around the world were similar. Like in the UK, most million-dollar donations in the six regions went to universities, with 37 per cent going to higher education institutions in 2012, for a total of $7.1 billion. Foundations followed at $2.9 billion.
According to the report, foundations were the largest donors of million-dollar gifts in four out of the six regions, as philanthropists were increasingly establishing organisations to make their charity efforts more efficient.
However, while foundations gave more million-dollar donations, individuals gave more money than foundations and corporations: 46 per cent of the $19 billion donated across the six regions. This, the report suggests, is because foundations give smaller donations to a larger number of charities, whereas individuals give larger one-off donations, often to support their own foundations.
Donors tended to support organisations in their home country, with overseas gifts accounting for just 5.6 percent of the total value of donations. However, this was not the case in the GCC, where 71 per cent of million-dollar donations went abroad.