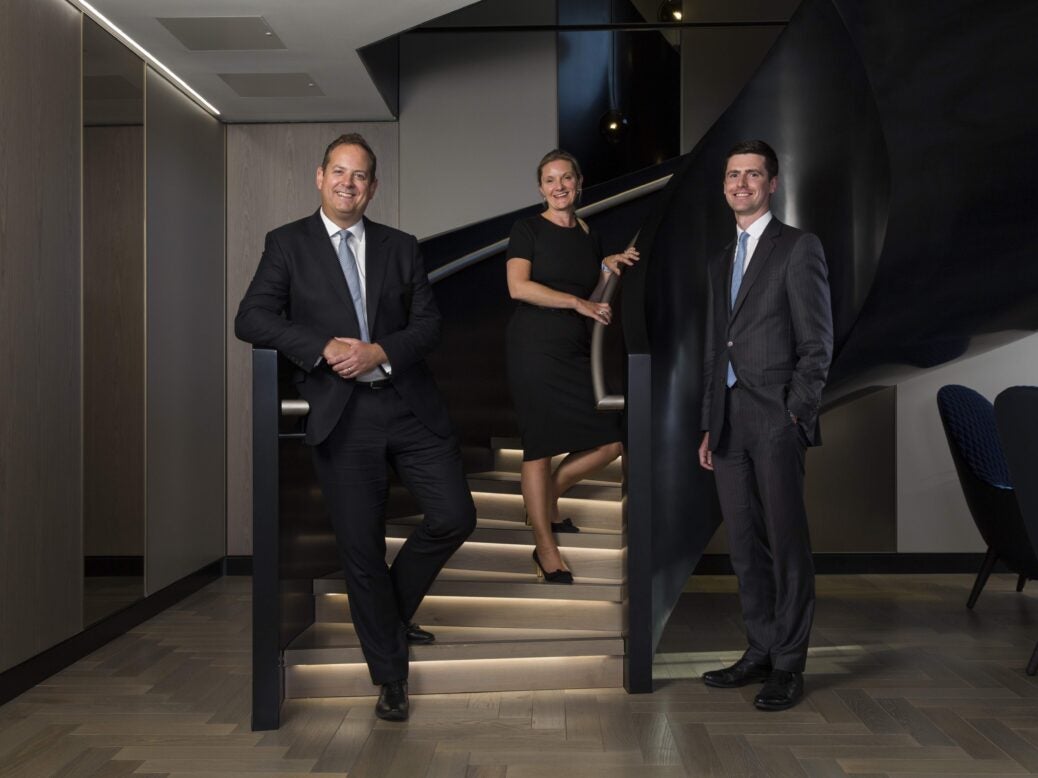 HSBC Private Banking's collaborative culture creates 'a virtuous loop'. By Rasika Sittamparam
'It's been a phenomenal 12 months,' enthuses Peter Barriscale, who leads HSBC Private Banking's team of advisers overseeing more than $7 billion of HNW assets. Its growth trajectory has been significant in 2019: it is surpassing industry benchmarks in terms of growth in new clients, AUM and revenue.

HSBC Private Banking's Peter Barriscale, Kirsty Moore and Nicholas Dudley-Hammatt. Photography by David Harrison
'To give you a sense of what we expect of the business,' he says, 'we are looking to double the size of the HNW arm over the next four years.'
Speaking from the group's Cork Street office in Mayfair, Barriscale emphasises how valuable skillsets are being incorporated into HSBC Private Banking, thanks to a hiring process that has recently recruited not just relationship managers but also investment specialists, financial planners and locally based support staff to catalyse its regional expansion.
'It's a strategic investment in enormous intellectual capital,' says Rebecca Boardman, who leads the private bank's outfits across the North of England and Scotland. 'The relationship management team now has representation in every city in the North. They are at the heart of the client relationship, working very closely alongside a team of investment counsellors, financial planners and credit specialists – some of the best talent and experience in the market.'
The idea is to equalise the quality of HNW advice across HSBC Private Banking locations – which many banks fail to do, notes desk head and managing director Kirsty Moore. 'They will probably have some light-touch regional model,' she says, 'but ours absolutely follows – it's really important to recognise that regional clients can get the benefits of everything that we can provide in London.'
On the ground in East Anglia is Nicholas Dudley-Hammatt, an HNW relationship manager who was on the shortlist in the Future Leader in Private Client category at the 2018 Spear's Wealth Management Awards. He says the regional outreach strategy also links clients across the UK to HSBC Group's global investment portfolio, across a network of 66 markets in six regions. 'That's quite a powerful differentiator,' he says.
Furthermore, HSBC Private Banking's alternative assets expertise is 'the jewel in the crown', he says. 'We're 10 years into the bull market – the pool of public companies has shrunk,' he says, adding that to find value HNWs are scouring the private equity space. 'The trick to the industry is due diligence and not just finding the right managers, but then accessing them and building relationships. In a crowded market you're looking for standout players – we can certainly help with that.'
Open culture
Despite the enormity of HSBC Private Banking's operations, Barriscale is proud of the culture it espouses, which goes back to Europe-Asia trade in 1865. It enables advisers to have a closer understanding of individual needs. He believes that if discussions start with a financial planning motive, solutions fall into place naturally.
Very few private banks focus on the emotional journey of the entrepreneur
'We aim to lead with some really good conversations around what their wealth means to them and their family,' he says. 'Lots of private banks would talk about the mechanics of managing wealth and investing. That's great, we can do that as well. But very few focus on the emotional journey of the entrepreneur as well – what does the wealth mean for the family, what can the client do for the rest of their life, for example.'
One key adviser is Craig Jones, a senior relationship manager who spells out HSBC Private Banking's personal approach to client relationships. 'HSBC is not just a bank or a wealth manager,' he explains. 'My passion is about building a relationship to the point that I fully understand the goals, objectives and wider philosophy of my client's attitude to wealth.'
The nature of Jones's clientmanager dynamic sometimes involves challenging an HNW's position: 'That is what a true adviser is there to do – only by doing this can you develop the trust and confidence of the client, which is the bedrock of any professional relationship.'
Kirsty Moore is proud of the bank's leadership in attending to female clients (women are projected to inherit 60 per cent of global wealth in the next five years). HSBC's partnership with AllBright, a women-only members' club, in support of its 'pitch days' is symbolic. 'We mentor entrepreneurs who pitch in the room,' she says. This leads to relationships, which open up HSBC Group to them.
Shared wisdom
The bank organises private wealth networking and exit planning events across a spectrum of clients. Around the country, clients are brought together from a range of fields, from technology to luxury and farming, to share their experience and knowledge.
'We've had significant success in helping owners navigate what can be a tricky pathway when converting capital within a business into personal wealth,' says Boardman of HSBC Private Banking's transition service. 'Given that HSBC has helped business owners nurture, grow and scale up, it is only right that we have a team from the private bank on the ground, ready to continue the conversations.'
Barriscale says a standout moment this year was when a client of HSBC's Corporate Bank who was interested in finding out about how he might exit his business was invited by Craig Jones to attend an ownership transition event. The event prompted the client to make a strategic decision about the future of the business. 'We planted the seed and the client decided that he wanted to sell some of the business,' he says. 'Given the group's strong connectivity, our investment banking arm stepped in to help value the business and manage the sale, which the owners were very pleased with. The owners then decided they wanted us to manage their wealth.
'You get that virtuous loop,' adds Barriscale. 'It is a brilliant example of how, when you get all the different component parts of HSBC Group working together, how powerful it can be.'
Related