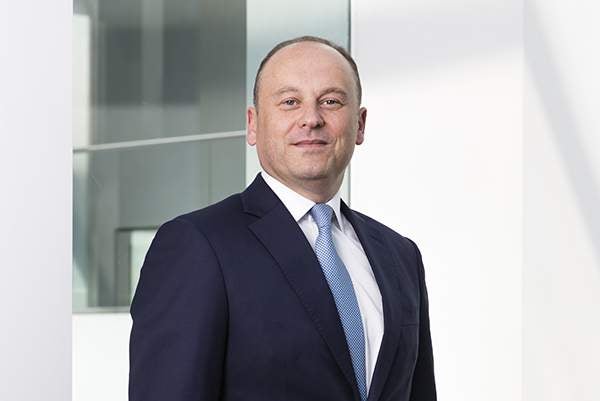 The global financial crisis ensured private banking would have to change drastically. Christopher Allen, CEO of HSBC Private Bank, is one leader intent on moulding a more modern, transparent and digital-friendly industry, writes Christopher Silvester
The landscape of private banking has changed enormously since the global financial crisis hit the world's banking system. There has been a heightened focus on regulation, and the whole understanding of client documentation – 'know your client', or KYC – has been transformed. Transparency and sales suitability are now the order of the day.
'The UK has led the way globally on sales suitability and the framework that goes around that over the last six or seven years,' says Christopher Allen, who has been the CEO of HSBC Private Bank since 2012. 'It's a constant evolution.'
The impact of technology on private banking should be far more of a concern, Allen believes. 'The demand for digital capabilities going forward is the big challenge for our industry. From the crossover between what you provide digitally, almost as a commoditised service, at what point does the added value of human interaction come into play?
'Ten years ago the relationship manager was front and centre of the private banking relationship,' he says. 'Today that model has changed. One person cannot be everything to the client, because of the way the regulatory environment has changed. So we build a team around the client – there's the investment counsellor and the credit adviser, but you might have a wealth planner or a real estate specialist or a hedge fund specialist. If there is a turnover of personnel, it's only one member of a team.'
While the industry has faced relatively high levels of staff turnover in the past decade, Allen says HSBC Private Bank has 'invested heavily in making sure we have strength in depth and a talent pool of individuals'. This is especially important because 'as clients get larger [in net worth terms], it's seven years before there's absolute trust on both sides and at all levels'.
HSBC has fewer clients in the private bank than six years ago. It focuses on 34 key markets, but 80 per cent of its UK clients are resident here in the UK, although that includes non-doms. 'Because of the global connectivity of HSBC we're a natural home for international clients coming to the UK,' says Allen. 'They'll often have a touch point in Hong Kong, Singapore, Saudi Arabia, New York or wherever it might be. We're able to give better service and ensure that client needs are met, because we're doing it for fewer clients.' Smaller also means 'safer as far as the regulator is concerned'.
HSBC's footprint in Europe comprises six centres: UK and the Channel Islands, France and Germany, Switzerland and Luxembourg. 'French and German clients are really embedded within HSBC in both those countries, largely domestic businesses. What we're doing there is more of the same that we've done in the UK… If you look at our other key core markets, obviously the UK is a fundamentally important area for us. The Middle East is another very important region for HSBC, and the majority of our Middle Eastern clients will also hold assets in Switzerland, London or Guernsey. So it's just allowing us to be more efficient; just making the footprint smaller makes it easier to manage.'
Allen was born in Manchester in 1969. His father worked as an accountant, assisted by his mother. He read land economics at the University of Sheffield and qualified as a chartered surveyor. He spent the first 12 years of his career in property – eight years on the institutional side and the last four on the private client side. 'I started advising an HNW and his family trust and he introduced me to others. I loved it, because while institutions will invest because they have to and they are allocators, private clients do it because they have a passion and take a different view.'
He was then approached to work in the Middle East by United Bank of Kuwait (now known as Ahli United Bank). His role was to advise wealthy clients who wanted to buy real estate and other investment assets around the world. He gained more exposure to private clients and put together some joint ventures between the bank's clients and a couple of asset managers in Asia, Hong Kong and Singapore.
Allen joined HSBC in 2007, just before the financial crisis. The group had an alternative investment business that was focused on hedge funds and private equity, but it hadn't really made it work on the real estate side.
Photo credit: Pixabay
'In some ways it was the perfect time to start,' he says, 'partly because a lot of our clients hadn't been active in real estate investing with us, so as the crisis unfolded we were relatively untarnished and didn't have to explain away historic deals that hadn't worked as well as anticipated. There were interesting buying opportunities, a lot of distressed selling, and our track record was clean.'
He served as global head of real estate for HSBC Alternative Investments for three and a half years, before being asked to take over alternative investments in toto. This gave him a broader exposure to the HSBC group, with its two home markets of Hong Kong and UK, and in early 2012 he was made CEO of HSBC Private Bank.
'We have a huge focus on entrepreneurs and business owners,' he says. 'A vast number of those will already have a relationship with our commercial bank… Over the last two or three years, 70 per cent of new clients to the private bank in the UK have been introduced to us by the retail bank or the commercial bank.'
A huge part of what HSBC Private Bank does is related to family governance and succession planning, particularly in Hong Kong and the UK. 'We've just advised a family who started a business 17 years ago with a loan of £100,000 and recently sold 70 per cent for several hundred million pounds. They've built it up from scratch and didn't want to let it go completely, but the most important thing for the husband-and-wife founders was that they wanted absolute guarantees in place for the employees. Using colleagues in the investment bank, we handled the sale. We hold the client's hand throughout the whole process. One of the best things we've done is we've brought clients together, business owners, and put them with people who've been through the process.'
Although HSBC Private Bank has an entry level of $5 million of investible wealth, entry-level discretionary investment is not what most clients are looking for. 'Rather it is the advisory side, where we can do bespoke portfolios or bespoke access or an Asia-only portfolio. Just the ability to do global cash management for families in whatever currency you happen to be holding – that's not straightforward to do yourself. That's the bread-and-butter business that HSBC grew up doing as a commercial organisation.'
For UHNWs, the overriding factor is HSBC group's international footprint. 'One of the questions we get asked a lot, particularly out of the Middle East but also by some of our larger US and European clients, is: "How can you connect me to Asia?" A Middle Eastern client who wanted access to Asia came over to Hong Kong with all his family advisers and we showcased what HSBC in Asia can do, which is remarkable, whether it's the China story or the ASEAN story or the Belt and Road Initiative with China investing in trade links. HSBC started as a trade bank, so the heritage we bring to bear is an important element.'
Philanthropy and NextGen are both key areas of interest, with more and more young entrepreneurs demanding that ethical investment and investment in sustainability are emphasised. HSBC Private Bank offers every employee a mentor and is committed to staff retention through wellbeing and happiness, as well as through financial incentives, while its balance committee drives diversity within the organisation. 'If you look at our client base,' says Allen, 'you need diversity of employees to deliver diversity of thought.'
Also, as a Manchester City fan and a golfer, Allen believes 'the sort of values that come through in sport when you get it right are what you're seeing much more of in private banking. The right sporting values can help build that.'
Christopher Silvester is consultant editor at Spear's
This article first appeared in the July/August 2018 edition of Spear's. Find a copy at WH Smith travel stores and select news agents, or subscribe here: https://www.spearswms.com/subscribe/
Related
Revealed: The leading wealth managers of 2018
Liquid Lunch: how Charlotte Ransom is shaking up wealth management