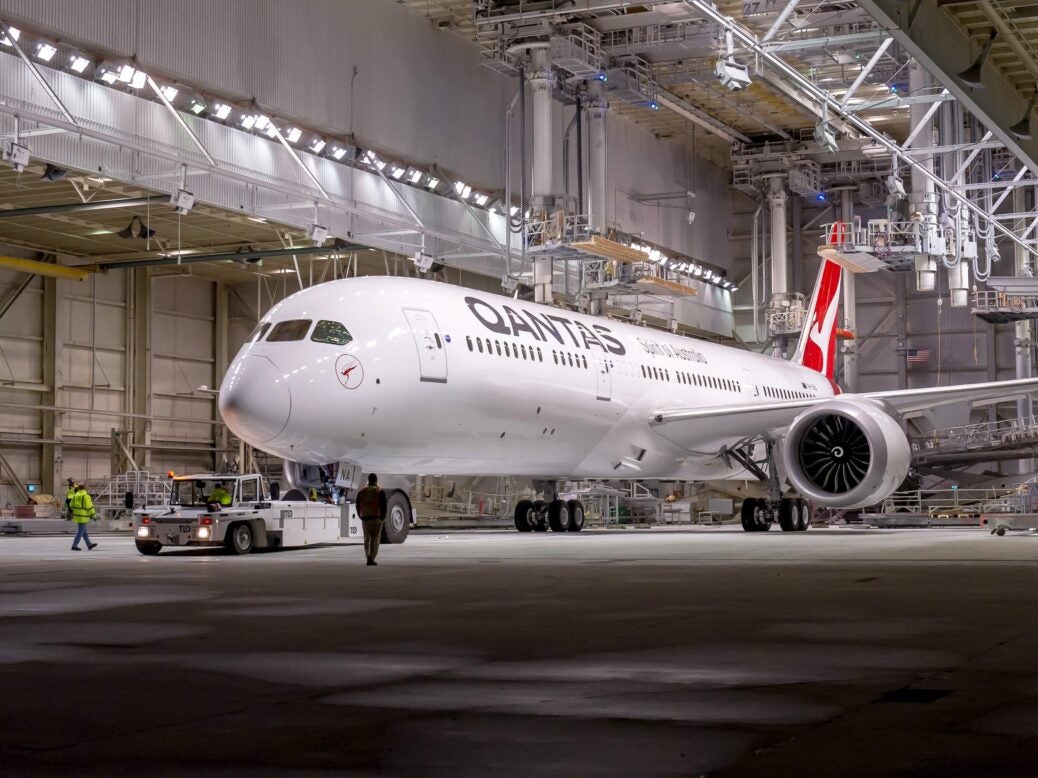 Soon we will be able to fly non-stop between any two cities on Earth – in the plushest commercial jets ever, writes John Arlidge
Singapore Airlines' Captain S L Leong opens the one-inch-thick flight planner for flight SQ22 from Changi to New York, the longest commercial flight in the world, and explains the routes he can take.
'We can go over the North Pole, north-east over the north Pacific, or west over Europe and the Atlantic,' he tells me as he prepares to take the controls of his hangar-fresh Airbus A350 jet. Eh? Is he really saying he chooses to turn left or right out of Singapore to fly the 10,377 miles to New York? 'Yes. It's the only flight where you can go either way around the world because the distance is the same. We choose according to the winds.'
Capt Leong is not the only one pushing the boundaries of space and time. Almost 2,500 miles away, at Perth airport in Australia, Capt Lisa Norman takes the controls of the Boeing 787-9 'Dreamliner' that she will shortly send hurtling down the runway at 200mph as she begins the 9,000-mile QF9 non-stop flight to London.
'When I joined Qantas 30 years ago I wouldn't have thought this possible in my wildest imagination,' she tells me. These two flights, which I took last year, mark the start of the biggest change in aviation since the BOAC de Havilland Comet launched the commercial jet age 70 years ago, linking London to New York without a refuelling stop in Shannon.
In three years' time we will be able to fly non-stop between any two cities in the world. In 2022 that will include the 10,500 miles from London to Sydney and Melbourne. Alan Joyce, the forthright Dubliner who is chief executive of Qantas, has committed to the 21-hour services.
Shrinking the world requires a little celebration at 39,000ft, and the good news is we will be travelling on the most luxurious commercial airliners ever. Qantas has plans to create an exercise zone, café, crèche, spa and bunk-bed sleeper cabin downstairs in the belly of its new London-toAustralia jets, likely to be the same A350 that Singapore Airlines uses for its 12-time-zone-busting journey to New York.
'We need to re-imagine the whole experience,' Joyce tells me as he blinks back the jet lag on one of his frequent flights to London. Mock-ups of the sub-floor cabin that Qantas and other carriers might use were unveiled at the annual Aircraft Interiors Expo in Hamburg last year.
They show bunk beds, a play area with children's toys, work spaces with meeting rooms and desks, a standing bar area, a medical centre, a mini spa with massage chairs, masseurs and therapists, a gym with exercise machines fixed to the floor (free weights are too dangerous), an interactive zone that could be used for virtual reality golf, a fine-dining restaurant and a mini cinema.
Cabin pressure
Before we reach these new heights, Qantas and Singapore are spiffing up their existing cabins. At the pointy end of the 787 that Capt Norman pilots, one of Australia's best designers, David Caon, a protégé of Apple designer Marc Newson, has created 42 private business seat pods, arranged 1-2-1, which convert to 6ft 5in-long flat beds.
My favourite feature? New in-seat airbags and a three-point seatbelt that mean I can recline during take-off and landing. On Singapore Airlines, my cappuccino-coloured business mini-suite comes with more storage than a New York apartment and thousands of hours of movies.
It converts into a 6ft 6in bed, with a mattress, two pillows and Penhaligon's skincare products. Airlines are hiring the best chefs and nutritionists to make sure we don't die of dehydration when we're on board for such a long time.
Neil Perry, of the Australia-based Rockpool restaurant group, and the nutritional biologist Professor Stephen Simpson, of Sydney University, have teamed up to offer light, healthy dishes on Qantas.
They are served at times that, says Prof Simpson, will help 'shift you towards destination time, so that you don't arrive feeling like shit. That's a technical term'. On my flight, I enjoy chicken, red rice and vegetables in economy; cumin-spiced beef salad in premium economy; and tuna poke salad in business, with Semillon and Pinot Noir to take the edge off things.
'We don't want to be health Nazis,' says Prof Simpson. How have airlines shrunk the world? Legacy carriers – BA, Singapore, Qantas, American, Cathay, Air France, Lufthansa and KLM – have been pushing the boundaries of long-haul travel for years to offer new routes, such as BA's London-to-Santiago 14-hour 40-minute run.
They've had even greater incentive to play the long game in recent years because it enables them to snaffle customers from the new Gulf 'superconnectors' – Emirates, Etihad and Qatar Airways – whose small domestic markets mean they rely on passengers connecting via their hubs.
But it remained hard as long as they relied on old planes with four old guzzling engines, notably the Boeing 747. Things began to change around a decade ago, with the invention of leaner-burn jet engines from RollsRoyce and America's GE. Reducing fuel burn is key because fuel is the most expensive commodity a jet carries and, for every 10 tonnes of fuel it holds, it burns three tonnes just to carry it.
New routes soon began to ping up on the departure boards, among them Atlanta to Johannesburg on Delta (16 hours 50 mins), Dallas to Sydney on Qantas (17 hours 10 mins), Doha to Auckland on Qatar Airways (17 hours 50 mins), Abu Dhabi to Los Angeles on Etihad (17 hours) and Dubai to Auckland on Emirates (17 hours 20 mins). However, it is the recent launches of the twin-engined Boeing 787 Dreamliner and Airbus A350 that have really ushered in the new era of ultra-long-haul travel.
Unlike their predecessors, each jet is made of strong, dense composite – tough plastic to you and me – that is lighter than traditional aluminium yet stronger and does not corrode. A stronger fuselage means cabin air pressure is set higher than on conventional metal jets: equivalent to 6,000ft altitude, rather than 8,000ft – and that air can be more moist.
Bigger windows can be installed and the cabin is more peaceful – 50-75 per cent quieter than on normal planes, depending how far forward you are sitting. All this makes it bearable to spend such a long time in a plastic tube.
I arrived in London from Perth and in New York from Singapore with little of the bloated feeling or the ear-numbing tiredness I get on a 'normal' plane. Nor had my skin turned to jerky.
Far horizons
Back in 2000, airlines flew 1,414 direct international routes of more than seven hours, according to OAG Aviation Worldwide Ltd. In 2018, they flew 2,778.
What new ultra-long haul routes are on the horizon – and beyond? At Qantas, Joyce is eyeing New York to Sydney, Paris to Sydney and Melbourne, Sydney to Cape Town, Sydney to Rio. UK-based Virgin Atlantic is examining London to Hawaii, without stopping in LA.
Then there's the final frontier: the ass-numbing 11,388 miles from London to Auckland in – wait, wait, wait for it – 21.5 hours. Perhaps BA could rediscover its pioneering spirit by running that route once or twice a week this year as it celebrates its centenary.
John Arlidge is a writer for the Sunday Times in London and Conde Nast in New York