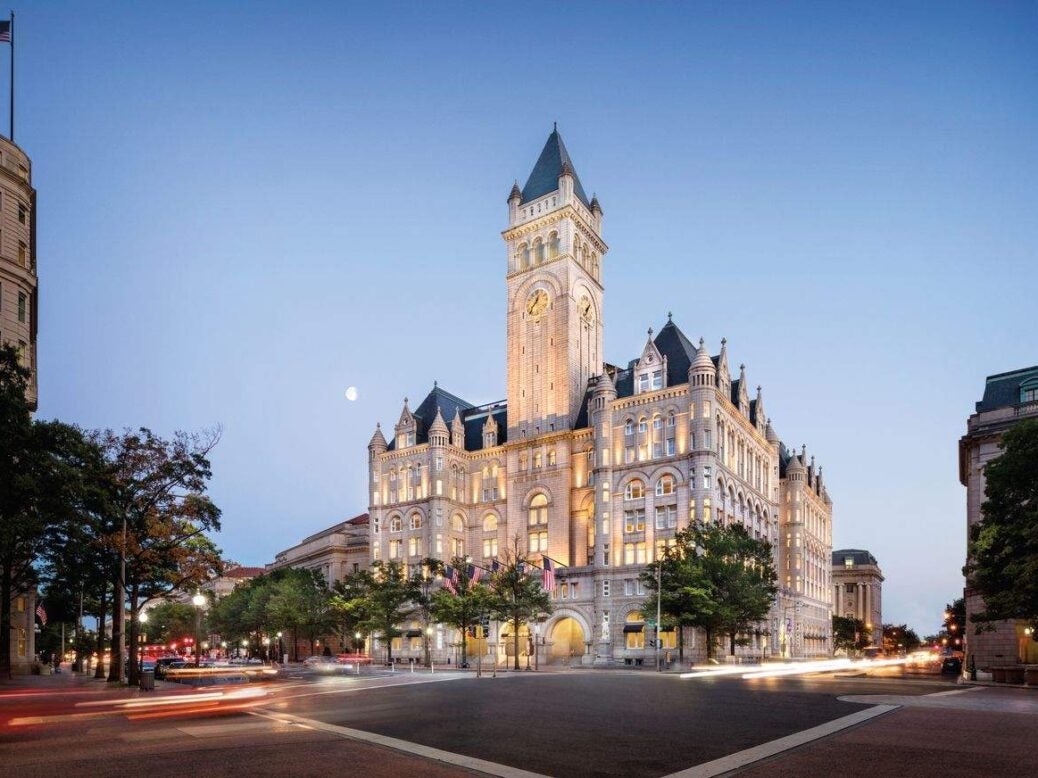 Christopher Jackson heads to Washington D.C for a dinner date (of sorts) with President Donald Trump
In weak moments I can sometimes persuade myself that I admire the gumption of it all: on October 26th, just 10 days or so before his election as the 45th President of the United States, Donald Trump opened the Trump Hotel Washington: at 1100 Pennsylvania Avenue, it's equidistant between the White House and Capitol Hill.
Formerly the Old Post Office, and now a 270-room affair, there's a statue to Benjamin Franklin outside – waving, as if saying goodbye to the republic. Inside, the theme is dictator garishness, with more than a hint of Trump's political soul mates, Colonel Gaddafi and Saddam Hussein.
There's also an air of diplomats killing time, waiting perhaps for their audience at the White House. On raised screens, Fox News discusses the owner of the building underneath a huge American flag. The menu of BLT Prime by David Burke is thrust in your direction as you head up some stairs which put you on stage: everyone can see you from the lobby. The food itself proclaims that promise of huge portions which in the US always seems vaguely patriotic. There's meatloaf Wellington, lobster scramble – the faint ludicrousness of steak and eggs.
The workers here are genial, but with a hint of seriousness – the poker face that comes to those who work for someone fundamentally unstable. I ask the waiter if Trump ever comes in: 'Once or twice,' he says. 'He always has steak and lots of Cokes.'
Looking across the tables from diplomat to tourist to diplomat, I wince at the teetotal joylessness of it all. However, in this post-truth era I have a particular duty to record the facts: my burger turned out to be agreeably succulent and the fries chunkily acceptable: a plate of solid good fare.
But somehow, I couldn't take the wine list seriously: my Coke, ordered in emulation of the great man, tasted exactly like a Coke. That's the point, I suppose: here we are in the power centre of America. It looks awful but tastes – for now – just about okay.
Christopher Jackson is deputy editor of Spear's