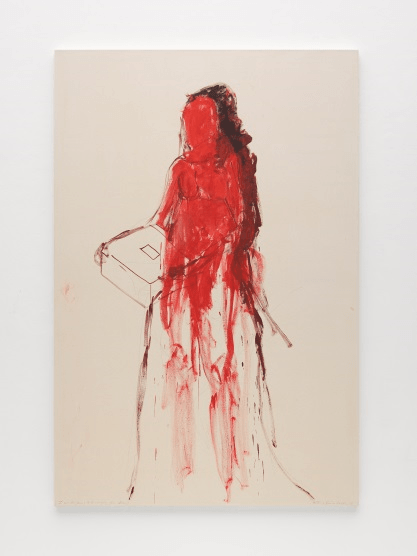 Christopher Jackson attends the YBA artist's striking exhibition at the White Cube in Bermondsey, and reflects on the state of misery today
John Updike, writing of Kafka, once described the modern mindset as containing 'a sensation of anxiety and shame whose centre cannot be located and therefore cannot be placated.' In our time, Tracey Emin might be said to epitomise this predicament.
It must be said that, whatever difficulties Kafka experienced with his father, they pale when set against Emin's own. And Emin's unhappiness is not necessarily the less for having been so widely broadcast, or even for having been so effectively monetised. It would be hard-hearted to pretend that she has had nothing serious to contend with: her experience of rape and abortion alone has made her an icon of maltreated womanhood, and its successful exposing.
But we must admit that her condition at this point cannot be deemed news. The tale of the girl from Margate forms perhaps the most successful project of self-mythologizing of our times. Now, in this exhibition – laid out in a series of spacious rooms at the White Cube in Bermondsey – we are confronted with the news of Emin's mother's death and her battle with insomnia.
The exhibition is produced in many media – poetry, photography, sculpture, painting and film. In spite of this variety, the meaning of the exhibition is caught in one of the opening lines of the placard-poem which first greets viewers: 'A deep, deep relentless exhaustion comes over me that at times is so consuming I feel like I no longer exist.'
Kafka never went that far – Grigor Samsa still had existence, though as an insect. This is a misery which fame and wealth cannot tamper with. In the first room, we are asked – not for the first time– into Emin's bed, to observe her sleeplessness. It is full of blown-up photographs of Emin in her nocturnal crisis. These are images of genuine honesty that will strike a chord with all those who have lain awake at night already fearing the exhausting sham of the next day.
However, one does end up wondering: 'What response does Emin intend to elicit?' She would say – and said as much in her press conference at the preview – that she is shining a light on an underappreciated condition. Advocates of art like this argue that its frankness liberates others into addressing a taboo in their own lives.
So this is art intended to spark a public debate. It's open to two objections. The first might be illustrated with reference to Kafka: in those stories, pain is transformed, undergoing – to use the title of his most famous work a 'transformation' – into art. They contain the compensation of uplift, because comedy has intervened to take the edge off a negative perception of the world. Emin does not attempt this.
Secondly, even if Emin can be congratulated for faithfully holding up the mirror to a hard aspect of life, she cannot quite be forgiven for concentrating solely on those hard aspects. In Fortnight of Tears, there are no moments of happiness, no sense of redemption being possible, no light, no brightness, and no kindness: it is an art where the sun is never shining.
This must be deemed a negative development in the history of art. Artists from Duccio to the present time – even those who reside in the sombre camp, such as Rembrandt – have felt it a duty to note that the sun does on occasion shine, that love does exist, and that life, whatever its ills, has certain compensations as varied as music, books, theatre, the taste of a peach, the nightsky, cricket, food, company, friendship, laughter and numerous other things.
It is not a small decision to shut all these out, but this is what Emin has done, and it can be a bit alarming when no one seems to notice. As one walks through this exhibition from painting to sculpture, each one an unappeased cri de coeur, one is confronted with a hurt so wide-ranging and complicated, that the viewer fears it can never be unpicked.
As you go deeper into the Emin psyche, another question arises: does Emin actually want to unpick it? In one sense she is reminiscent of Philip Larkin who said: 'Deprivation is to me what daffodils were to Wordsworth'. For Emin to be removed from pain, would be to remove herself from art. Her raison d'être would be abruptly cancelled.
This exhibition is therefore a sorrow accruing, and always gaining new weight – but never changing in tone. Emin's mother died an unpleasant death, and her feelings about this are recorded in (quite good) Baconesque paintings. These are the finest works here, though they coincide with the subject matter which is most universal, and therefore the point where Emin might most be accused of special pleading. One thinks of Gertrude's Hamlet: 'All that lives must die/passing through nature into eternity.'
Gertrude is more or less saying that it is not surprising to lose a mother when one is in one's mid-fifties. Emin is in grief but her grief is outlandish, and it is not entirely clear that it doesn't have its performative aspects. We are a long way from Van Dyck's Lady Digby on her deathbed in which the love felt for the departed is registered and not – the Emin method – the raw physicality of decay.
Perhaps it is no surprise to find that Anthony Van Dyck is a better artist than Emin. The true revelation of the show is how implausible life looks if you take out all its good. One cannot live like this.
And in fact, Updike, in that essay about Kafka, also wrote of 'an infinite difficulty within things, impeding every step; a sensitivity acute beyond usefulness, as if the nervous system, flayed of its old hide of Page 8 social usage and religious belief, must record every touch as pain.'
This is exactly what we have here – a record of 'every touch as pain'. But the question has to be whether grief of this nature, stated and restated and never altered – and the possibility of progression never seemingly admitted – represents also an abdication of the artist's responsibility.
What is that responsibility? It's as old as Homer: to raise us up, to make things better, and to hold the mirror up to nature, not just in its difficulty, but also in its variety, its unending mystery and even perhaps in its goodness.
Christopher Jackson is deputy editor of Spear's