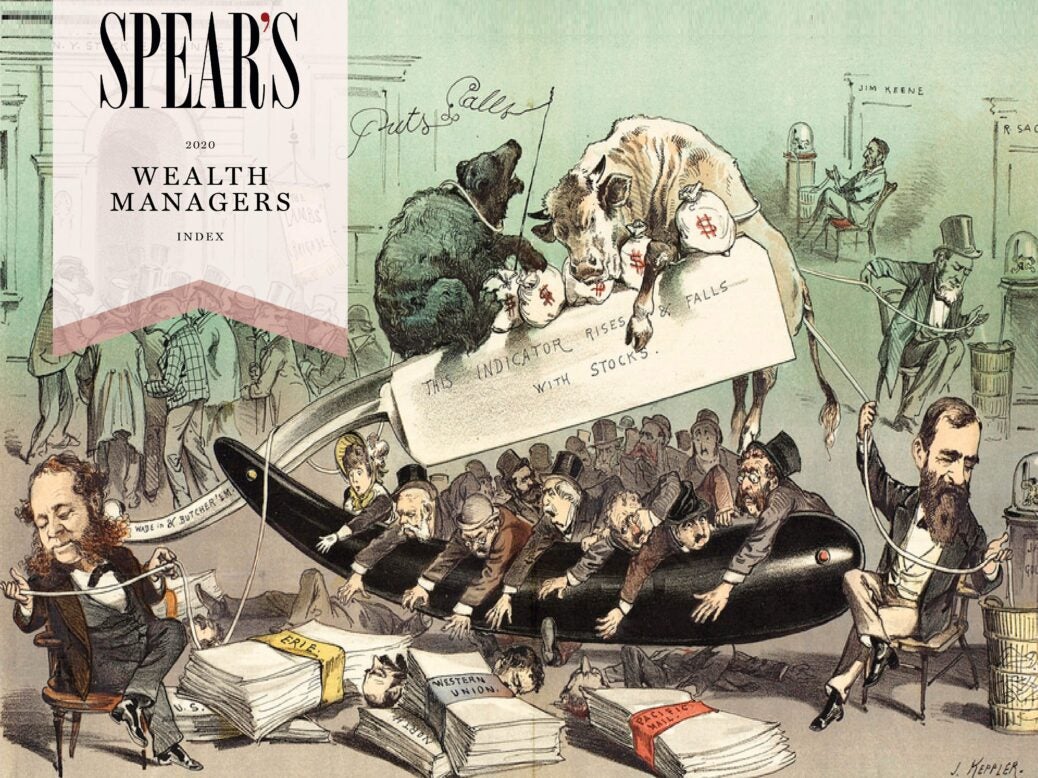 The world has changed for everyone in the past six months, and the wealth managers in our index recognise that the old ways of investing will never return
Cast your mind back to the heady days of Q4 2019. Equities are in the ascendancy, optimism is growing over a trade deal between the US and China, and UK markets are buoyed by the increased certainty presented by a landslide Tory general election win after months of Brexit chaos. The bull market is shaking off the doubters and continuing its charge apace.
To say times have changed since is an almost comical understatement. As legendary investor John Templeton once said: 'Bull markets are born on pessimism, grow on scepticism, mature on optimism and die on euphoria.' The party is over.
Yes, the pandemic has wrought havoc on markets worldwide. But among the advisers Spear's spoke to for this year's Wealth Management Index, there was a sense that the lasting damage will come from fissures it has exposed within the underlying economy, rather than the period of lockdown itself.
'We're viewing the crisis not as something that we just have to navigate through, but a chance to properly construct portfolios for what the world will look like in 2021,' said Close Brothers' Chris Boon, who features in our HNW wealth management top ten.
It's certainly a reflective period for portfolio managers, as questions are raised about the foundations upon which any economic recovery is built. Are equities overpriced? Are dividends a thing of the past? And what about inflation? Despite the uncertain climate, the leading wealth managers and family office service providers that Spear's spoke to took a sober attitude towards this new normal.
'We have to guide people out of this now,' says Progeny's Neil Moles, echoing the broad attitude. Spear's 2019 Asset Manager of the Year award winner, Cazenove Capital's Kate Leppard, bursts into our UHNW top flight after impressing our panel of judges. 'We did a lot of work in 2019 on our digital capability, and it proved invaluable this year when we went into lockdown,' says Leppard, who reports that she was more surprised about 'the lack of panic' among her clients during March.
She's joined in the top ten by Camilla Stowell of Coutts and debutant James Whittaker of UBS, who has built a 'formidable' team at the bank since becoming its head of UK UHNW in 2018. In the HNW top ten, hearty congratulations go out to new entrants Peter Gale of C Hoare & Co and Netwealth's Charlotte Ransom.
Ransom, who launched Netwealth four years ago, remains committed to her aim of 'defining what modern wealth management looks like' by leveraging expert management and advisory with modern technology. It's a model that has served her well in the pandemic: she says the firm has 'remained highly stable'. There are plenty of new faces to be found throughout this year's selection.
Alistair Morgan's practice at MDR Mayfair (the private office arm of Mishcon de Reya) and Pall Mall's David Alexander both enter our family office services top ten after earning plaudits from peers. They're joined by Harinder Hundle, who has made a remarkable impact in a short time at TwinFocus's London branch, which opened in 2018. Similarly making noise in our HNW section is Ruffer's Bertie Dannatt, whose firm enjoyed one of the best months in its history after making a 'golden call' on the markets.
Close Brothers' Hugh Adlington's arrival reflects the firm's remarkable ascent over the past few years. James Johnsen at Church House Investments fronts one of the best investment managers you've probably never heard of, and Craig Lewis at Edmond de Rothschild emerges as a reliable man in Monaco.
Familiar Faces
This year's index is also populated by faces familiar to Spear's readers, of course. The 'perennial rainmaker' Charlie Hoffman continues to call the shots at HSBC Private Banking, Cerno Capital's Nick Hornby has shown no signs of a dip in form since winning our Outstanding Achievement award in 2018, and Bandish Gudka remains the leading light at LGT Vestra. 'In a really macabre sense, this half of the year is probably going to be my best half of the year I've had in a decade,' he tells us.
Goldman Sachs' Giles Pascoe retains his place among our top ten UHNW managers after scooping our Private Banker of the Year prize last year. Fellow winner Josh Matthews has continued to cement Maseco as a premier destination for London's US expats, and Smith & Williamson's Rupert Phelps is still sage-like when it comes to articulating the trends facing the family office sector.
'You might have a family that have got what one might colloquially call the Rolls-Royce single family office, with in-house investment capability – more than just an accountant and three staff,' he tells us. 'And it may well be that they're thinking, "Is this worth the fixed-cost overheads?"'
Orson Welles famously asks in The Third Man: 'In Switzerland they had brotherly love, 500 years of democracy and peace, and what did they produce?' One answer, as our inaugural Swiss index shows, is a world-leading wealth management hub.
The Swiss banking system – in the heart of Europe but not in the EU – has proven a sturdy and adaptable centre for global wealth. It's a rare reputation, and we've selected ten advisers who represent the breadth of the Swiss offering.
These include Rothschild & Co CEO Laurent Gagnebin, who says that sophisticated clients are increasingly availing themselves of the private bank's advice-driven services. 'The client takes the decisions,' he says. 'I would say in the past you had execution-only or discretionary. This is kind of in-between, where we tell the client what we would be doing and the client takes the ultimate decision.'
2020 Spear's wealth management index
UHNW Top Ten
Charles Costa Duarte, Rothschild & Co
Charlie Hoffman, HSBC Private Banking
Nick Hornby, Cerno Capital
Jeremy Knowland, Citi Private Bank
Kate Leppard, Cazenove Capital
Duncan MacIntyre, Lombard Odier
Giles Pascoe, Goldman Sachs
Patrick Smiley, Smith & Williamson
Camilla Stowell, Coutts
James Whittaker, UBS
UHNW Top Recommended
Rennie Hoare, C. Hoare & Co.
Aastha Gurbax, JP Morgan Private Bank
Jonathan Bell, Stanhope Capital
Jamie Black, Sarasin
Jim Bouley,  Julius Baer
Etienne d'Arenberg, Mirabaud
Khaled Said, Capital Generation Partners
James Wilcox, Floreat
Natasa Williams, LGT Vestra
Steve Atkinson, Standard Chartered Private Bank
James Barton, Featherstone Partners
Theophanis Theophanus, Barclays Private Bank
Julien Sevaux, Eighteen48
Nuno Tarrana de Sousa, Pictet
Logie Fitzwilliams, Brown Advisory
HNW Top 10
Chris Boon, Close Brothers
James de Broë-Ferguson, Investec
Ross Elder, Lincoln Private Investment Office
Peter Gale, C. Hoare & Co.
Bandish Gudka, LGT Vestra
Quentin Marshall, Weatherbys Private Bank
Josh Matthews, Maseco
Charlotte Ransom, Netwealth
Petronella West, Investment Quorum
Patrick Wilson, Credit Suisse
HNW Top Recommended
Bertie Dannatt, Ruffer
Tim Bailey, Cazenove Capital
Peter Clark, Tilney
Chris Cole, Lockhart Capital Management
David Malpas, Vermeer
Charles Marment, Charles Stanley
Alan and Gina Miller, SCM Direct
Neil Moles, Progeny Wealth
Jeremy Vaughan, Hampden & Co
Giorgios Ercan, Dolfin
James Horniman, James Hambro
Nicholas Grant, Psigma
Hugh Adlington, Close Brothers
Craig Lewis, Edmond de Rothschild
James Johnsen, Church House Investment Management
Christopher Rose, Waverton
Hugo Bedford, JM Finn
2020 Rising Stars
Rajiv Gaglani, Standard Chartered Private Bank
Nick Astley, Progeny
Hayley Robinson, Weatherbys Private Bank
Family Office Services
Charlotte Filsell, Sandaire
Matthew Fleming, Stonehage Fleming
Jonathan Gage, Keystone Family Advisers
Edward Goodchild, Chawker & Co
Andra Ilie, KPMG
Annamaria Koerling, Delfin Private Office (formerly Owl Private Office)
Rupert Phelps, Smith & Williamson
David Alexander, Pall Mall Family Office
Harinder Hundle, TwinFocus
Alistair Morgan, MDR Mayfair
Swiss wealth managers
Thomas Frauenlob, UBS
Christian Wagner, Credit Suisse
Jean Claude Erné, Pictet
Andreas Feller, Julius Baer
Brenda Zongo, HSBC Switzerland
Annelise Peers, Investec Switzerland
Laurent Gagnebin, Rothschild & Co
Benoît Lombard, Edmond de Rothschild
Laurence Mandrile-Aguirre, Citi
John de Salis, Mirabaud
The Spear's rankings are drawn up on the basis of peer nominations, telephone and face-to-face interviews with dozens of leading lawyers, data supplied by law firms, as well as information gathered by the Spear's editorial and research teams.
To receive relevant research updates from Spear's – and thereby give you and your firm the best chance of being included in future Spear's indices – please register here.
Click here to buy a copy of the latest edition of the magazine