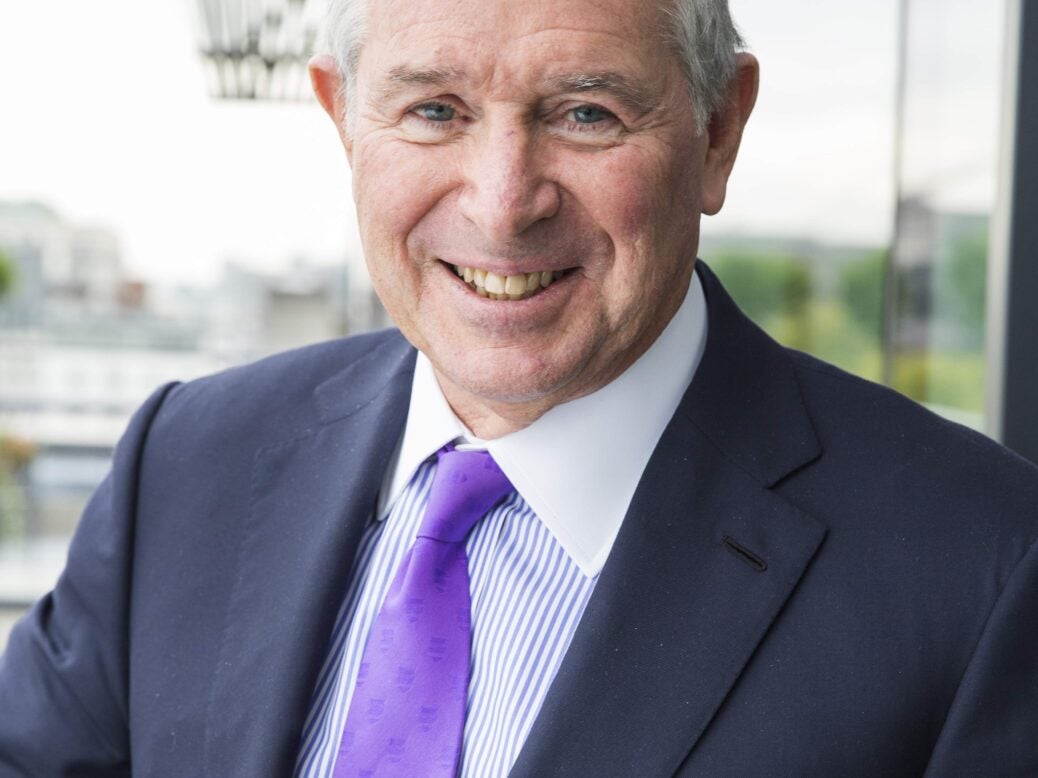 Blackstone founder Stephen Schwarzman is giving chunks of his wealth back to society – but he has his own distinct approach to philanthropy, he tells Alec Marsh
Steve Schwarzman is one of the world's richest men. The Economist reports him to be worth $18 billion. Forbes puts the Blackstone founder's fortune at $16.9 billion. In the lift to the top floor of the firm's London HQ on Berkeley Square, I realise it's one of those occasions when the word 'billionaire' doesn't cut it. 'Multibillionaire' is too ugly. 'Decabillionaire' is better.
The steel doors part. I'm here because Schwarzman, 72, has a book out. What It Takes: Lessons in Pursuit of Excellence is part memoir and part how-to guide for wannabe Masters of the Universe. Before you're put off by the title or experience of other memoirs from the C-suite, think again: What It Takes is nimbly written, funny, and full of valuable insights. It ranges from a youth working at his family fabric shop in provincial Philadelphia to his time at Yale and first job on Wall Street (he turned down JP Morgan – 'I would rather work somewhere where my personality was a natural fit'), and then travels through his stellar years at Lehman Brothers, before alighting on his Blackstone career since.
The door of the meeting room opens – and Schwarzman greets me. He is smallish (probably 5ft 8in) and his head is cocked slightly to one side. He wears a dark blue suit, a shiny mauve tie, and a shirt with a white pointed collar and striped body that I imagine was fashionable in the Eighties.
He shakes my hand gently and encourages me to try a Danish pastry. He talks slowly, with a mild, folksy lilt. As he browses the last edition of Spear's ('Ah ha… the death of Europe, they must be very happy about that'), I steer the conversation towards his book. Why did he write it?
'What I hope to achieve is passing along the lessons that I've learned in life, very painfully,' he says, with a chuckle. 'To make other people's lives easier and better and have them get a road map of how to create, and improve things in their own lives.' This includes advice for interviewees ('Be on time', 'be authentic') and recruiters ('Never hire anyone who isn't nice regardless of his or her talent'), as well as insights on sales: 'If you believe in what you're selling and they say no, you have to presume that they don't fully understand, so you give them another opportunity.'
Why not give a TED Talk, I ask? 'I think you're right,' he replies. 'The only problem is that most of those things are forgotten very quickly in the modern age that we live in, where attention spans are quite limited.'
This spurs another thought: 'Writing a book is painful,' he says with severity, 'and somewhat obsolete. In the middle of doing it I asked myself, "Why am I spending so much time on this?"'
It seems the effort was worth it. 'People say they love reading it, it's funny, it's a page-turner, you don't need to know anything about finance to enjoy it.' That must be part of his formula: the ability to communicate complexity.
'I tend to understand things relatively simply,' he states. 'I believe if I can't explain them in the way that I understand them, which is simply, then that just means I don't understand them.' Earlier this year he gave £150 million to Oxford University. He has also set up an international students' programme – a 21st-century Rhodes Scholarship – the Schwarzman Scholars, based in Beijing.
In all, he has given around $1 billion to good causes. Is the book part of this legacy? The head tilts a little more and he frowns: 'I don't think about legacy, at all,' he says. 'I think about doing things. Each one is like another fascinating thing to do, but there's not a master-plan.'
It's like work, he says. 'My goodness, if you're in finance, bad things happen to nice people all the time, and you have to be completely alert. Anybody who thinks they are working on a legacy is probably working on diminution of their organisation. You have to approach every day as if it's a critical, must-win moment. Backward looking, other than for learning from mistakes, is not of any use.'
At Blackstone, Schwarzman oversees assets of $545 billion covering 200 companies with 500,000 employees. What, I ask, keeps him awake at night? 'Right now, geopolitical things are number one,' he says. 'As you probably know, good governments tend to give you good economic outcomes but bad governments give you very adverse outcomes.'
The rise of populism in the developed world makes for a 'potentially dangerous time'; then there's the US-China trade war, and tensions in Iran and North Korea. 'There are all kinds of things that are bigger than any of us, bigger than an economic cycle, that can create problems,' he warns.
Exit strategy
What of Brexit? 'Brexit is a UK issue,' he states. The 'conventional wisdom' is that a harder Brexit will lead to a deeper recession, but the weakness of the pound makes it 'a better time to buy something here'. 'We have continued to invest when we find something interesting in the UK, unlike most of our peers.'
This included entertainment company Merlin, bought for £6 billion earlier this year, and the Arches, formerly part of Network Rail.
'We did that right into the teeth of Brexit,' notes Schwarzman. 'People were wondering what we were thinking.' He mentions Refinitiv. 'We also own a lot of real estate in the UK, so we are rooting for your success.'
Back to sleepless nights: what does he make of the rise of radical voices on the left? Does he recognise that people are more hostile to wealth? He cites a survey that found 40 per cent of Americans couldn't write a $400 cheque in an emergency without falling into hardship. 'That's cause for concern by everyone,' he says, pointing to educational failure as the cause. 'The US used to be in the top two or three countries in the world, and now we're down between 25 and 30.'
This has wider import: 'If you're not competitive on a global basis you're going to have bad outcomes, and we're having a bad outcome. That manifests itself with unhappy people, who should be unhappy,' he says sympathetically. The resulting populism is 'to be expected historically'.
I quote the recent commitment signed by 181 of the US's largest businesses to replace shareholder-profit-driven capitalism with a model focusing on five priorities, including delivering for customers, communities, the environment. Schwarzman did not sign it: 'We do all kinds of things,' he says. 'We've hired 75,000 veterans, purposefully. Eighty per cent of our people volunteer on full pay in their communities. These things are now taken for granted by the major corporations of the United States.'
His book has pictures of him with the last five US presidents. In 2017 he served as chairman of a business group set up by President Trump. Of these, who impressed him the most? He declines to choose ('it's not like one dominates') and adds: 'They all have high energy levels. This is not a game for people who don't like playing all the time.' THE
Art of giving
I ask what motivates his philanthropy, and his lips squeeze together. 'I certainly don't look at it as philanthropy in the way you might,' he offers. 'I look at interesting issues that I think are important for society.'
The Schwarzman Scholars, for instance, 'had to do with the rising populism from the developed world that gets visited on China, and what China's reaction to that would be'. He's put 'around $125 million' into it and also set up the programme, hired the faculty and built the building.
'It's a bit like being an entrepreneur. Addressing a problem, in effect of your own choosing, and then spending years getting the thing done.' At MIT in Massachusetts, his efforts 'to address US competitiveness in artificial intelligence' have led to the creation a new Schwarzman College of Computing.
He adds: 'It's not a conventional philanthropy where you wake up and think, "I've got so much money – how do I get rid of it?"' Back in 1969, Schwarzman wrote to the US statesman Averell Harriman to ask for career advice. Harriman told him that if he wanted to go into politics, he should first 'go out and make as much money' as he could.
Does he regret not having a political career? He pauses before answering. 'That was one of the things I thought about as a young person. I find the issues in the political world of real interest. I probably wouldn't have been that good a politician…' he breaks off and smiles. 'The rest of my life is terrific, I love what I do and I try to help people in the political world, so do I regret that? A little bit…' But, he says, 'because I've had access to all the people who were president and helped them out on individual issues, I've in effect had the best of both worlds.'
The reply recalls one of his mottos from the book: 'If you're going to commit yourself to do something, it's as easy to do something big as it is to do something small. Both will consume your time and energy, so make sure your fantasy is worthy of your pursuit, with rewards commensurate to your effort.' Some $18 billion later, Schwarzman is proof of the pudding.
Original photography by David Harrison
This piece first appeared in issue 71 of Spear's magazine. Click here to buy and subscribe.
Read more