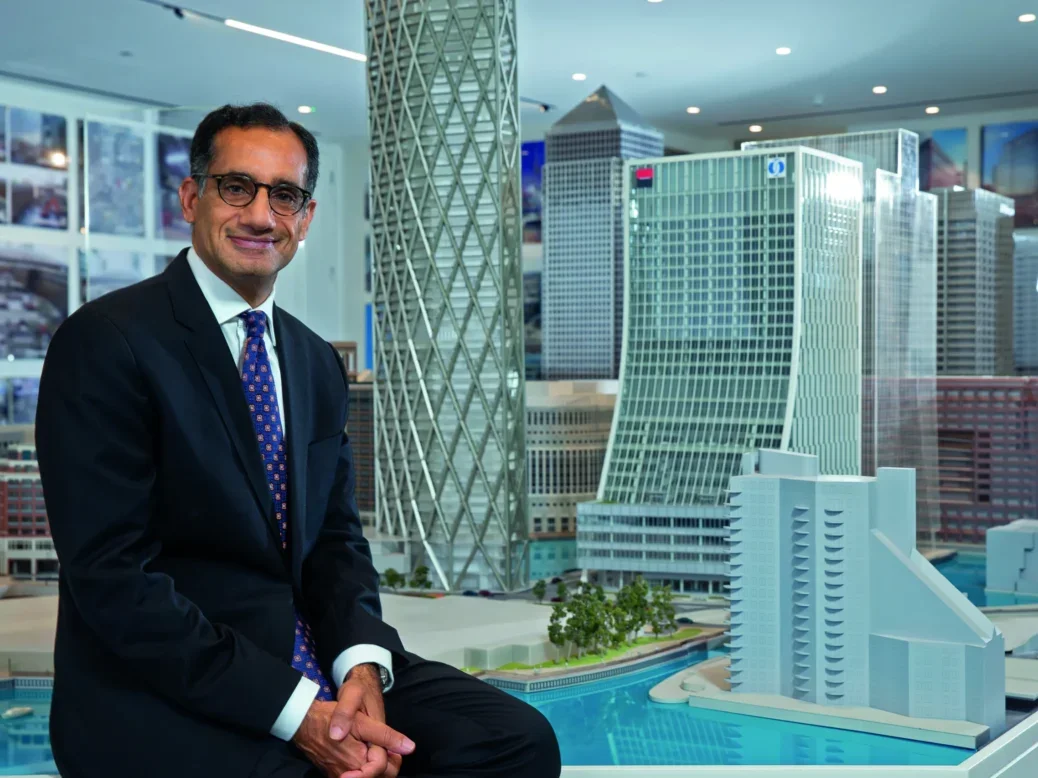 The next stage of Canary Wharf's evolution will look beyond the world of work, Shobi Khan tells Rory Sachs
Cranes and construction have not been unfamiliar sights on the Canary Wharf estate over the past 30 years or more. But there is something unusual about the concrete and steel structures rising from the ground at Wood Wharf. The exposed steel beams visible on the site today will be part of 'Canary Wharf 3.0', an audacious plan championed by Shobi Khan, CEO of the Canary Wharf Group (CWG), to turn the financial hub into a genuine 'neighbourhood', providing the opportunities for people to 'live and play', as well as work.
It has been suggested, somewhat hopefully perhaps, that Khan's plans for Canary Wharf are analogous to the evolution of Downtown New York – where a part of the city once dominated by the offices of financial firms has become far more residential and spawned the restaurants, retail outlets and other things that make a place truly liveable.
>How One Wall Street is turning landmark office space into luxury apartments
The Netflix of rent?
Wood Wharf has been under construction for some time; already completed projects here include 8 Water Street and 10 George Street, which were finished in 2019 and 2020 and contain 174 and 327 apartments respectively. Both are already operating at full capacity. The entirety of Wood Wharf will eventually contain 3,600 new homes alongside 2 million square feet of office space. Meanwhile, on Canary Wharf's Middle Dock, the CWG's 58-storey Newfoundland tower contains 636 apartments.
Projects will be completed one after the other over the next few years. 'Some will come in '23, '24, some won't come on until '27, '28,' Khan tells Spear's when we meet at CWG's offices in One Canada Square. As he speaks, he gestures to an intricate scale model of the estate's buildings. 'The vast majority of [the new buildings in Wood Wharf] are all rental – we're going to go long on rental,' he explains, describing CWG's model as 'build-to-rent'. 
Khan adds that today's twenty-somethings 'will get their music from Spotify, get their cars from Uber, get their movies from Netflix'. He believes they're also likely to pay for housing in a similar way – even in the UK. He names the US, Canada and Germany as markets where residential schemes with rented apartments with concierge services and amenities have proved popular. 
 

View this post on Instagram

 
The next generation of Canary Wharf
Khan tells me '3.0' is a natural evolution from 'Canary Wharf 2.0' – which is how he describes the CWG's initial forays into the residential market in 2014 under Sir George Iacobescu, who began leading the development of Canary Wharf in 1988. Having stepped down as CEO of CWG, allowing Khan to take up the role in 2019, Romanian-born Sir George is now chairman of the organisation. 
Now that he has settled into his role as CEO, Khan – who grew up in Baltimore and is the son of an architect – is going full steam ahead with plans to diversify the group's operations and the appeal of the area. This comes as some high-profile corporates have announced plans to move at least some of their people away from Canary Wharf. Law firm Clifford Chance is shifting its workforce to a new address in the City in time for 2028, while HSBC and Credit Suisse have both mooted proposals to scale back operations in the area.
According to Khan, however, other types of company are moving in – among them firms from the energy, legal and creative sectors – while a 'government hub' with office space for 6,000 civil servants opened in 2018. 'We've got the beginnings of a health, life science cluster… we're starting the infrastructure of that right now which won't be delivered until 2026.' The CWG also wants to remain attractive to small start-ups such as Revolut, which used to be based in the group's Level39 co-working space.
But Khan's vision of Canary Wharf 3.0 is as a place to 'live, work and play'. As such he welcomes the arrival of millennial-friendly novelties such as summer outdoor cinema screenings, an 'adult funfair' and the chance to paddleboard or kayak across the estate's extensive waterways. And while Canary Wharf lacks the cultural heritage of more historic parts of London, Khan is keen to burnish its artistic credentials. 
 

View this post on Instagram

 
A touch of luxury at Canary Wharf
And we haven't even mentioned shopping. 'We have the holy grail in terms of retail,' says Khan. 'We have all three demand drivers: we've got the office workers, the residents that live here, and then we have the catchment area. Now the catchment area just got much bigger with the Elizabeth Line.'
There are also new luxury residential projects designed for buyers rather than renters. These include One Park Drive, which boasts 'sub-penthouses' on its 55th and 56th floors. One two-bedroom example is on the market for £4.7 million.
As you'd expect, Khan is bullish about his power to realise the vision of Canary Wharf 3.0. 'It's not like we're one developer that's got one, or two or three buildings here – we've got the entire estate at our disposal,' he says. 'Especially in a city like London, it's very rare to have a developer having this access.'
Does he see parallels between his own vision for the estate and the team who set up Canary Wharf? 'Absolutely. We were pioneers back then, and we're pioneers now.'
Order your copy of The Spear's 500 2023 here.
More from Spear's: