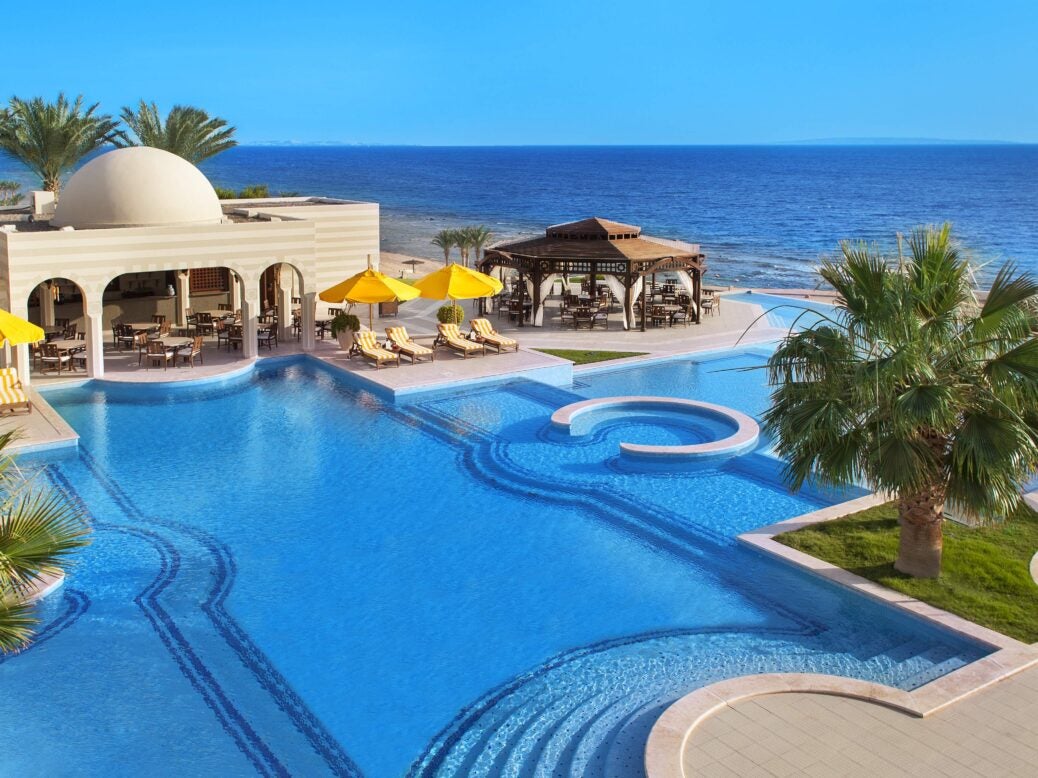 Andrew Harris experiences the intoxicating opulence of a modernist mini-palace at Egypt's Oberoi Sahl Hasheesh Red Sea.
East is east and west is west. At least as far as Egypt's deserts (covering 90 per cent of the country) are concerned. The Western desert is the Sahara of popular imagination, of never-ending, shifting sands melting into a horizon of heat. The desert to the East of the Nile valley however, incorporates dramatic black mountains, sand-filled wadis and weird, weathered stone formations, making the drive that snakes through it all from Luxor to the Red Sea a journey of mesmerizing beauty, uncompromised thus far by the security issues experienced in Sinai, where the Foreign and Commonwealth Office ban on flights into Sharm el Sheikh remains in place. A backdrop of piercing blue sky and the December thermostat of the great outdoors set to the upper twenties, isn't causing too much harm either.
Unlike it's Western counterpart, the Eastern Desert contains no oases, although I suddenly seem to be desperately looking for one, but it's not a parched throat jolting me out of my National Geographic wilderness reverie. As we leave the still spirituality of the desert and enter the outskirts of Hurghada, the Red Sea fishing-village-turned-tourist-town, I am suddenly caught up in a howling sandstorm of half constructed buildings, blinded by a blur of Cyrillic writing plastered across an incessant stream of resorts I'd rather not resort to, the need to locate the oasis now an urgent matter of life, or death by bad taste. But just as quickly, the assault on the senses subsides, and my Ice Cold In Alex moment arrives, following a dart down an invitingly tranquil palm-lined avenue, at the end of which, mirage-like, are the understated alluring outlines of the Oberoi Sahl Hasheesh Red Sea.
The Red Sea Riviera, which no doubt some young buck of an estate agent thought up one hot Hurghada sleepless night, is a curious place, where the relentless drive to turn every hectare of sand into a holiday resort (65 per cent of Egypt's hotel rooms are now currently located on the Red Sea and South Sinai), also encompasses upscale purpose built secure communities. Just to the North of Hurghada is El Gouna, the creation of Samih Sawiris, a prominent member of Egypt's wealthiest family, where an impressive array of the Cairo glitterati's boats bob up and down in the marina waiting for the weekend. To the South (but just fifteen minutes from the airport), lies Sahl Hasheesh, a still evolving, similarly enclosed community, two thirds the size of Manhattan, both places having not only hotels, holiday homes, shops, restaurants, golf courses and bars, but also permanent residents. New towns basically, but definitely more Hamptons than Harlow.
The Oberoi Sahl Hasheesh Red Sea, is separate from, but right next to this development, with which it shares it's interesting name, although I failed to ascertain why such a chic enterprise sports a title connoting a banned substance, merely that is what the beach there was known as before. What the local Bedouin's preferred recreation might once have been is probably best left to the imagination, though I am left wondering where I'll be directed for a pre-dinner aperitif. The Opium Den cocktail lounge? Such concerns disappear like a disintegrating smoke ring with the warm welcome afforded by the effusively friendly staff in the sleek opulence of the reception area. Oberoi, the eponymous Indian luxury hotel chain, preceded by over 80 years of reputation for meticulous service, and operating in Egypt since 1971, only settled on this particular site following considerable research, the results of which are immediately apparent.
Standing on the balcony of the main building absorbing the far reaching spectacular views out across a decidedly deep blue, sun dappled Red Sea, one looks down onto nearly a kilometer of private beach and coral reef. Even at such close proximity to the shore, novice snorkelers easily come face to fin with the aquatic wildlife for which these waters, home to twenty per cent of the world's marine life, are renowned. A stroll to the end of the hotel's private pier one early morning had me hypnotized by three lion fish performing a slow dance in the crystal clear waters below, such would seem to be the abundance of exotic watery wildlife. Although the hotel does boast its own PADI certified dive academy with all the equipment and expertise to cater for novice paddlers right up to experienced divers, not to mention access to a very nice boat berthed nearby.
In contrast to the Lost Vegas strip back in Hurghada, the 48 acres of undulating lawn, sand and pink rock cradling four categories of very stylishly appointed suites  in discreet neutral-coloured clusters, all of which command views across the gardens and the sea, appears  a triumph of restrained landscaping and design, performing just as well at night, low-lit under underneath the nightly canopy of desert star constellations. The Arabesque architecture throughout the hotel disports clean lines and soft tones of delicately deployed stone and marble, which all manage to successfully coalesce into a peaceful modernist Middle Eastern mini-palace that some kindly sheikh has invited you into.
The equivalent of a sheikh in this context, though no less hospitable, comes in the charming form of Punjab born general manager Reuben Kataria, and is a reminder that we are in an Indian oriented environment, others being head chef Dharmender Lamba and no less than three Indian sous chefs, one of whom has a CV that includes keeping the Maharani of Jaipur's taste buds in the manner to which they are accustomed. Not surprisingly, there is a stand-alone Indian restaurant Zaafran, and the potential for some seriously memorable Sub-Continental cuisine, although prior notification that one is habituated to the spice onslaught is recommended, as it can be scaled back in deference to local tastes. The other main dining destination serving Arab and international cuisine is no less impressive, with seating either indoors overlooking the sea, outdoors next to the gorgeous pool, or in the candlelit open courtyard where a dreamy atmosphere was enhanced by the laconic laments of a very impressive local oud player.
With tennis courts, a gym, a spa staffed exclusively by Balinese beauties with that smile that doesn't stop bursting out of their DNA, culinary classes for adults as well as children, who are in any event well catered for by their own kids zone, treks arranged into the desert, and the refined offerings of Sahl Hasheesh ten minutes away, alternative options to simply lounging around with no other purpose but to luxuriate as reserves of vitamin D get replenished, are manifold. Although the option with the vitamin D tends to exert an undiminished allure for me personally, the demands of trekking between reef, pool and spa more than enough intrusion into the time consuming task of evaluating where Chef Lamba's culinary creativity might take us next. The Oberoi Sahl Hasheesh Red Sea is an oasis most definitely worth staggering towards, although a direct flight into Luxor or Hurghada might be a preferable option.
Oberoi Sahl Hasheesh Red Sea Resort : Deluxe Suite from £211 (excludes taxes, room-only basis.)
www.oberoihotels.com