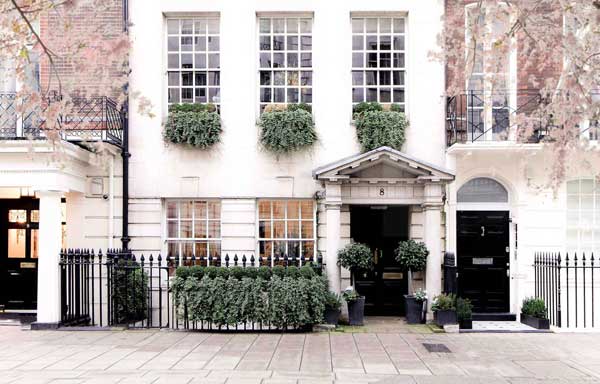 Raymond 'Jaws' Tooth and Susan Apthorp of Sears Tooth have earned a fearsome reputation thanks to an appetite for the most challenging family law cases
Very few in the Spear's world have a reputation like Raymond Tooth, who was recently congratulated by the Law Society for holding a practising certificate for more than 50 years. In 2015 he was immortalised by the Sunday Times in a portrait featuring a cigar-puffing Tooth wearing a shark hat.
Tooth is known as 'Jaws' for his fearless defence of the wives of celebrities such as Jude Law, Michael Barrymore and Roman Abramovich. In person, however, he is good-humoured, jovial and even surprisingly gentle. An even more surprising revelation is blood ties with screen legend Rex Harrison. 'I wanted to be an actor,' he says of his uncle's influence on him, 'but my father was a lawyer and I joined the family firm instead.'
Tooth could have not fallen into a more dramatic career. In early litigations he 'defended the underdogs' against the South African government in the apartheid era and even took on the mafia in Las Vegas.
Shortly after specialising in family law, he had a curious visit from a woman. 'She told me that when she told her husband she wanted a divorce, he said he had already consulted me and said she would be annihilated,' he recalls. The encounter gave him an epiphany. 'It was then that I realised I was regarded as a force to be reckoned with,' he says.
Over the years more parties sought to 'conflict him out' in the early stages of divorces. A recent example was the case of a husband who tried to avoid opposing Tooth through a meeting that was 'specifically convened in an attempt to prevent me acting for his wife'. The husband was unsuccessful. Tooth refused to stand down and went on to give evidence and win a court case enabling him to act. He is aware of the fear and respect that many in the divorce world have for him.
Love him or hate him, Tooth's was the first niche family law practice of its kind. Sears Tooth has an enviable reputation for victory and a client service style that is personal rather than corporate. It was this that drew his equally formidable co-partner, Susan Apthorp, to the boutique firm in 2008. 'I was keen to work on the most legally complex cases in my field and valued the freedom at Sears Tooth, which is not available at City firms,' she tells Spear's.
She relishes the demands family law, which she describes as often being as multifaceted and as difficult as a Rubik's Cube. 'Here we just get on with it,' she says. 'At Sears Tooth we can take on unusual and seemingly unwinnable cases and argue novel points of law.'
The divorce duo have another magnificent year to report: two 'groundbreaking' cases that won in the Court of Appeal, one of the very rare special contribution cases, and a pending appeal in the Supreme Court. Apthorp speaks of her resounding success in the recent Brack v Brack case in the Court of Appeal. Apthorp's client was in an almost impossible state after signing three prenups in three different jurisdictions, plus a jurisdiction agreement requiring her to bring her claims on divorce in Sweden. 'The trial judge found that she was not entitled to any matrimonial settlement in this jurisdiction and
she appealed,' says Apthorp.
The Appeal Court agreed with Apthorp that her client's sharing claim on divorce 'survived' all three prenups, despite it being a common misconception that it did not, and further that the jurisdiction agreement was not effective. It was
a remarkable win after a four-year struggle with various rejections from judges and barristers along the way.
Apthorp's tenacity and feminist principles made her carry on. 'Women – and it generally is women, because they are historically the economically weaker – should not be penalised for having been "persuaded" into signing an "unfair agreement", but that is invariably the aim and the net effect of the law on prenups,' Apthorp iterates. She is proud of persevering despite a number of eminent lawyers maintaining that the case was unwinnable. 'We fought on and on. Four years later, my client, who could have been left impecunious after 15 years of marriage despite her husband being a multimillionaire, can now look forward to some financial security.'
Broad range
Apthorp's case is one of many successes Sears Tooth has fought for. 'The law reports are replete with our reported cases,' Tooth says. Both partners agree that such outcomes are the result of the 'cutting-edge' service and skills. They operate in a demanding space where service is round the clock, but Apthorp relishes the fact that her typical Monday morning  call 'could be anyone from anywhere with all manner of problems'.
Their message to clients is that they both focus on settlement as early and as discreetly as possible – and getting a good result quickly for a wide range of clients. But this is conditional upon a full and frank disclosure of assets, without which there cannot be a fair settlement, they caution.
'If we cannot agree a fair settlement, we will not hesitate to go
to court,' Tooth snarls. 'We at Sears Tooth are not afraid of a fight. I have built my reputation on fighting and winning and that is the very essence of Sears Tooth's success.' There is no disagreeing with that.
Web searstooth.co.uk