As The Spear's Award winner for Super Prime Property Development of the Year, The OWO Residences by Raffles offers premium luxury in the old stomping grounds of Winston Churchill and Ian Fleming – Sanjay Hinduja tells Spear's more
Hotelier and businessman Sanjay Hinduja looks comfortable when he sits down to speak with Spear's – and for good reason. Our meeting takes place in The OWO Residences by Raffles in a stylish and spacious apartment in Britain's former old war office.
Today, the Hinduja Group is a multibillion privately-owned Group, with a global footprint across 100 countries and 200,000 employees. Founded in 1914 by Parmanand D Hinduja, the organisation, future strategy and focus of the Group is managed by Parmanand's four sons: Srichand, Chairman, Gopichand, Prakash and Ashok and the younger generation.
 

View this post on Instagram

 
'My father told all of us, all his children and my cousins that nothing is impossible,' says Hinduja. 'Next to impossible is still possible. So that's always been in me and in all our family members.'
The project honours the building's role as Winston Churchill's strategic base in World War II. James Bond author Ian Fleming also worked here as a naval intelligence officer.
When it launches later this year, The OWO Residences will enjoy the added distinction of the Raffles imprimatur, courtesy of the soon-to-be-opened Raffles Hotel in the same building, which will provide the residents with more services.
Order your copy of the 2023 edition of the Spear's 500
'We have invested all our passion and time into this project,' Hinduja says. 'We wanted to create a legacy in London. That was the dream of my father and his brothers – to leave a legacy behind.'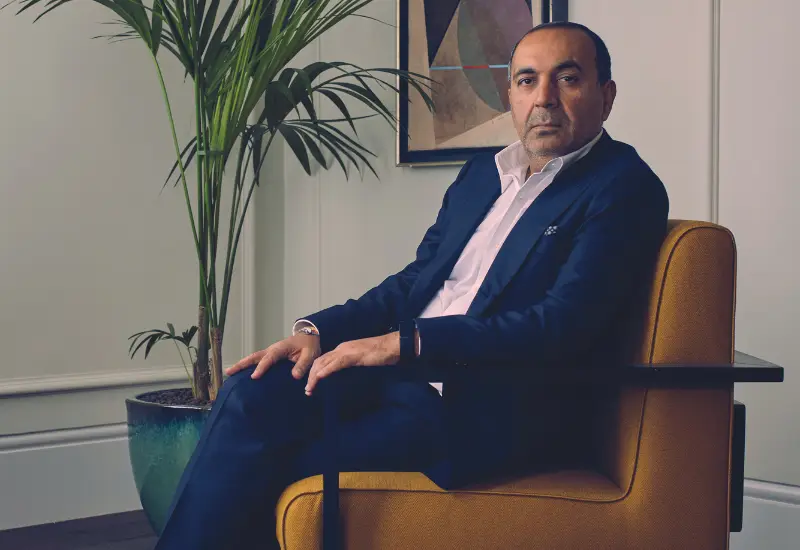 'When we came to Whitehall, we were blown away with the size and beauty of the building. No expense has been spared in bringing it back to its former glory. Every facet of this development has been exciting.'
See the full list of 2022 Spear's Awards winners here
But that doesn't mean there haven't been challenges. 'It was an inward-looking building,' says Hinduja. 'To convert an inward-looking building into one which welcomes everybody to step inside was a challenge.'
Hinduja says the project has seen a flurry of interest in the residences from US and East Asian buyers, and mentions the unstoppable march of branded residences in general.
'Buyers look for effortless, hotel-inspired living with round-the-clock concierge services, handling everything from housekeeping to shopping and delivered in a way that's highly personalised.'
The OWO's first residents will get their keys early in 2023, while the Raffles London hotel is 'targeted for April/May'.
And what next? He laughs. 'Then it'll be time to look at another project.'
The Spear's Award for Super Prime Property Development of the Year is kindly sponsored by McDowell Properties.
Main image: Sanjay Hinduja photographed for Spear's at The OWO Residences by Raffles by Oscar Yoosefinejad.
More from Spear's
Order your copy of the 2023 edition of the Spear's 500
What's next for branded residences?