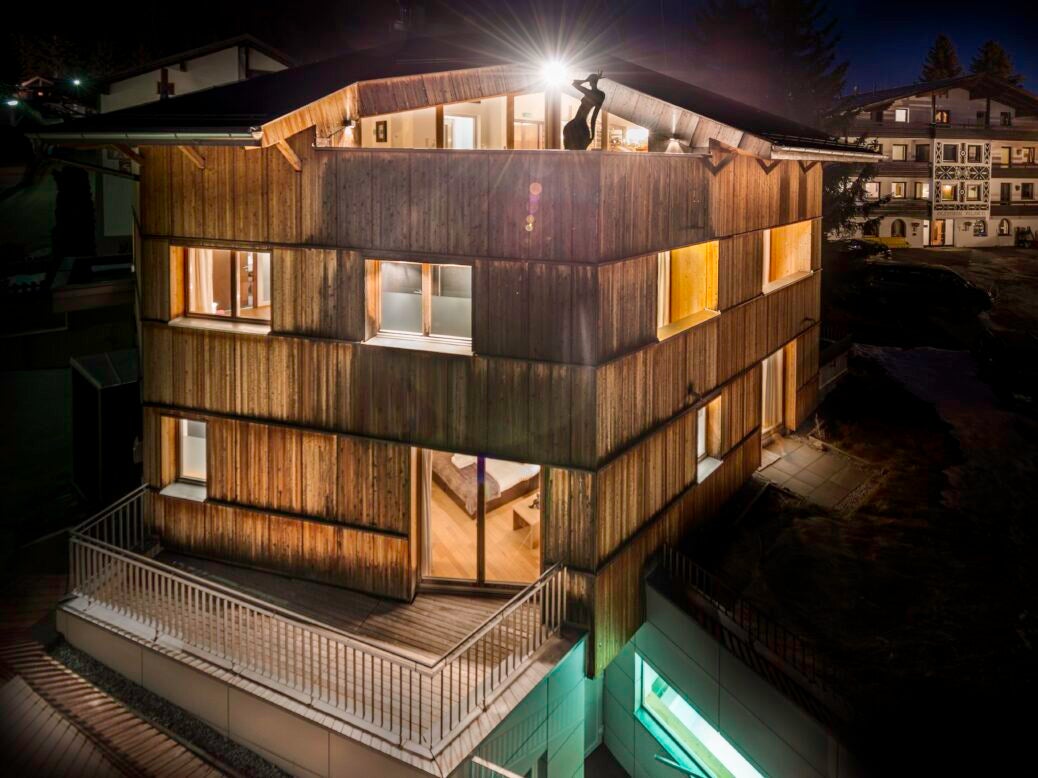 Since 1986, ski operator Scott Dunn has done more than almost any other to shape the way British HNWs hit the slopes. So when its founder organised a trip to see his own, newly revamped chalet in St Anton, Arun Kakar went along for the ride
After a short hop from London and the winding drive up the mountain road, we arrive in St Anton – the Austrian village that calls itself the 'cradle of Alpine skiing'. We're here to see Chalet Artemis, a newly refurbished luxury chalet owned by Scott Dunn founder, Andrew Dunn.
The house sleeps up to 12 people over four storeys, has its own private wellness area, two fine dining maestros (more on this later), a cinema, and an outdoor hot-tub. Those are just the highlights of what reveals itself to be a very special place indeed.
When one considers that Dunn's idea of luxury has been honed by more than 30 years in the game, this is not a surprise. An innate understanding of comfort and ease courses throughout the chalet.
Take the wellness area. Tucked away on the bottom floor, it somehow manages to pack in a steam room, sauna, eight-metre indoor private pool and massage room. All are at the level of quality that one would expect from the best hotels in the world, but are made extra-special by the informal homeliness of the situation.
This pedigree is maintained throughout the Chalet in detail and the odd touch of tasteful, understated opulence. The linen is the Queen's (not literally – it's the same brand, Heirlooms), the tables are hand-forged, the lamps and chandelier are among the items specifically designed for the chalet. It's all so splendid that I'm a little hesitant to take to the slopes, not least because my bed is so large that its borders feel like they are miles away.
At this point, I should probably mention that is the first time I've ever been skiing. At first, the prospect of learning is quite daunting. Seeing kids – surely no younger than two or three – confidently fly past while you're struggling to work out how to mount a ski lift isn't exactly encouraging.
Thankfully, though, my instructor Silke Unseld is here to guide me through the process. Unseld has such a good understanding of skiing that she knows what I'm going to do and how I'm going to react to a situation before I even consider doing it.
The Arlberg ski school turns 100 next year, and its fleet of instructors – sporting bright, Bananaman-style uniforms – proudly patrol the slopes with their students. Everywhere you look there's one whizzing around. Despite the occasionally inhospitable weather and dizzying altitude, one never feels anything less than safe in their hands. By the end of my time with Unseld, I would have trusted her to take me down a black run with my eyes closed.
It is one thing putting on a pair of skis for the first time, but learning how to use them in one of the most storied ski resorts in the world made for quite an introduction. On the first day I was enjoying the sun, scenery and thrills so much, I took just one break in four hours on the slopes. (Although my legs wouldn't thank me the following morning.) It's not difficult to see how chasing powder becomes an addictive hobby.
Concluding our first day on skis, we stop for some much-needed sustenance at the MooserWirt, which boldly calls itself the 'world's baddest' après bar. We've barely snaffled our burgers and ribs before the speakers get louder and people start to clamber onto tables – still wearing their ski boots. I'm reliably informed that this isn't an unusual occurrence.
Before things get too out of hand, we return to the chalet to watch a film in the cinema room before settling down to dinner – an informal tasting menu taking us through the eateries of San Sebastian. Tapas with panache, if you will.
It's the work of Rosie Flaherty and Rob Daley. Daley was executive chef of Scott Dunn for a decade and Flaherty is a Cordon Bleu alum with a CV that includes Michelin stars and Monaco yachts. It's not a total surprise, then, that they are able to conjure up brilliance so consistently throughout our weekend. From banana muffins at tea to celeriac soup canapes – not a single thing we eat over the weekend falls below brilliance.
This, along with the range of restaurants available across town and on the pistes, makes St Anton a gourmand's delight.
The award-winning Verwallstube is considered the most sophisticated restaurant in St Anton. Diners here are not only treated to magnificent views at 2,085 metres above sea level, but also a fine dining experience that ranks alongside many of the finest restaurants you'll find at sea level. My truffle tagliatelle is sublime and is followed up by what is quite possibly the best wiener schnitzel I've ever had.
That evening, our last in Chalet Artemis, we're joined for dinner by Dunn himself. A warm evening of conversation and laughs makes for a delightful end to a brilliant weekend.
'Luxury is very different to lots of different people,' he tells me over a glass of red. 'To me, it's always been detail – nothing is too much trouble.'
And that, in a few short words, is the ethos of Artemis. I hope my second ski trip comes along soon, but it's going to take quite something to top this.
Chalet Artemis is available for the 2019-20 season from €31,500 (approx. £26,500) per week for the full twelve person chalet – there is still good availability this season.
This is inclusive of five dinners with wine pairings, daily breakfast, daily afternoon tea, bar drinks, the driver service and exclusive use of the chalet's facilities. The team can arrange flights, transfers, ski passes, childcare and beauty treatments on request. www.chaletartemis.com
This trip was supported by the region of St. Anton am Arlberg
Read more