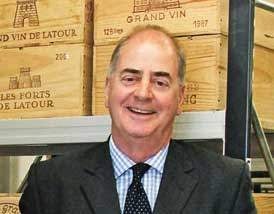 After a false start studying architecture, Richard Harvey took a job at Oddbins, which turned out to be a foot in the door of a glittering career in fine wine. A job at Prue Leith's catering business followed, which led him to write Leith's Guide to Wine and to set
up his own wine merchant. Bonhams' global head of wine is now the only Master of Wine employed by an auction house.
Harvey relishes the auction world, 'because we put together seven catalogues a year and it's like creating a new wine list each time, or making the best wine shop in the world, for the weeks leading up to the sale – and then you start all over again'. London sales have been record-breaking this year, with Bordeaux particularly strong, though 'there's been more excitement surrounding Burgundy because there's little of it and consumers are chasing the smaller market'.
Go to auction for mature vintages, suggests Harvey, because it's one of the only places you can buy them, 'particularly Bordeaux going back to the Seventies and Eighties that aren't generally available on the open market, because we're often selling wines that people have held in their cellars for some time'.
Perks of the job include tasting some of the rarest and most delicious wines on the planet.
One such for Harvey was an 1893 Château Margaux which, in spite of its age, was 'still incredibly alive and absolutely delicious'.