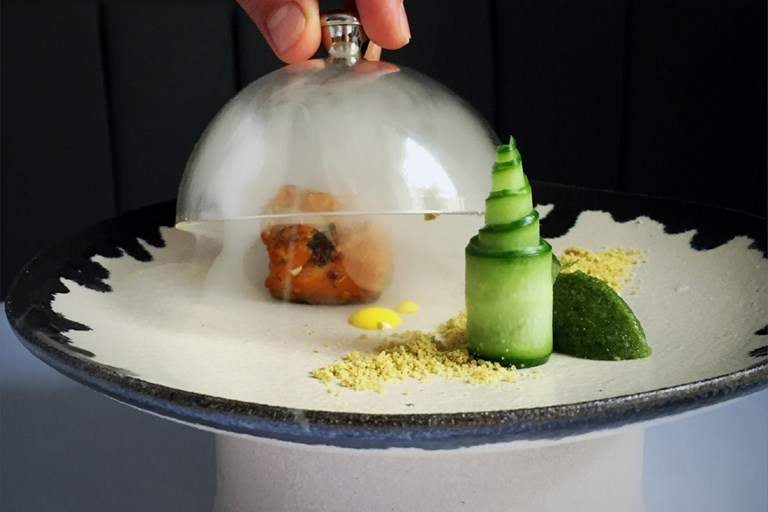 A Dali-esque taste experience by Michelin-starred chef Vineet Bhatia awaits visitors to the newly launched Chelsea restaurant, writes Rasika Sittamparam
All manner of roasted Indian spices assailed me as I entered the newly-launched Vineet Bhatia London, founded by Mumbai-born Michelin-starred chef, Vineet Bhatia.
The pleasant Victorian living room in which we found ourselves had an air of gentility and pride – not unlike that found in the house of a Chelsea socialite. It was a fitting setting, I felt, for the 'Gandhi of British Indian cuisine' as his staff call him, depositing refreshing fruity cocktail with a rose-flavoured spirit on our table. Amusingly, we are told that Bhatia has insisted that some of the elegantly crafted earthen dinner plates should be broken into half – to which the potter had agreed, albeit with a heavy heart.
We start with a chaat, which is Hindi for savoury snack: it's a tiny bowl of juicy smoked prawns coated in light but tingly spices. Its accompaniment, a vial of sandalwood-coloured lime soup, provides a hearty gulp. Before we could reminisce about the delights of the surprisingly pleasant pairing, we were swiftly presented with the next course – a bowl of black rocks.
Not literally, thankfully, as some of these coal-coloured pebbles turn out to be melt-in-your-mouth haddock frites covered in moreish chickpea batter. Its accompaniment arrives with far less camouflage – a straightforward crumpet-like savoury pancake with blobs of onion and coconut chutney. The sliver of edible foil on top, I thought, was an odd decoration – but the cool and coconuty creaminess of the chutney made the dish thoroughly enjoyable.
Now, it gets complicated, as the next nine of the eleven courses arrive swiftly, with a considerable degree of overlap. The sweet-savoury-moussey beet foie gras (on one of Bhatia's famed cracked plates); the trippy chilli cod dish with an intensely-flavoured perforated cracker and a swirl of purple sauce; the curried Patiala chicken;  and the addictive duck korma – all played their part, as if cast in a gleeful musical.
But the glazed pork chop was the star of the show, rolling on a neatly arranged raft of fine green beans, with a crunchy crown and an edible violet on top. We were suitably awed by the sweetness and the incredible softness of the meat – I longed to scream, 'Encore'.
The celebration never seems to end at Bhatia's very own culinary playground. The chocolate gulab jamun, a slow-roasted syrupy ball, stole my heart with its nectary crunch, while the meringue-covered clementine kulfi (Indian ice-cream) flirted with my tastebuds.
It had to end and end it did, with a wildly imaginative menagerie of petits fours arriving to bid you goodbye – think chocolate shards lodged into a strangely-shaped pottery. I'd argue however, that Bhatia is no Ghandi of curry, but more Salvador Dali with his misshapen but captivating craft. Lewis Carroll also springs to mind: at any rate this is a glorious re-imagination of the best of Indian cuisine – an Indian wonderland, if you like.
Rasika Sittamparam is a Researcher in the Spear's Research Unit