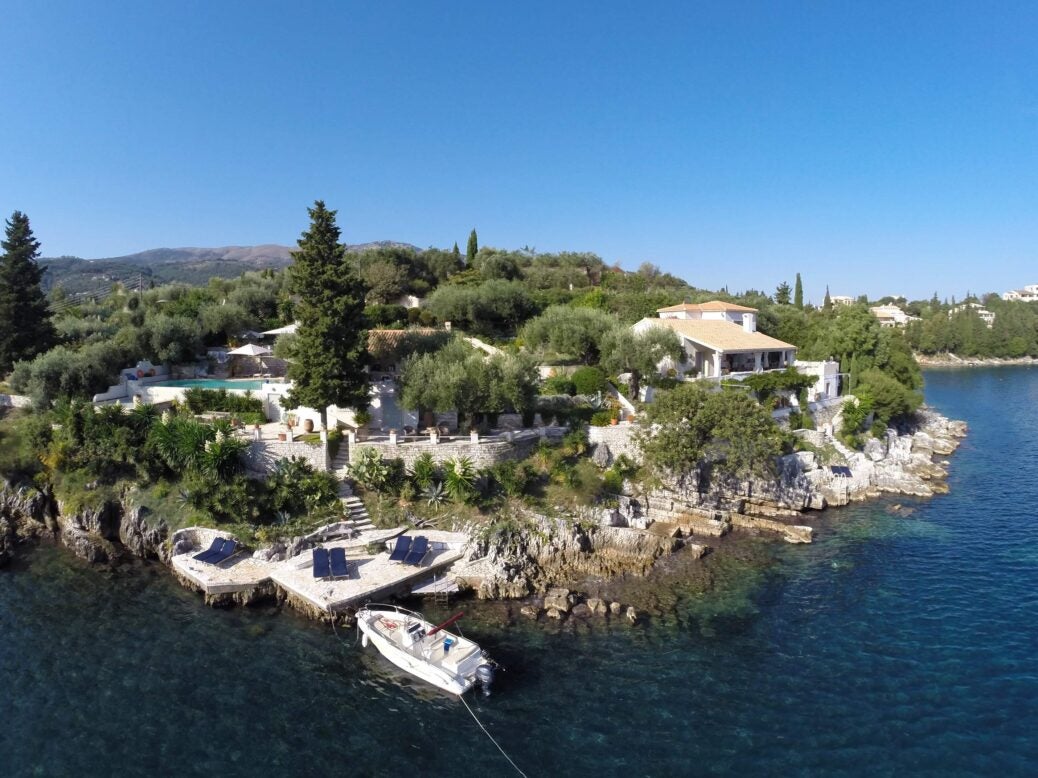 The natural beauty, splendid villas and enduring authenticity of the north-eastern coast of Corfu will leave anyone smitten, writes Olenka Hamilton
The only vaguely strenuous thing you'll ever have to do when staying at Villa Yeraki is decide which of the innumerable corners resembling paradise to recline in and sip your gin and tonic.  To be trite and quote Gerald Durrell — although there's nothing clichéd about Durrell's descriptions of Corfu — all that remains is to 'gradually allow the magic of the island to settle over [you] as gently and clingingly as pollen'. And that I did, drifting off to sleep on the hot sandstone infinity poolside.
Sprawling and labyrinthine, the villa is connected by white-stone steps and winding paths which, dappled by the bright September light breaking through the leaves of the olive trees, stretch between cushion-lined alcoves, alfresco dining spots, the pool and two private jetties, which look out on to the Albanian coastline in the distance. You have the sea and its lilting murmur all to yourself, broken only by the intermittent passing of a friendly boat, which makes the waves momentarily and pleasingly ponderous.
This is the north-eastern coast of Corfu, cynically dubbed 'Kensington-on-Sea' to reflect the more affluent variety of British tourist and settler, which the area has attracted for more than half a century. Notable inhabitants are the Rothschild family, whose seaside mansion is shielded from view by high stone walls but allegedly includes embellishments as lavish as a pair of artificial waterfalls flowing into a marble pool and a Roman bath just off the dining area. Nowhere, however, is less deserving of journalistic platitudes than this pocket of Corfu, whose natural beauty and enduring authenticity continues to attract those who expect only the best.
Estate-agent-turned-entrepreneur Nick Cookson, 32, has been coming to the area his entire life, thanks to his parents, Richard and Patricia Cookson, who discovered Corfu in the 1960s, founding the luxury-tour operator CV (Corfu Villas) Travel in 1972; they are credited with making Corfu a go-to holiday destination for the world's haut monde, be that royals, rock stars or politicians — Bryan Ferry, the Duke and Duchess of Kent, and Mr and Mrs George Osborne are all said to have holidayed there. In 1982, Richard Cookson bought Villa Yeraki, which has remained in the family ever since and was passed on to Nick and his brothers in 2013.
In its latest guise, Villa Yeraki has been serving as inspiration for the London-based businessman's new venture, the Villa Collective, an online platform for luxury-villa rental, which Cookson conceived with his father, Richard, who sold CV Travel in 2004 and now lives on the island full time. Modelled on Owners Direct, where prospective holidaymakers rent accommodation directly from the owners via a website, which displays the information and transacts the payments, the Villa Collective will include only the most luxurious villas, hand-picked by Cookson himself, and only those which come with a professional manager or housekeeper who is on-site and has first-hand knowledge of the area.
Villa Yeraki, which is priced between £4,000 a week in low season and up to £26,000 a week in high season, is the prototype: exquisite and quirky, a true home-away-from-home, it sleeps up to twelve people and comes complete with housekeeper and cook Joanne, who makes the best prawn curry you'll ever taste. All the possible demands of the fastidious HNWs are catered for, including a fully stocked wine cellar all the way from Goedhuis & Co in London's St James's for those who prefer a fine vintage to the local retsina.
As on Owners Direct, all the Villa Collective's properties are closely vetted, which includes background checks on the owners, and detailed descriptions of the properties, including floor plans, photographs and staffing arrangements. Indeed, Cookson plans to make up-to-date virtual tours compulsory so that customers feel as secure as possible.
The biggest bonus — and this is where Cookson's model differs from other rental platforms, which traditionally charge up to 20 per cent commission — is that there is no booking fee. 'My USP is a no-commission subscription,' Cookson says; instead villa owners pay a subscription through the site of £650 a year plus VAT, which amounts to a considerable annual saving. 'We make the introduction and the rest is up to you and the host,' Cookson says. 'The majority of villa [owners] want direct bookings. I'm progressing towards the long-term goal of being a marketplace for luxury villas.' He says the format is also a natural response to the increasing appetite among the more discerning travellers, who want the most comfortable, cost-effective and authentic experience as possible — an Airbnb for luxury villas.
Cookson has been carefully curating the website's offering initially through personal recommendations in Greece, Spain, Italy, France and Morocco, but presumes that eventually, once the site is up and running at full speed, home owners will start to approach him. So far, he has been focusing his energy on the Greek islands and Tuscany, where the offering is already very strong, and Spanish islands such as Mallorca, where he has two of Richard Branson's 'Virgin Limited Edition' villas signed up.
The model is proving unsurprisingly popular with villa owners because of the ease and flexibility it affords them: owners can upload their own photographs and promote the property however they please. 'People like to be in control now,' says Alithea Johns, a landscape architect and family friend of the Cooksons' who runs the Corfu-based architecture and landscape company Skopos Design with her designer husband, Marcus Warren, whom she met in London in 2000.
They built their family home, Villa Velanidi, one mile away from the town of Kassiopi from scratch two years ago, renting it out in high season, when they and their two children retreat up the hill to a family holiday home that Johns's parents bought in the 1970s and where her father still lives today. In line with the profile of properties to be displayed by the Villa Collective, the villa is luxurious, stylish and avant-garde: it is Greece's second 'passive house', which means it's super-energy-efficient, and includes a slick twenty-metre black-stone pool powered by olive wood, a tree house and a chicken coop where guests can retrieve their eggs before breakfast time.
'The key is the percentage,' says Johns, and the branding of the Villa Collective is important, too, as it attracts a certain level of clientele, she adds. Villa Velanidi is one of the first to be showcased on Cookson's platform, which launches in January 2017.
Villa Yeraki is available for €7,500-€30,000 per week
www.villacollective.com | +44 1623 272 301