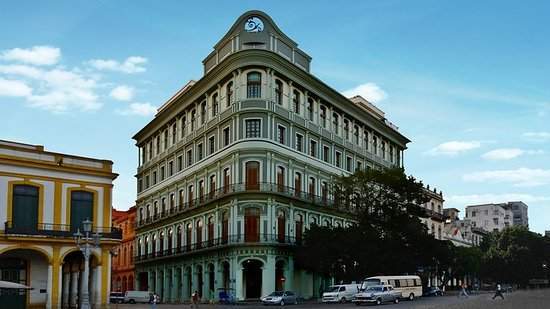 This 'politburo posh' hotel remains one of the top spots to stay in Havana, writes Andrew Harris
Will you, won't you, will you, won't you, won't you join the dance? Sometimes, Cuba's relationship with its lugubrious giant next-door neighbour, recalls the mock turtle's exhortations toward the lobster quadrille. Or in this case, the mobster quadrille maybe, given the two countries intertwined history of organised crime.
From America's prohibition-fuelled escape valve, to the mafia fiefdom of the 1950s, and the Cold War screaming-match, where America's favourite dancing partner went strictly off-limits, the relationship has always seemed tempestuous. And so it goes, with Obama's olive branch unleashing a torrent of desire for reconciliation, only to be spurned by Trump's assertions that the US is just being taken advantage of.
Havana, celebrating its 500th anniversary this year meanwhile, remains as beguiling and seductive as ever. The crumbling colonial architecture framing the faded remnants of one of communism's more charismatic exponents, stands in stunning stark contrast to the stale strip malls around Fort Lauderdale airport. Surveying one, not much more than an hour after taking off from the other, is as if the Cold War never thawed out.
The American crime-family values, swept away when Castro swept into town 60 years ago, might have seen casinos and brothels replaced with a more wholesome panorama, but that doesn't seem to have prevented the city from slowly decaying. While the revolution was busy making sure Havana was morally upright, everything else seemed to be falling down. But with its plethora of beautifully restored Cadillacs, Plymouths, and Buicks, shooting through the shored-up cityscape like fireflies, Havana somehow set the seal on its own unique identity.
Hundreds of at-risk buildings have been restored, affording UNESCO listing for Old Havana, where the first creaking signs of tourist overload were felt in the wake of Obama's rapprochement. That's abated thanks to the Donald's interventions, although a near 20-fold increase over the last few years, in the number of cruise ships, puts down a marker for problems the city might be ill-equipped to deal with.
Many beautiful old hotels have been restored in recent years, with the Hotel Saratoga on the edge of Havana Vieja (close enough, but not too close) often cited as the best. Certainly, when Beyoncé and Jay Z made their widely publicised visit in 2013, it was the Saratoga they chose, while other celebrities checking in, range from Madonna and the King of Morocco (not together obviously), to Nancy Pelosi and her 2015 congressional delegation.
Right across from the restored Capitolio (parliament) scheduled to be returned to its original purpose this year for the first time since the revolution (Castro thought it looked too much like a mini-white house. It does), the Saratoga's place at the heart of Havana, seems assured. But the backstory of the Saratoga is also the story of Cuba's struggle to adjust to a world without a Soviet Union in it.
With the Nineties and Noughties witnessing Cuba's overtures to (non-US) outside business interests, buccaneering businessmen began engaging with the Castro regime, albeit as minority partners. None more so than British-Lebanese Amado Fakhre and his Coral Capital, who, apart from wanting to build the first golf course since the revolution (Castro didn't like them either), spent $28 million transforming a crumbling abandoned dump into what was from Day One, acknowledged as Cuba's most alluring hotel when it opened in 2005. An accolade the Saratoga is widely credited with maintaining, although competition is looking stiffer all the time.
As one Castro gave way to another, the realities of interjecting capitalist concepts into ingrained communist dogmas began throwing up unexpected and decidedly unpleasant side effects. Fakhre and his COO Stephen Purvis, who'd moved his whole family from Wimbledon to Havana, were both imprisoned, initially in 'the Villa', the Cuban Lubyanka, and were only released in 2013 after two years of hell with little explanation other than very vague unsubstantiated references to Raul Castro's corruption crackdown. The golf course contract was given to the Chinese, the Saratoga's minority interest was supposedly expropriated, though Coral executives are clearly still involved, and buccaneering businessmen seemed to be suddenly running out of buck.
The Saratoga's original Cuban partner, the Havana Historian's Office, has now been supplanted by the army, who tend to have a hand in many such commercial ventures, hence Donald Trump's assertion that tourism is just pouring money directly into the army's coffers. There aren't men in uniform saluting at reception, or chambermaids marching down the corridors in formation, but the army is ultimately in charge.
The Saratoga's atmosphere hints at what might be described as 'politburo posh', that unique style statement forged in Eastern Europe's top-end hotels in the soviet era: the Metropol just off Red Square, where I dined next to a general with more medals than Usain Bolt, or Warsaw's Grand Hotel, peering over a menu the size of a billboard as a magician released pigeons around the restaurant. Surreal but treasured memories, to which the Saratoga is able to deliver a nostalgic nudge.
With 96 rooms, at best it could be described as a 'baby grand' hotel, although probably prefers to view itself as boutique. Polished dark woods, antique furniture, and a predominantly neutral colour palette predominate. In a city where wi-fi codes are treated with the reverence of contraband, the Saratoga is one of the few hotels to offer floor to ceiling Internet coverage all over the property. Many hotels in Havana can only manage wi-fi coverage in the lobby, if that. One of many aspects of life behind the sugar-cane curtain, not to be taken for granted.
Conservatively furnished rooms are spacious and bright with views out across central Havana toward the Capitolio, and the Gran Teatro de la Habana. Fifteen years on, the expansive marbled bathrooms are still managing to project plush, if not hinting at remodelling down the road. Service throughout is competent and cordial. There's a very stylish first floor bar that Hemingway would have been perfectly happy getting hammered in, and spectacular views from another one on the roof, where there's also a small, (but not too small) swimming pool.
The L-shaped restaurant on the ground floor somehow manages to look as though it's been there since the 1970s, but that could simply be exacerbated by an apparent dearth of diners. One couldn't help concluding that such a landmark hotel could be mining its culinary seam a little more effectively. Certainly, dinner prepared by the newly installed chef from Seville, was to a very accomplished standard. A few people to come along and eat it, shouldn't be too much to ask.
The Hotel Saratoga undoubtedly remains one of the top places to stay in Havana. The added buzz that will accompany a restored and reactivated Capitolio can only serve to underpin its already prime position, while the understated charm that has drawn in a top-drawer clientele since its inception, is still palpable. The plans this year to update the roof bar, pool area, and the exterior façade of the building will also deliver a welcome lift.
Around the time of the hotel's launch, plans for Butch Kerzner's Bahamas-based One&Only Resorts to assume operational responsibility were at an advanced stage, until a helicopter crash in the neighbouring Dominican Republic killed Kerzner in 2006. No management partnerships were ever entered into in the end, but whether the Saratoga retains its place at the top table of Havana hospitality without resorting to one, remains to be seen.
Rooms start from $339 (USD) per night.