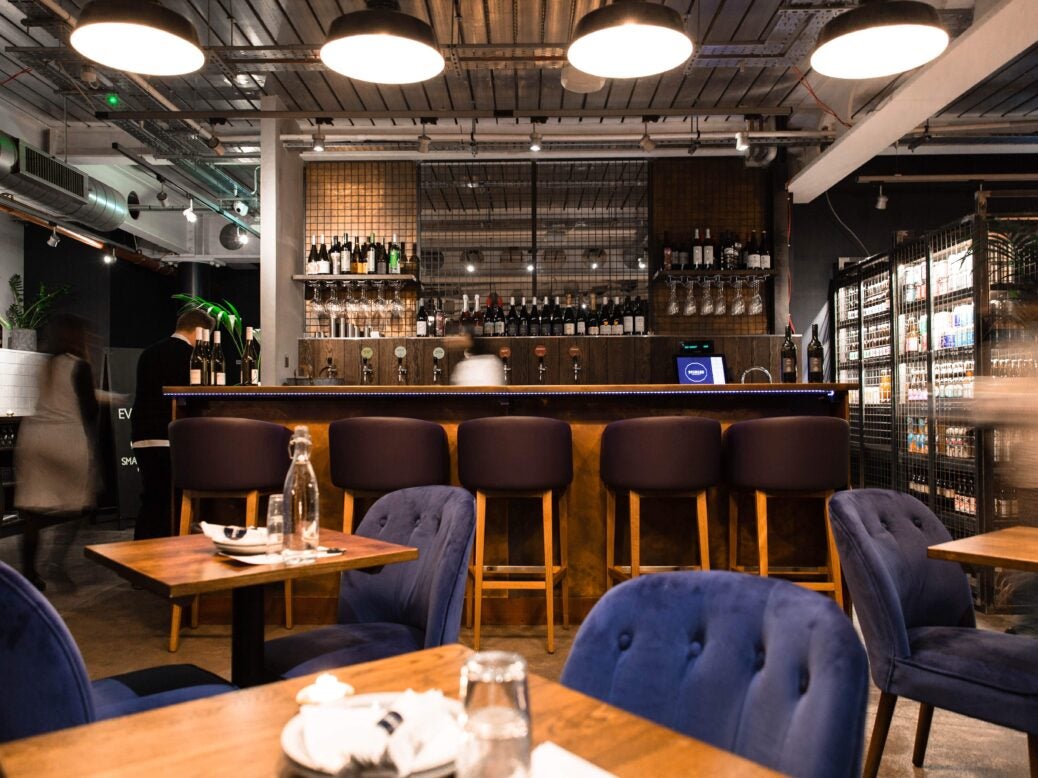 Tucked underneath the market-turned-café, Sourced Market's Tap Room might have some teething problems, but shines – thanks to its uniquely sourced ingredients, writes Sophie Killip
We arrive in Marylebone searching for the Sourced Market, but at first glance it feels like there might have been a mistake. We have come for its bar, the Tap Room, but the large-windowed space on the corner of Wigmore Street and Marylebone Lane reminds me of a tiny Borough Market. Pastries, deli meats and organic pasta act as decoration as we enter. Above a set of metal stairs, a large, bright arrow beckons us into the basement, confirming we are in the right place.
Things make more sense as we descend; opposite us, a shelf of large brown bottles and a series of eight beer taps are set into a tiled wall, below a sign asking "what is a growler?". It makes my dining partner giggle. We have – quite literally – found the Tap Room. Away from the bustle of the market-café above, the basement bar is a quiet, relaxed space. So relaxed, it seems, that a couple is comfortable enough to kiss with abandon in the corner.
Intimate booths line the dark walls, and bottles of wine and beer make up the décor behind metal meshes, distracting from the fact this was once storage space. We are offered a table in the middle of the room, and I sink a little deeper into my velvet chair than I first expect to. Moments later, house cocktails arrive, although they look more like glasses of juice. Both drinks lack the flair of usual cocktail garnishes – or even a few ice cubes.
Things pick up after this slow-moving start with the arrival of our first dish, the 'British Cured Meat Sharing Board'. Undeniable carnivores the pair of us, the board – which features five different cured meats – deeply satisfies both myself and my dining partner. In particular, tasting the Cornish seaweed and cider salami with its sourdough accompaniment, I can almost hear the beach.
Our cocktail glasses swept away and quickly forgotten, we finish the sharing board as our bottle of Davenport 'Limney Dry White' wine arrives. The only British wine on the menu, it is also the most expensive, but the Davenport white, hailing from Kent, is also delightful. The 'small dishes' arrive next –  as a bar, the Tap Room offers nothing bigger than this collection of finger food.
First are the chorizo croquettes: three of them. My dining partner's usual etiquette – splitting the odd piece down the middle – goes out the window as he swipes the biggest half and largest whole croquette off the plate. He declares it must be so, because he is bigger than me and therefore deserves a larger portion of the slightly spiced, crispy shelled croquettes. I let this misdemeanour slide, dipping my own cheese-oozing morsel into the cool, saffron mayo side.
The next two dishes arrive in quick succession; slightly charred, spiced cauliflower drizzled in tahini, and tender chicken skewers with tzatziki. Here, I must commend the chef – for once, I didn't have to fight to pry the chicken off the stick. There were also three skewers, so I exact my revenge by eating two of them. This might have been a mistake, as sea bass goujons are placed in front of us moments later; they are mild, slightly salty, and are perfect for nibbling on.
We realise that the couple who were occupying the corner have vanished (perhaps because they realised the Tap Room was not a boudoir). Around us, businessmen conduct an evening meeting over craft beers and cured meat boards, while two older ladies enjoy large glasses of wine. The Tap Room certainly feels like an after-work lounge bar, where one can sit back and unwind. Our desserts – or 'Treats' as the menu calls them – arrive with a breathless waiter, who explains he has brought them down from upstairs.
The true beauty of Sourced Market has revealed itself; though the rest of our meal has been created from ingredients sold in the market shop above, this is the first time the connection has been mentioned. My truffles are delicate, but my dining partner's salted caramel brownie steals the show. I usually find the salted caramel trend overplayed – but this is different: rich, dense, and so packed full of flavour it will have you sucking on your spoon to get the last morsels off.
With our Davenport finished, we make our way upstairs and into the market-café, its hip wood-and-metal interior a sharp contrast to the plush, dark downstairs. The Tap Room, we find out, has only been open a few weeks. Though it faces its own teething issues, my dining partner and I agree that we like their style – and can ignore their stumbles.
Upstairs, it takes us only a moment to spot the salted caramel brownie among the pastries, the spiced cauliflower with dishes of salad, and the cured meats in a fridge. We explore the shelves, but I am dragged away before I can pick up ingredients to make my own goodie bag. Pulling on my coat, I have one final thought: at least I know where to buy that brownie.
Sophie Killip is the Web Editor of DesignCurial and a regular contributor to Spear's.
Related
Review: Apero, South Kensington
Review: Flora Indica, South Kensington