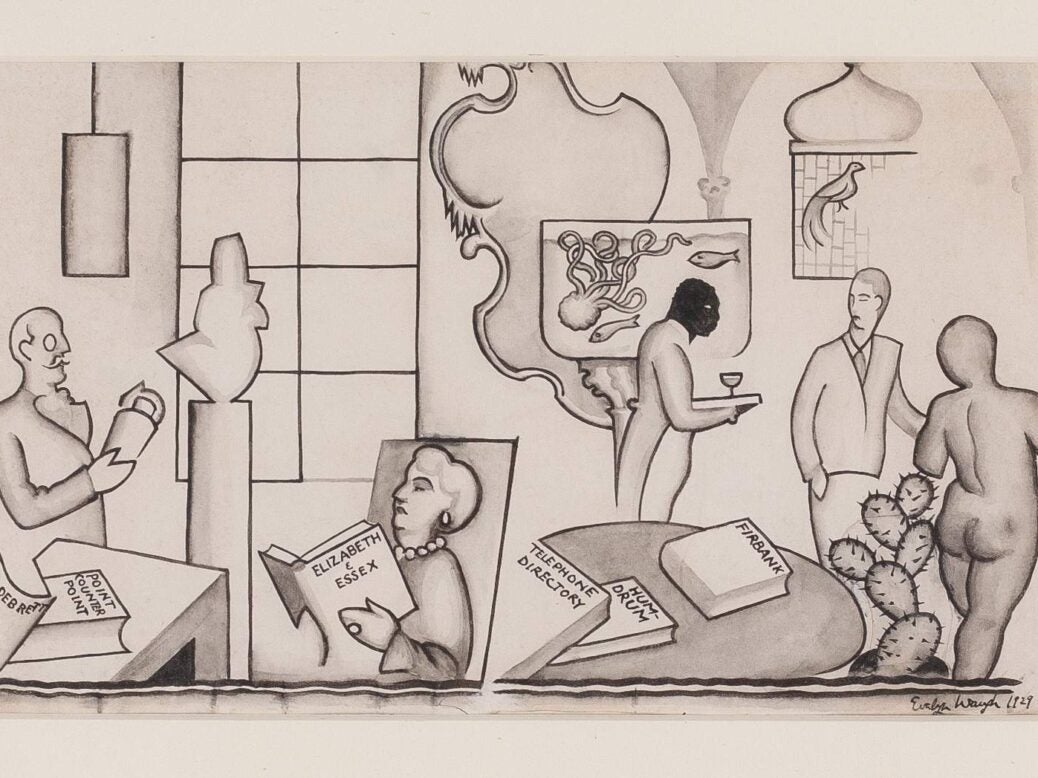 An exhibition showcasing the little-known visual art of the novelist Evelyn Waugh opens a window into the unusual mind of one of the Twentieth Century's greatest men of letters, writes Anny Carpenter
What even his most dedicated readers may not realise is that Evelyn Waugh, best known for his literary achievements, was also a gifted draftsman and artist – qualities explored in a compelling new exhibition.
EW Pinxit: The Graphic Art of Evelyn Waugh showcases some 60 original artworks and printed material by the writer, which together shed light on an artistic style that uniquely combined the then profoundly unfashionable Victorian aesthetic with that of the swinging Jazz Age. This include works both for sale and on loan from private collections, including the Brotherton Library of Leeds University and the Waugh family.
The show, curated by the bookseller and self-avowed Waugh enthusiast Ed Maggs and Waugh-collector Mark Everett, draws attention to the author's early ambition to become illustrator, in pursuit of which he attended Heatherley's in Chelsea after he came down from Oxford.
Prior to this, Waugh's cartoons and caricatures graced the pages of student magazines The Oxford Broom, Isis and Cherwell. Some of the works from this period include a series of wood-cut illustrations published in Cherwell in 1923, depicting the Seven Deadly Sins. In Waugh's hands, these included No1, 'The intolerable wickedness of him who drinks alone', and No5: 'That grim act, parricide'. Both are included in the show.
Waugh's interest in art began much earlier than university, of course. In fact, at the tender age of 14, he wrote an essay entitled 'In Defence of Cubism,' which was published in 1917 in the journal Drawing and Design. Waugh's diaries from this period record his frequent visits to exhibitions, often accompanied by his own illustrations.
Known as a novelist, Waugh's first book, published in 1928, was however a biography of the Pre-Raphaelite painter Dante Gabriel Rossetti. That same year, Decline and Fall was published by Waugh's father's imprint, Chapman and Hall, and Waugh himself produced the drawings that pepper its pages – what he would go on to call his 'illustrated novelette'.
Coinciding with the publication of the first volumes in the Complete Works of Evelyn Waugh by the Oxford University Press, highlights of the show include a hand-written manuscript of Waugh's second novel, Vile Bodies (1930). Invaluable in its own right, the manuscript is accompanied by a colour proof of Waugh's most famous design for the dust jacket and title page illustration, inscribed to his friends Brian and Diana Guinness: 'This is to be the cover. Do you like it? I do.' Part of the Elliot collection, the one-of-a-kind manuscript is being lent by the Brotherton Library of Leeds University.
Where Decline and Fall had been illustrated by Waugh, Vile Bodies was more conventionally presented. However, an evocative original pen, ink and wash drawing on show at Maggs is postulated to be an unused illustration for what was Waugh's second novel. Cocktail hour in a hotel lounge with cactus, modern literature, a cephalopod in a fish tank, a nude statue and a waiter: the drawing's surrealistic imagery bears the hallmarks of Waugh's satirist's humour and ascerbic allusions to contemporary Mayfair society.
Amid the enigmatic and riotous scene, he has found space for an inside joke – with a telephone directory resting on top of a copy of Humdrum, a novel by Waugh's friend (and model for Anthony Blanche in Brideshead Revisited) Harold Acton. Even the telephone directory is more interesting, Waugh seems to imply.
Another unique work on show is a painting of Napoleon by the faux artist 'Bruno Hat', invented partly by Waugh as part of a modern art spoof that fooled many members of British high society at the time. In a similarly humorous vein, the exhibition also presents a darkly comic Christmas card created by Waugh, which uses a reproduction of Gaetano Zumba's wax diorama illustrating the horrors of the Plague as an ironic representation of family life.
The exhibition shows us what might have happened if Waugh, who died at 62 in 1966, hadn't decided to write: and while a wonderful show, on the whole I think he made the right choice in the end.
EW Pinxit: The Graphic Art of Evelyn Waugh is at Maggs Bros, 48 Bedford Square, WC1B until 28 July
Recently
Lost Wright of Derby comes to light