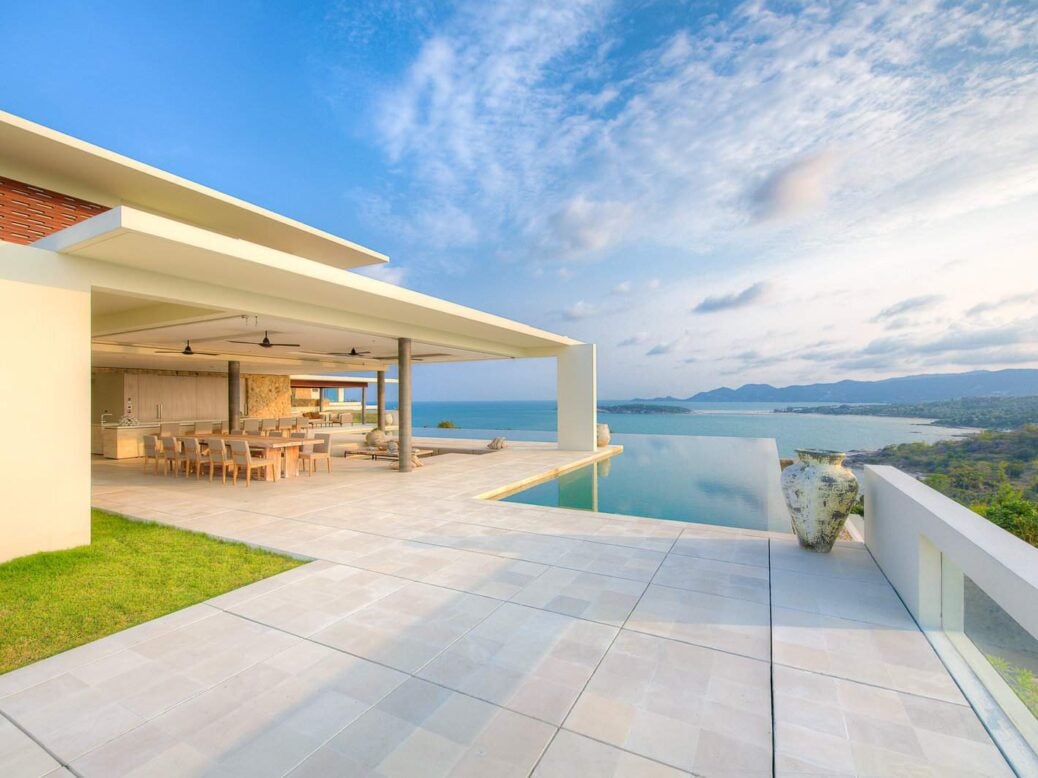 Samujana offers an exceptional level of seclusion and the chance to see stunning tropical weather phenomena, writes Rasika Sittamparam
Although I hail from a rainy country in South-east Asia, I had never seen rain in the making before my recent trip to Samujana, a collection of residences and retreats available for rent and sale in Koh Samui, one of Thailand's largest islands.
Moving imperceptibly slowly, the rain clouds gathered over hills in a neighbouring island in the Gulf of Thailand, as Samujana's friendly Italian resort manager, Fabio Marigliano, showed me around the magnificent villas, which contained a variety of prostrating Thai statues. As we climbed on to the rooftop of one of the properties, I noticed the cumulative puffs in the distance, inching closer together. Their outlines blurred with various shades of grey, merging into one large apparition. As I continued with the tour, the Buddhas adorning various corners of the villa seemed to have a knowing expression on their faces, despite having their eyes closed to the panoramic views. I saw the warning flash of the lightning, before hearing a thunderous roar in the distance. The dark cloud mass dissolved on the side of the distant hills, and from the reception area overlooking the L-shaped infinity pool we stopped to watch the stupendous downpour on the sides of the hills facing the coast, which was carefully avoiding the inward-facing slopes.
Watching the rebirth of water thus made me realise how many fountains there actually were in each villa, with some hallways looking like indoor Zen gardens, as streams flowed gracefully underneath the stony pathways. The infinity pools added to this effect, looking as they do as though they spilled directly into the ocean on the horizon, making one feel closer to the pristine island surroundings than ever. Such is the mastery of architect and head designer Gary Fell, who initially worked on the Four Seasons Sayan project in Bali before being commissioned to work on similar undertakings in Cambodia and Thailand, that his work on Samujana won him a Bloomberg/Google award in 2013.
If the island's tropical beauty incorporated into villas gives them a yoga-retreat feel (Samujana also organises various spa and wellness programmes in conjunction with Amrita for its residents, taking full advantage of this effect), the way the 25 villas are constructed alongside the hilly coast without spoiling its natural view from the sea is another wonder I had yet to behold. I joined the Samujana team on board its private catamaran to view the landscape from the waters, with Marigliano's expert guidance and never-ending supply of beers. The villas appeared like streaks of concrete and stone suspensions carefully interspersed among the rocky outcrops and indigenous trees, almost hidden from any seafarer's sight.
Samujana is probably camouflaged enough in its surroundings to shield off prying paparazzi (some come in flotillas these days, such as the fishing boat troopers who tailed the Kardashians). Discretion is of the utmost importance, Marigliano said, as they are often visited by celebrities, royalty, and many other high-profile HNWs. 'In fact, I'm texting Jean-Claude Van Damme now,' the jolly sun-kissed operator said laughingly. But he was not joking, and he casually showed me their text messages over my fried rice-filled pineapple 'boat' during lunch.
But more impressive than Fell's architectural feat of blending in with the environment is Samujana's conscious but sincere attempt to blend in with Thailand's local culture — bringing out the Land of Smiles' residents' renowned penchant for hospitality. And they do it well. The private butler assigned to our villas, whom we simply called 'Joy', was a stellar example. Whether it was giving the occasional wake-up calls with gentle but persistent knocks, or heading out to the nearest 7/11 for a packet of cigarettes at short notice, not to mention the meticulous way she prepared our breakfasts throughout our stay (not showing the slightest bit of disappointment when some of them were left untouched owing to a hectic schedule), it was difficult to imagine how helter skelter the stay would have been without her calm diligence, attentive gestures, and everlasting smiles.
Being Thai by birth does give one the upper hand in going the distance with service, but Samujana's non-Thai staff, who have adopted the island as their home, were no less accommodating than their local colleagues. Marigliano's charm was partly Italian, but his passion and fervour for Thai cuisine, both restaurant-standard and street delights, were infectious. Being no stranger myself to tropical fruits, it was amusing to watch some of my villa companions flinching at the looks of the hairy red balls (a lychee-like fruit called rambutan), the startlingly acid-green pandan paste, and the watery yet stodgy congee (savoury rice porridge) that he encouraged everyone to try.
Our Swedish Thai boxing instructor, Kriss, was no exception. Despite having fought in more than 70 matches, he gave us extremely gentle and encouraging instructions, with well-timed pats on the back, which made the session relaxing without any hint of leniency. Like Marigliano, he also considers Koh Samui as home, and lives with locals at a nearby boxing camp.
The same comforting personality was to be seen in Samujana's South African general manager, Kurt Berman, when I met him at a barbecue pool party he had put on for guests and staff. A self-professed hospitality aficionado, he expertly leads the team I was so impressed by, with disarming manners and a good sense of humour.
It is team effort, under Berman's supervision, that distinguishes Samujana from many other hospitality businesses — the larger-than-life but equally lovable characters who wait on you hand and foot. In addition to the availability of an entire host of staff within the premises, as well as Michelin-star chefs and masseuses within a stone's throw, Berman's team have a knack for magically appearing when needed, their presence otherwise unnoticeable. The privacy this gives truly makes you feel at one with the villa, while the rest of your companions are at the gym, private cinema, on the roof terrace, or anywhere else within the spacious property.
I enjoyed one such moment when I swam in the infinity pool towards the horizon as the sun was setting, another phenomenon I had not actually bothered to observe before. I was transfixed by the sedate pace at which the fiery star slipped away into the bluish darkness of the evening sky.
Hypnotised, I realised that the Samujana team's aim to promise guests an unforgettable experience was far more than mere marketing spiel. I had watched two natural occurrences that had passed by unnoticed during the first 25 years of my existence — first, the process that leads to a rainfall, and second, the actual start and finish of sunset. At that point, I appreciated my villa's ascetic quality and immersed myself within its sanctuary. Similarly, these estates are platforms for calming memories — a serene and trustworthy paradise retreat for healing and rejuvenation when urban life becomes just a little too clamorous.
Rasika Sittamparam is a writer and Researcher at Spear's