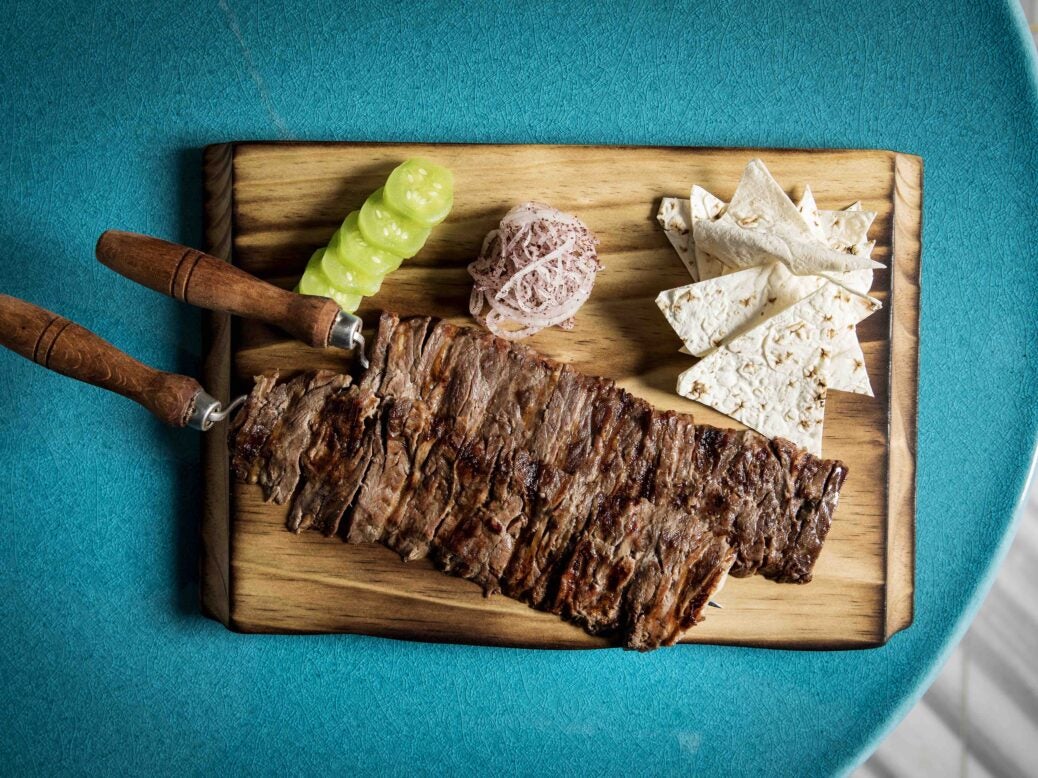 Sophie Killip visits Mayfair's new Anatolian restaurant, Ruya, and unexpectedly finds herself transported across the Black Sea
Overlooking Hyde Park, Ruya lies a stone's throw away from the Dorchester Hotel but invites us in without any of the unnecessary extravagance. Stepping through the restaurant doors, we are greeted swiftly by two dark haired women in flowing white dresses; one of them leads the way – dress billowing behind her – to our small table by the bar. We may have come for dinner, but our first stop is the Mekan, Ruya's bar, for cocktails and people-watching.
The cocktail menu takes us on a journey through the seven regions of the Anatolian landscape, from the Black Sea to the Aegean. Our cocktails are just as adventurous; my dining partner chooses a tropical, fruity 'Serefe' while I opt for a Trojan War – whiskey based but surprisingly sweet. By the time we rise to our feet and are ushered into the main dining room by our dazzling host – down a step, past the bread oven and into a cosy corner  by an intricately tiled column – the restaurant around us is bustling with the noise of an early evening crowd.
Tucked into our corner, we peruse Ruya's extensive menu, which is split into a range of options. Deciding to share everything we order, my dining partner and I choose three starters; the dishes are paired with a Narince-Beyazkere 'Hypnose', a light, plummy Turkish white. Our first starter, the 'Cig Kofte', is cold beef tartare served on baby gem lettuce. It's full of Middle Eastern flavours – and is also a very popular dish, we notice, looking around at the number of others diners digging in to the cold koftes.
Next up is the 'Citir Kalamar'; crunchy, popcorn-sized pieces of calamari, served with spicy tomato and cool avocado dips. The most surprising and delightful of our first round of courses is the third, 'lamb manti'. Tiny Turkish dumplings, about the size of one's thumbnail, they are packed with lamb and smothered in a spiced tomato sauce. We fight over every last one and are tempted to order seconds, but there are plenty of courses left to try.
Next to arrive is a 'Lahmacun' from the bread oven, which is a spiced lamb flatbread that feels like an elevated Turkish version of a quesadilla. This is paired with a rich Turkish red, the Signium 2015, Doluca. Still peckish after two rounds of sharing courses, my dining partner and I tuck into our main plates as soon as they arrive. A large, fresh sea bass is served in a terracotta dish and drizzled with olive oil vinaigrette. Our side, a 'Turkish Spoon Salad', is made up of tiny squares of chopped up vegetables, so small that they blend with the pomegranate seeds mixed into the bowl.
It's the final dish, the 'Keskek', which really steals the show. Perhaps undersold by Ruya's menu, it is described as 'barley risotto with pulled lamb' – but it is definitely not under seasoned by Ruya's chefs. Packed full of flavour, the creamy risotto gives hints of a balsamic glaze, mixed with the nutty flavours of the barley, hints of melted cheesy and tender, sweet shallots. The succulent pulled lamb melts in the mouth. Even when the dish is swept clean, my dining partner and I continue to pull our spoons across its edges, savouring every morsel of flavour.
Eventually, we are forced to admit defeat, and the empty terracotta dishes are taken away. For dessert, there's just room left within us to share Ruya's light, spongy almond and orange cake. The fennel ice cream accompaniment is a nicely balanced side and, unexpectedly, isn't overpowering. Around us, tables are filled with laughing families and friends; different cultures mingle over a shared love of food.
As we leave, our host mentions that Ruya has only been open for two months, but already has 'regulars' – judging by the service, décor and food we have just experienced, it's not a surprise that some diners are choosing to come to the restaurant for both lunch and dinner in the same day.  What is a surprise, however, is stepping outside and finding ourselves in London; it was only a moment ago it felt like we were in the heart of Anatolia.
Sophie Killip is editor of DesignCurial and a regular contributor to Spear's
Web ruyalondon.com
Related
Review: Beck at Brown's, Mayfair
Review: Frenchie's, Covent Garden