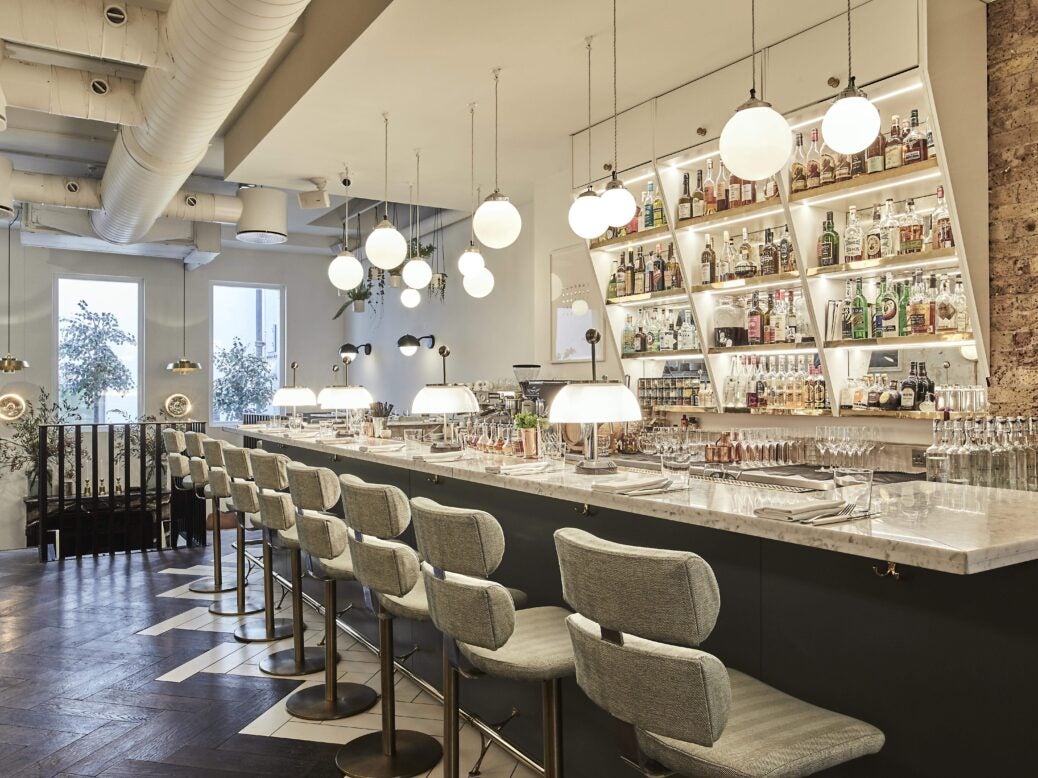 Jessica Brown heads to Frenchie in Covent Garden and finds a restaurant very much at the top of its game
Frenchie could hardly be better located, a few doors down from The Ivy Market Grill. And for my money, it's every bit as good, and a perfect place to while away a summer's evening.
The decor is beige and green – in pleasant and unobtrusive muted tones. There are hanging plants and windows at the back – no guests trapped in sweaty booths, thank goodness. It was crowded on a Tuesday evening with just the right mix of hum, but without that sense of being too tightly packed in.
Our serving team was attentive without being sycophantic, and poured us a couple of understated house cocktails in short prosecco glasses. These, the so-called 'Frenchman in New York', were billed as a sophisticated Long Island Ice Tea, gin-based with a lemon and Earl Grey infusion. It slipped down beautifully.
First up, we had bacon and maple syrup scones. This is apparently a favourite, and lived entirely up to such expectations – the tiny scones tasted like salted caramel, blending the best of a New York brunch with a dollop of Cornish clotted cream. After that, senses sharpened amid the fumes of the citrusy, robust Riesling we ordered: a 2016 Weinbach from Alsace.
My companion justified his duck foie gras by theorising about their youth at the time of their having been slain; its apricot layer, together with pistachio and verbena, made for a summer starter reminiscent of a Provençal morning. We followed them with some salt-flecked gougères in fondue-esque, peppery parmesan sauce. These were excellent.
The menu for the mains was, a little worryingly, full of fusion options, with courgette flower tempura, stone bass, chicken, or pork, all jostling for our attention, like some crazy auction. My fellow-diner had the stone bass: this was served in a crispy salt crust which rather undid any opportunity of tasting how fresh the fish was, but it was happily paired with fragrant vegetables and a delicate harissa beurre blanc.
I opted for the pork. This was tender, although just a little cubic and chunky. It came with cherries, roasted beetroot and almond and tarragon: these were heading in the right direction, suggesting a luxuriant, dark forest tang with silkiness as well as crunch.
Thereafter there ensued some heated debate between myself and my companion about who would get the last parmesan gougère. Naturally, I won the argument. Around this time, there was also a change in clientele: the wealthy tourist families gave way to droves of monochromatic professionals.
Then we ordered dessert. I had banoffee, to which I've always been partial. The mousse was nutmeg-infused and shaped like a huge macaroon with a cappuccino ripple: it proved smoky and complex. Together with a creamy banana, it hit the spot.
And so did Frenchie. This is a restaurant not to be missed, combing a central location with surprising cocktails and superb food. Head chef Dale Sutton deserves great praise for a menu of real verve; and Greg Marchand is now definitively out of the shade of one-time boss Jamie Oliver.
Jessica Brown is a writer at Compelo
Related stories
Review: 67 Pall Mall, St James's
Review: Coin Laundry, Clerkenwell
Review: The Pierre, Fifth Avenue