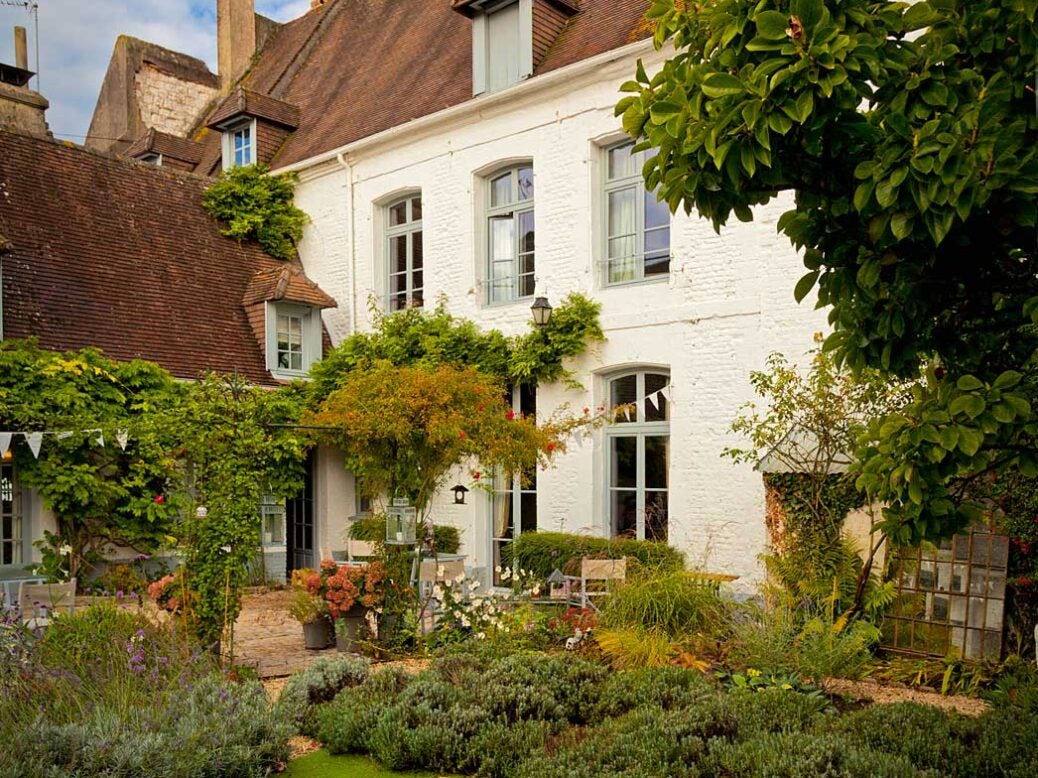 Andrew Harris stays in a charming, British-run luxury B&B that is a couple of hours from London by train – only it's in France
So what are the perfect constituent components of an escape to the country? A seamless airport-free delivery out of the city. A laid-back, quintessentially British host, welcoming you into a creeper-clad rural redoubt, ideally with a cravat or lazy Labrador involved somewhere. A centuries-old flag-floored building whose creaking boards and echoing style infused spaces embrace that elusive symmetry of old world charm and cutting-edge chic. To be able to step outside into a collage of similarly time warped buildings slumped into a slow-motion film-set fantasy. A hint of woodsmoke perhaps, seeping through the crisp atmosphere of somewhere big enough to invite exploration, yet small enough for the inhabitants to be able to gossip about you.
If it's on a hill affording far-reaching vistas of unimpeded greenness, even better. The sea nearby? Always welcome. And of course, ease of access, preferably involving nothing more strenuous than a stroll, to genuinely desirable dining destinations… an integral piece of the jig-saw, which in the British countryside, can sometimes remain elusive.
Tim Matthews' achingly tasteful restoration of what was for centuries the apothecary's house, is in a little town that ticks all the above boxes. But it isn't actually in England. Or anywhere in the UK for that matter. It's in France, in the town of Montreuil-sur-Mer, 45 minutes' drive from the tunnel exit in Calais, itself less than an hour from St Pancras, as the Eurostar flies. With a change onto a somewhat more sedate but scenic local train, the Parisian playground of Le Touquet, second home to the Macrons, is thus accessible by rail from London in a couple of hours. From there, Montreuil is a short cab ride inland. Car rental and transfer options are also possible at Calais Eurostar station.
I can't recall if Matthews sports a cravat, although he looks as though he should, but this long-time resident of what is undoubtedly the most attractive French town within striking distance of Calais, seems to revel in the French preconception of le gentilhomme anglais, which the locals have clearly decided he is. I suspect, however, that he's long since gone native.
Number 76 Rue Pierre Ledent in the heart of this sedentary but sumptuous hilltop community of just 2000 inhabitants, has been transformed into one of the most endearing B&Bs on either side of the Channel. It may well be an innate prejudice tilted toward one's own cultural reference points, but British restoration of hotel's and B&Bs in France can often appear quite impressive. Whilst the authenticity of the French experience, not least that quaint practice of wallpapering over anything and everything, dangles the opportunity of total cultural immersion, some provincial gallic interior style statements are perhaps best left unsaid. Especially the purple and orange ones. Monsieur Matthews however, has managed to bring about a perfectly balanced entente cordiale of French elegance and English sophistication that impresses from the first step across the threshold.
The house, like many in Montreuil (the setting for Victor Hugo's Les Misérables), dates from the middle of the 18th century. In 1793, along with a lot of other property suddenly changing hands in revolutionary France, it became the town apothecary's residence and remained as such for nearly two centuries. Whilst quite dilapidated by the time Matthews and his partner got to grips with its 21st-century renaissance, Maison 76 has retained many impressive original features including massive marble fireplaces, wonderful parquet flooring and gorgeous frescoes. The sense of space and opulence is preserved by room sizes having been largely left intact, resulting in just three guest bedrooms plus one suite. With its expansive principal lounge, rambling stairways, and compact but cute dining room, the overall perfectly proportioned impression is of the grand bourgeois town house that it was intended to be when constructed in the 1750s.
Colour schemes veer from deep hued historic neutrals using Little Greene paints (more Farrow & Ball than Farrow & Ball) to lavish brightly coloured original wall coverings and all points in between. Laced liberally with an eclectic design input and a notable attention to detail, it all moulds into a soft-toned soporific showstopper that you just want to sit down with a glass of champagne (readily accommodated) to absorb and be absorbed by. There's a delightful sizeable garden incorporating a picture-perfect summer house, although the small swimming pool operating under the same meteorological duress as the British climate, might work better as a lily pond. That aside, one struggles to find fault with a destination at the end of the metropolitan escape route as enticing as this one.
And then of course, there's that with which Le Weekend is always going to prevail over a domestic jaunt to the countryside. Supposedly superior French sartorial standards might occasionally surprise, some of the sights on show on a wet winter weekday in Calais' giant Cité Europe shopping mall make 1970s Albania look like Milan Fashion Week. But food, the production of it, the preparation of it, the interminable discussion of it, and the relentless consumption of it, remains as implacably impaled on the heart of French society as it has always been.
In the part of France closest to our shores, Montreuil-sur-Mer is rapidly establishing a reputation as the go-to destination for gastronomic indulgence. With one of only two restaurants in the North of France to boast two Michelin stars, Alexandre Gauthier's, La Grenouillere, together with Le Chateau de Montreuil, just yards from Maison 76, where for 30 years, Christian Germain has been consistently accorded one-star status, the town punches way above its culinary weight. In less than five minutes' walk of Maison 76, there's a plethora of enticing eateries including another two of Gauthier's, and my absolute favourite mid-range restaurant pretty much anywhere, Le Patio, helmed by rising star, Olivier Plee.
Matthews has recently partnered with Alexandre Gauthier in a new venture designed to promote the town's little-known legacy of foodie pre-eminence, La Destination Gastronomique. He has evolved into a walking lexicon of the area's isolated farm restaurants, organic and artisanal producers, retailers, and hidden hamlets of culinary artistry. Figuring out where dinner is going to be, isn't ever likely to be an issue for Maison 76 guests. How to stop their messianic host from continually telling them, could be.
The siren call of Shropshire's blue remembered hills or Dorset's hidden valleys of isolated indolence, to those in need of respite from metropolitan mayhem, isn't likely to fade anytime soon. But with Calais just a 55-minute whoosh away, chaperoning your taste buds underneath the channel in order to discover what our man in Montrueil might have lying in wait for them, presents as a weekend break with a difference. Et vive la difference!
Rooms at Maison76 from 175 Euros: maison76.com
Returns London St Pancras to Calais from £58 Standard, £168 Standard Premier: eurostar.com
ladestinationgastronomique.com
Photo credit: © Michael Bennett