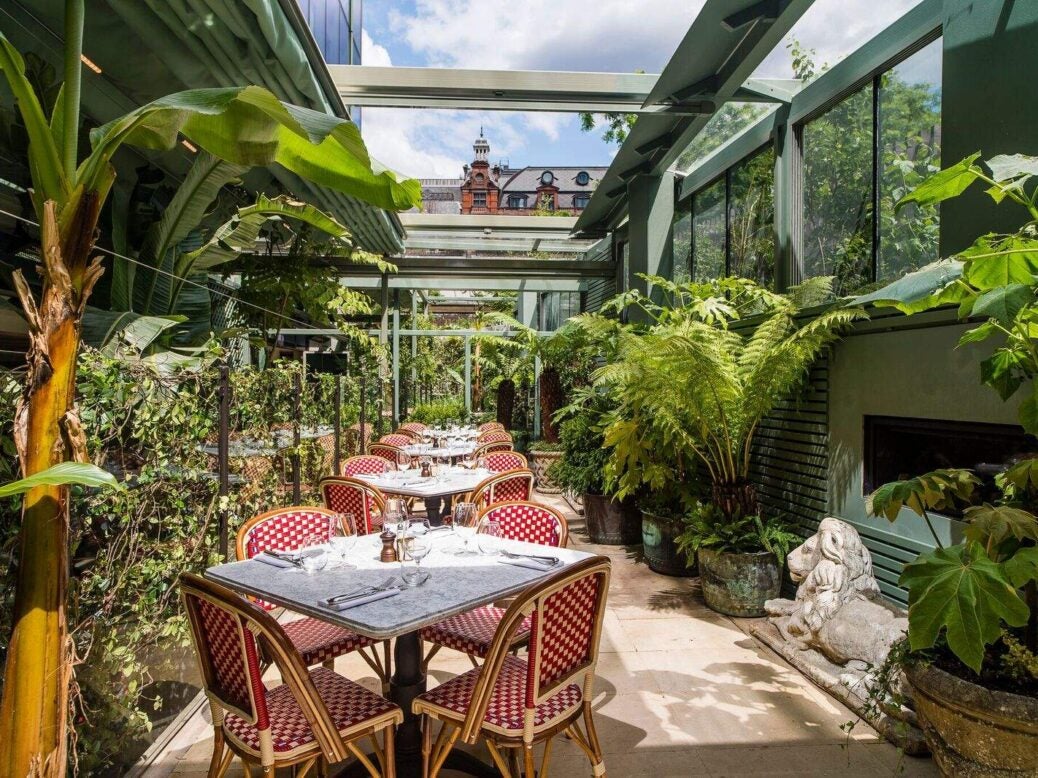 The Ivy is expanding – and expanding. But the magic isn't lost yet in its new Liverpool Street incarnation, writes Christopher Jackson
In the age of Fast and Furious 8 it is possible to be suspicious of sequels. This suspicion is compounded when one considers that the finer things in life appear to come to us as delightful one-offs.
Perhaps this is especially so with food. I am yet to experience the epiphanic chain experience: one's attendance at the Honest Burgers and Pizza Expresses of this world win their pleasure precisely from their safety and predictability – you know you're not going to be taught anything new about the world, but then perhaps the world has so much to teach that one can't possibly be learning all the time.
If Richard Caring and the management of the Ivy – which like Galvin and Nobu is happy to explore the boundary between first-rate food and the limitations imposed by franchise – have worries on this score, then they have gallantly suppressed them. Although this may have changed since I began this article, there are at last count eight Ivy restaurants within the Ivy Group, with three under construction. This isn't a crime – there are more than 13,000 Burger Kings worldwide – but one can see where this is heading.
So what's this incarnation of the Ivy brand like? Entering, I quickly scanned the place for Kate Moss. Disappointed, but recalibrating at the evidence of her absence, I began looking for Maggie Smith. When Tom Stoppard was not in evidence, I felt briefly tempted by cynicism. At this branch of the Ivy, you're only like to bump into any of these people if they've just been seeing their accountants. On the other hand, their accountants likely come here often.
But closer scrutiny of the place was its own argument against surliness: here we have the cheerful décor of the Ivy brand. It's a cosmos of green and burnt orange, of pooling light and Juraissic plantlife and – why not? – a sculpture of an elephant. Heron Tower might loom above you like a slice of Mordor. But there's no doubt that this is a place to be optimistic in.
Before my companion arrived, I was given a cocktail which aimed to impress me: it was called a Candy Floss Fizz, and consisted of a Dame Edna Everage wig of floss experiencing a drowsy drowning in a delicate glass of lychee and three-year-old rum. It was predictably sweet, like a sort of liquid bonbon, but the evening was off to a good start. My companion – a woman of the theatre – had already taken the absence of Judi Dench in her stride with perfect equanimity, and began sipping her Kir Royale from a straw with the contentment of my niece sipping Ribena.
A scallop is a perfect pleasure, and a serious contender for the starter element of my (hopefully hypothetical) death row meal. Perhaps I'd make it the main too. Whenever I see them on the menu, I clap it shut with the triumph of an irrevocable decision. This I now did and sat with arms folded while my companion sucked at the last liquid with her straw then, giggling, ordered the steak tartare.
The Ivy's milieu is Simple-Food-Done-Well – the menu is an essentially generous gesture to the classics. Everything here conspires towards a sort of glitzy comfort: around us, people seemed as content as the extras in that other 90s classic Friends. Thinking that when in Rome, one should at least witness a slaughter or two, we opted for lamb and steak – great solid carcasses which came with veg and mash. Both of these assassinations had been cooked beautifully, and were accompanied with a bloody, and faintly criminal, 2011 Rioja.
But perhaps the greatest glory of this highly enjoyable evening was the dessert. I have two photos of my chocolate bombe: one shows a sort of bronze sphere, like a scaled down version of a spaceship. The second shows its caramel decimation.
We stayed longer than people in their mid-thirties tend to do on Thursday nights. The gin was a temptation which kept insisting on itself towards the midnight hour, like the repeated whispers of some Satan. I recall that we were happy. More than that, we were at home.
The Ivy is endlessly reproducing itself: but it is a benign amoeba, and churlishness is not seriously an option. Outside, bidding goodbye to the suave waiter, we found that summer now gave us the sense that though life doesn't last forever, perhaps it might be persuaded to make an exception for us. And as my companion drifted off towards Hackney, I think I heard her whistling a carefree air: the Ivy will do that to you.
Christopher Jackson is head of the Spear's Research Unit
Recently