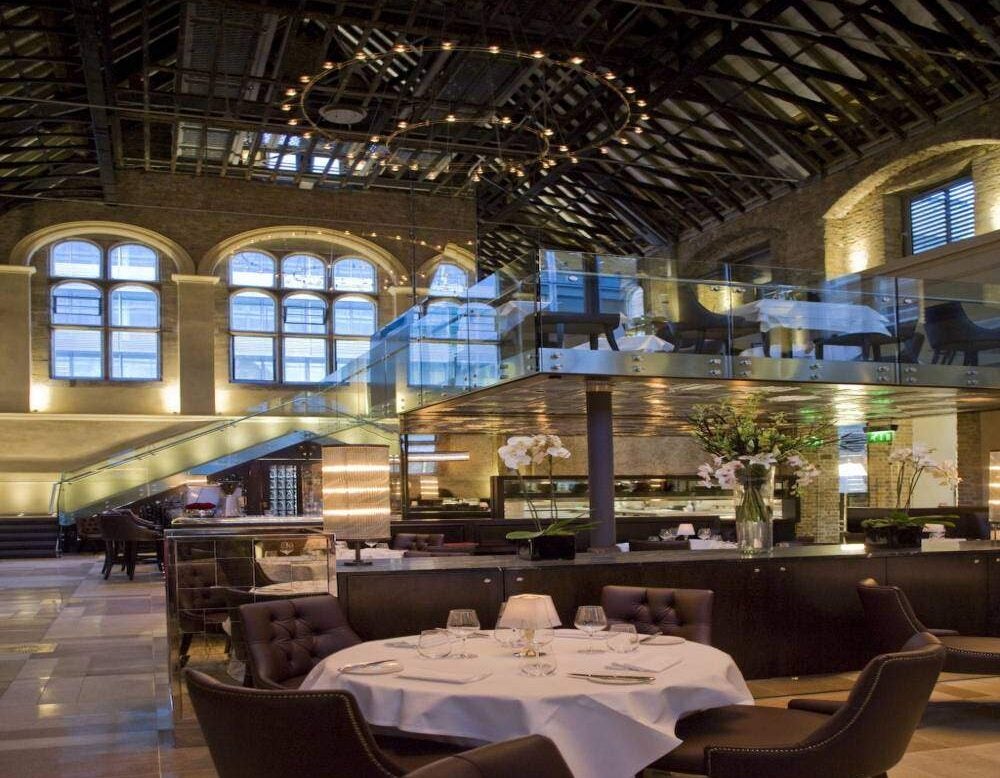 The Galvin brothers' Michelin-starred Liverpool Street restaurant is resting on its laurels, writes Christopher Jackson
It isn't said often enough that Shoreditch is a curious place. Achingly trendy on the one hand, it nevertheless neighbours the financial district: the eye is never quite sure if it is about to land on a banker or an actor. Fosterland rears above you, a clustered calamity of glass and height. But this is also a place supervised by Nicholas Hawksmoor's superb Christ Church – the dark eyes of its windows agreeably sinister, I have always felt, as evening approaches.
Dive off Liverpool Street and cross into Spital Square, and you find another church, except that this one has been turned into a restaurant. This is La Chappelle, a Michelin-starred offering from the Galvin brothers, Chris and Jeff. The suggestion therefore is of one religion traded in for another: the sin of gluttony replaced by its glorification. We have come to worship at their altar.
But perhaps there is nothing so injurious to quality as success. The place has been applauded in the national press, but one soon begins to wonder whether a bloated reputation might be at work.
The first clue to the disappointment of the evening arrives in the glum expressions of the uniformed waiters, who mill like vexed British Airways staff in and out of the tables, without passion or even obvious tasks to conduct. The Galvin champagne, in spite of three planes' worth of employees, takes a Cenozoic-era to arrive. The sommelier pops up and, thinly smiling, extols it. But it has an undeniably Tesco feel: brutally committed to flavourlessness, it's hard to escape the impression that you're sipping the contents of a public swimming pool.
Resolved to remain calm, we await our starters. Then we wait some more. Finally, the starters arrive and are deposited on our table with a tense smile from the waitress – as one might apologetically delegate an unhappy task to someone at work.
The roasted French veal sweetbread is one of my companion's favourite dishes: he has set aside his feelings about the immorality of French veal to experience it. The texture is fine, but it lacks flavour – and in any case, any subtlety it might have had is obliterated by the butternut squash purée, sherry and pistachio velouté all of which jostle for attention like an unhappy rush hour across the road at Liverpool Street station.
It was still not quite time to panic: surely, the lasagne of Dorset crab, about which we had heard so much, would be better? But eating this I realised that my enjoyment of crab is closely linked to my liking for the texture of the meat itself. This crab, bound in egg, was an emotional wounding, a mousseification of something never meant to be a mousse.
Even at this point in the evening, we still clung to the hope that all would somehow be well. But we hadn't, alas, reckoned on the second course – the red mullet, with Bouillabaisse sauce and squid ink quinoa. Now in theory a remote memory, it can still cause me to pause at unrelated tasks, and frown at the middle distance. The fish was dry; the quinoa incomprehensibly granular. It was an expensive misery: we began to mutter the question 'why' in awed tones.
By far the best thing we ate was the Cumbrian beef, which came with spring cabbage and Roscoff onion: this really was a Michelin star dish, full of a satisfying complexity, where other dishes had been accidentally incoherent. But by then it was too late.
How did this happen? Very few Michelin-starred places have such a readily-to-hand clientele happy to pay high prices for a declining product: as we ate our plausible banoffee cheesecake, we began to sense UBS and Deutsche rearing up over us, as reasons for the evening. Perhaps reliable demand has created the slight laziness that leads to a falling-off in quality.
Things fall apart, as Yeats put it, and the centre cannot hold. As we left, a fact from the website swerved back to mind to account for the night: Galvin restaurants serve more than 25,000 people a month. Alas, two of those left disappointed, and I wonder how many more do the same, but feel too intimidated by the reputation of the place to say so.
Christopher Jackson is head of the Spear's Research Unit