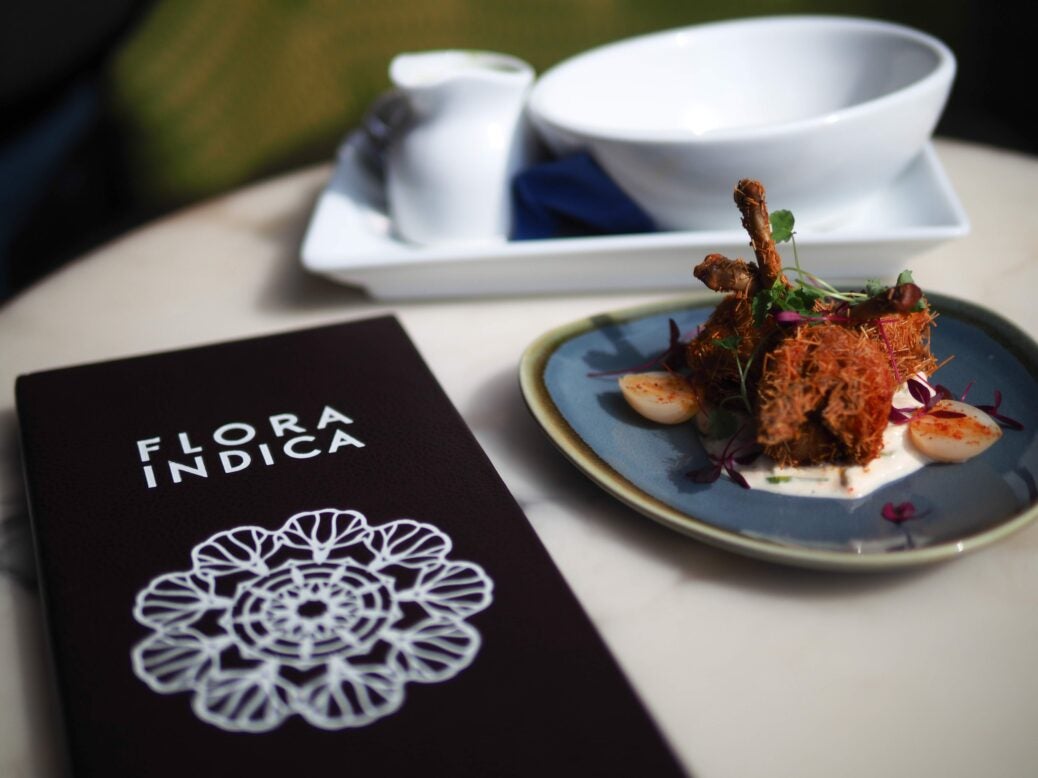 Rasika Sittamparam visits an intriguing restaurant inspired by William Roxburgh's botanical almanac of India, and enjoys it so much that she leaves reluctantly
Flora Indica is on the Old Brompton Road pitched between the Boltons and the Old Brompton Cemetery – that is, between the rich and the dead.
It's an unexpected location, and more strangeness was upon us as we entered: it was an unusual experience to be immediately sat down opposite a TARDIS. This turned out to be no gimmick: we were told by the smiling staff that this time-travelling booth was more than a random reference to Dr Who. Instead it was a nod to the journey of gastronomic nostalgia we were about to embark on.
We sat down, still wondering about the name of the place, and then, as if someone had mind-read our question, a book landed on our table to answer it: it turned out to be a book-length essay about another book – this was Flora Indica, or 'Description of Indian plants' – a two-volume almanac published in 1820-4 by William Roxburgh. Roxburgh was a Scot who, in the late 1800s, scoured India for exotic plants unknown to the Western world. His spirit took its place at our meal. It would have been fitting if Jodie Whittaker had joined us, but she was otherwise engaged.
Even Scottish explorers and extra-terrestrials need a drink from time to time. By way of an aperitif, we were presented with a light and pleasant citric concoction of rum, sage and rosemary. This was delicious, although along with the lovely mix I had to swallow my slight disappointment that none of the 7,000 or so plants Roxburgh had documented in the sub-continent was to be found within it.
In fact, the restaurant welcomes British herbs too. And perhaps a little mercifully, the food menu itself is not what I would call 'Indian fusion'. It is rather 'Indian-with-a-twist' – and a small bowl of okra fries arrived to prove this point. The thinly battered Indian vegetables were served with lemon sauce instead of the usual chutney. Even for a Malaysian-Indian this was an unheard-of combination, but it worked well.
Next up was the venison gilafi sheek, which unfortunately fell flat. It was an attempt at sophistication with lots of interesting flavours –coriander, chilli, tamarind and fig were mentioned on the menu – but it ended up tasting kebabish and overcooked. But if the venison was ambitious to a fault then its cousin dish which arrived next was neither flat nor disappointing: it was a succulent Suffolk lamb chop tandoori, elegantly flavoured with garam masala and yoghurt mint sauce.
We were still not wholly over what we had come to think of as the Venison Crime. However, we were moving towards a mood of forgiveness, and the restaurant was beginning to act as if it wished to be forgiven: it followed up the lamb with a second mea culpa – the Jerusalem artichoke papdi chaat. The lightly crisped artichokes combined well in the bowl of yoghurt and tamarind chaat – and the flavours performed a Bollywood dance of redemption on the taste buds.
The 'Till Wali' yellow fin tuna arrived next: this was artfully coated with spices and accompanied with soft baby leek, chilli caviar and compressed cucumber. Its spices were offset by its undeniable lightness and freshness: the venison receded much as the suburbs of Bombay do on the way up to Udaipur.
Even better was to come: a crunchy scattering of tempura samphire, served alongside the pickled octopus – this was accentuated by the squid ink dip, a triumphant splash of the sea.
After that, the curries arrived all at once in a suite of loud colours, like the sort of outfits people used to wear in Carnaby Street in the 1960s. This riot was intensified by the red, white and yellow of a large side of saffron-infused pilau rice.
Meanwhile, the bergamot chicken tikka was creamy, light and tomatoey, and paired well with a slow-cooked black lentil dish, shot through with Kashmiri chilli. We were now nearing a happy destination: my favourite dish was the slow braised Suffolk lamb Rogan Josh – this was soft and tender, and beautifully cooked.
Though nearly entirely full, I opted for pudding: the warm beetroot halwa. It was served with amarkhand, a curd-based sauce, which provided a sublime milky aftertaste.
This was a fine restaurant, full of flavour and excellent service: it might be that there is still room for improvement, but one says this only because one knows how delicious many of the courses were: the heights it has already reached are indicators of what more it may achieve.
And so we left half-heartedly, glancing at the TARDIS, which duly teleported us back to the present.
Rasika Sittamparam is a writer at Spear's