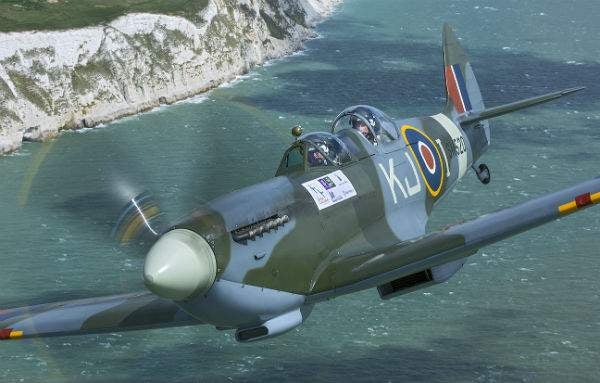 For a pilot, nothing can compare to the thrill of flying a Spitfire – and it doesn't have to be just a pipe dream, writes Ben Griffiths
Goodwood Aerodrome is a very special place. Nestled between the South Downs and the West Sussex coast near Chichester, Goodwood's motor-racing venue and sumptuous country estate are world-famous. But few visitors realise the historic circuit was formed by the perimeter track that ran around the wartime RAF Westhampnett airfield.
From this very grass, tin-legged ace Douglas Bader departed in a Spitfire fighter plane on his final mission over France in 1941. He was forced to bail out over enemy territory, captured and incarcerated for the remainder of the war. A life-sized statue of Bader stands behind the modern-day flying club, eyes cast skyward as a memorial to this most famous of wartime pilots.
With such history all around, it's difficult to think of many finer places at which to strap into a Spitfire. Until recently this was nigh-on impossible, short of buying a Second World War fighter of your own. But thanks to the Boultbee Flight Academy the thrilling sound of Spitfires reverberates around Goodwood again, and anyone can pay to indulge their aerial fantasies.
Boultbee was the brainchild of property entrepreneur Steve Boultbee-Brooks and pilot Matt Jones, who flew a private jet for Boultbee-Brooks. The duo discovered a mutual passion for the Spitfire and a vision for sharing this unique piece of British and aviation history with as many people as possible. When the chance arose to purchase a dual-controlled Spitfire TR9 at auction, the idea for the Boultbee Flight Academy was born. There was a small problem, however. Neither had ever flown a Spitfire, and there was nowhere in the world to train to fly one. So the pair set about creating the world's first Spitfire training school.
The fleet of vintage aircraft soon expanded to include a Tiger Moth and a Harvard, the aircraft the RAF used to prepare trainee fighter pilots for the Spitfire. This enabled Boultbee to offer trained pilots a syllabus that mirrored the progression of a Battle
of Britain ace.
However, they also wanted to offer non-pilots the chance to fly the magnificent machine, and that took a while longer. With support from the Civil Aviation Authority they succeeded, and today they are able to offer a host of flying experiences in Spitfires and P-51 Mustangs to everybody from experienced pilots to those who have never flown before.
'We can cater to anything from a gentle sightseeing flight over the English countryside to a full-day corporate or private event where you can tail-chase a "Messerschmitt 109" in a formation of warbirds, zipping through the skies at 300mph-plus with your friends or family right on your wingtip,' Jones explains.
For many the Spitfire is the ultimate dream come true. Even without its wartime history the graceful machine would still be just about the most beautiful aircraft ever made.
'That iconic elliptical wing and unmistakable V12 roar not only make it a feast for the senses from the ground, but mean that even by modern standards it is a machine with staggering performance,' says Jones. 'Like an old car it's visceral and communicative – the light touch controls lend themselves to fingertip responsiveness, but with no computers between you and the flight control surfaces you really do feel your way through the air. In short, it's a pilot's dream. On top of all that it's a symbol of Britishness and a machine that continues to capture hearts and minds across the generations.'
For someone whose childhood ambition was to fly a Spitfire, merely being invited to sit in the cockpit was an emotional experience. When I was offered the chance to fly in a two-seater machine some years back it was completely overwhelming, the single best flight I have ever had.
The roar from the Merlin engine as it sparked into life was music to my ears. The cloud of pungent fumes which billowed in and around the cockpit smelled as sweet as nectar, so long had I waited for this moment.
When we finally lined up on the runway, the acceleration as the Spitfire took off was breathtaking. 'Like slapping a racehorse on the backside and hanging on for dear life' was how one pilot described it.
At my instructor's invitation, I took the controls and gently steered us over the countryside one afternoon, the green fields rotating beneath our elliptical wings resplendent with their camouflage paint and RAF roundels.
The Spitfire handles perfectly, with the gentlest of touches. Many have described how it is like strapping wings to your own back and merely thinking where you want to go and the aircraft follows. Once we landed I wiped a few tears from my eyes, and I sat in the cockpit a few minutes longer to inhale the atmosphere.
Jones exlains that tears of joy are a common sight among his passengers and are humbling to see. But perhaps Boultbee's best review came this year from Annette Mason (wife of Pink Floyd drummer Nick Mason), who described her flight in the Spitfire as being 'like the best sex you've ever had!'
Demand for such flight experiences remains high, but the academy is keen to innovate and expand. It already offers helicopter flights alongside a Spitfire and Hurricane and is building the world's most realistic Spitfire simulator, from largely original parts. Boultbee has also expanded from its HQ at Goodwood to Exeter and Cumbernauld in Scotland, and will soon operate from Duxford, another historic RAF base near Cambridge.
'To see a place you've known from ground level your whole life from the air is special, and to do so from the cockpit of a Spitfire, nothing short of sensational,' Jones concludes.
Flying one of these iconic machines was an experience I will never forget, having waited half a lifetime to get the opportunity. Only now do I understand what my wartime heroes were talking about. There is simply no other aircraft that touches the soul like a Spitfire.
Web boultbeeflightacademy.co.uk