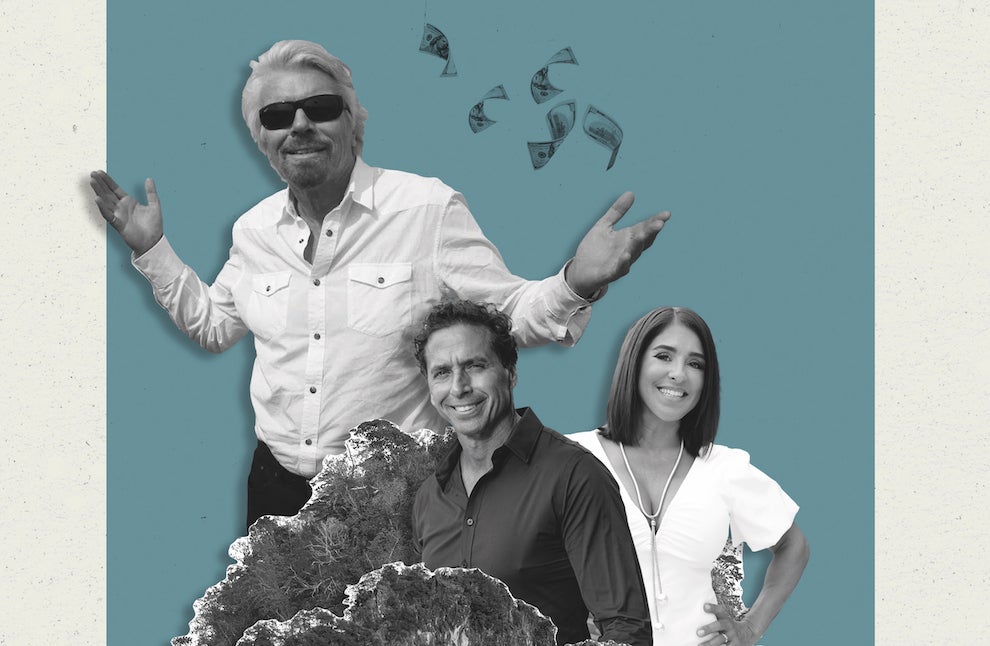 A new invitation-only club called R360 helps entrepreneurs find a sense of purpose, build their legacy and join sojourns to Necker Island. But there's a catch: prospective new joiners must be worth at least $100 million. And, its members and founders tell Rory Sachs, that's no guarantee of admission…
I used to be one of these vampires,' says Bobby Castro. 'I wasn't about life.' It might seem like a curious thing to say for a genial 55-year-old, tanned adopted Floridian. Especially when you consider that he is part of a power couple worth $450 million.
Bobby and his wife Sofia left school in the ninth and tenth grade respectively, but this didn't prevent them from turning a $25,000 investment into a business empire. Just 18 years after they set up Bankers Health Group in 2001 – after they sensed an untapped demand for private lending services in the medical industry – the company was sold for $1 billion.
The Castros became role models for aspirant entrepreneurs who would follow them on Instagram in the hope of replicating their tale of rags to riches and receiving the benefit of their wisdom through mentoring. Yet, Castro says, behind the fandom and the nine-figure valuations, there was a sense of hollowness. He was a 'vampire', in the sense that he was focused only on the next project or pitch – craving satisfaction from the next successful venture, but never really getting it.
'Unfortunately, the fireworks never went off, dude,' he says, sitting next to Sofia on a Zoom call from Miami. 'When we had our first million in the bank… there was no "wow" moment, there was no special feeling. It was actually the biggest disappointment in my life.'
While their bank balance kept on climbing, the Castros continued to pursue their business endeavours. Sofia started a commercial mortgage provider and spearheaded a multi-family investment portfolio in condo conversions, amassing 3,000 properties worth more than $450 million, helping to ratchet up the couple's combined personal wealth into the hundreds of millions of dollars.
Like many self-made entrepreneurs, they saw the value in being part of a network for like minded people and so joined Tiger 21, a 'peer to peer' group of nearly a thousand HNWs sharing advice on wealth creation, estate planning and investments. Members must be worth at least $10 million to join.
Though the organisation had things to recommend it, it wasn't a panacea. 'Tiger 21 is a great group, dude, don't get me wrong. But it was a pitchfest,' he says. 'I got lost in the money game and it became all about the money.'
Castro, it seems, was the not the only person to hold such a view. At the same time, Charles Garcia – who was one of Tiger 21's most successful 'chairs' – had begun thinking about a way to help successful entrepreneurs with the kind of issues that Castro had been grappling with. Garcia teamed up with Michael Cole, a veteran of the multi-family-office space and a former CEO of Cresset Asset Management, to launch their own organisation, R360, in 2021.
To some people, it may seem strange that someone worth more than $100 million could have 'problems', but Castro believes depression can be common among the ultrawealthy. The sense of true financial freedom can be accompanied by a profound sense of unease. It's a reality that Garcia and Cole understand clearly.
'We call [self-made centimillionaires] "immigrants to the land of wealth",' Garcia tells me on a Zoom call – he joins from Boulder, Colorado, while Cole is beamed in from San Francisco. 'The challenges that somebody has with, you know, three or four hundred million are very different than someone that's accumulated ten or twenty million of wealth.'
Garcia, a past member of networks for successful people such as the Young Presidents Organization and Vistage, says that although there are similarities between R360 and other such groups, R360 is different in some important respects. The most obvious is that would-be members must have a net worth of at least $100 million – ten times the minimum bar for entry required by Tiger 21.
'I've been a serial entrepreneur in the wealth management space,' says Cole. 'When we came together, we identified the fact that wealth at this level – $100 million or greater – can be very isolating. These are folks that have made extraordinary amounts of wealth. And it's very difficult for them to find like-minded people that they can share their experiences with and identify what they're going through.'
Whereas many similar groups are primarily for entrepreneurs themselves, R360 welcomes whole families. The R360 programme also lasts for three years and costs $180,000 – compared to Tiger 21's one-year programme, which costs $30,000.
The Castros are part of a cohort of 48 founding R360 members, who each contributed $350,000 for the group's establishment as a limited partnership. They retain the right to remain in the group for life. In total R360 now has 60 members (several were previously members of Tiger 21). Cole and Garcia aim to reach 100 by the end of 2022.
R360 brings wealth creators and their families together in regular chapter meetings across the US to reflect upon a more rounded definition of success that identifies six distinct forms of capital: financial, intellectual, spiritual, human, emotional and social ('FISHES'). The group's philosophy is underpinned by academic research from Garcia, who has produced a white paper on the potential perils facing the US's democratic structures that might result without increasing moral leadership from wealthy figures.
By focusing on the six strands of capital, families are encouraged to aspire to 'global growth', says Sofia Castro. Cole adds: 'They want to maximise their ability to manage wealth, to create a legacy, and to make an impact on the things that matter to them.' In December the group held a forum based around social capital, where members could consider how each family could represent their values in the wider community.
Indeed, although prospective members must be worth $100 million, this is no guarantee of being admitted. R360's nomination process is stringent and multifaceted. After the publication of a Bloomberg article about R360's launch last year, there was a deluge of applications, with 70 prospective joiners coming forward. Of these, Garcia and Cole say, 60 met the $100 million threshold, but only 15 were ultimately deemed suitable to join. 'We felt that there wasn't a good fit, based on not alignment with our values or alignment around our purpose, what we were trying to do,' Garcia says.
Prospective members must receive supporting references from at least two current members of the group before being interviewed by Cole or Garcia. 'An intelligence dossier – that's about 25 pages' is then collated and reviewed by a committee that makes the final decision about a new member and their family joining.
'It's very tight, it's hard,' says Bobby. 'Just because you've got $100 million doesn't mean you're going to get my vote. That's the last thing on the list.' Wealthy outsiders needn't apply if they're uninterested in bringing spouses and children into discussions or remain nonplussed by the societal impact of their wealth, he adds. For him, the biggest no-no in the nominations process would be a fixation around generating more money.
Rather, he's looking for contemporaries who will 'make this world, at least what's around us, a better world, versus just your typical member group that sits around, talks about how to make more money'.
Membership is not without its perks, however. There have been several trips to Necker Island for seminars on leadership with Richard Branson. 'Eight or nine' of these have been held thus far, says Garcia, who adds that they combine 'the concept of fun with a purpose'. Branson – who told the group he splits his time equally between his business activities, things 'that give him energy' such as hobbies, sports and his family, and ways to improve the wider world – is a paradigm for R360 members.
'We meet on Necker, and we really get down to the nitty gritty about life,' says Bobby. 'It gets very emotional. It's very powerful, dude. All the fences go down. We talk about what's going on in our lives. It's amazing what's being shared in that room, even on the economics side. It's very fascinating to see what other families are investing in, how they look at their money. The wealth that R360 has is staggering, but what's beautiful about R360 [is] their heart.'
Intimate discussion and chapter meetings provide 'good healthy conflict', while the small 'pockets of communities' allow time for members to share how they're taking their investments and philanthropy in a positive direction. And there's accountability, with a structure that keeps track of individuals' progress. 'We have a target date… They're constantly following up, constantly making sure we're staying in our lane,' says Bobby.
Sometimes the introspection required by such in-depth conversations can be painful. At a three-day R360 seminar for younger individuals, one of the couple's son-in-laws faced certain questions in earnest for the first time. 'He was emotional, he cried,' says Bobby. 'They talked about very personal things that maybe they couldn't express to us.' Such events allow families to bring adult children into discussions 'to let them know the kind of wealth that you've created… without creating a monster', says Sofia. 'This wealth is not to be going out there to go party.'
For Garcia, ensuring the family is prepared is a personal endeavour. His father, an esteemed heart surgeon, had several businesses that 'nobody knew about' until after he died aged 62, which 'landed in the hands of other people' and were only uncovered decades later. Garcia believes it's crucial that family members proactively involve the next generation so ventures like these aren't later mismanaged. He also believes the right values have to be instilled in people early on. 'If you talk to a PhD in psychology, they'll tell you that your basic values and beliefs are formed by the time you're ten years old.'
One sobering piece of research, which Garcia labelled the 'wealth dilemma', struck a chord with the Castros. Most long-term wealth management fails, with only 30 per cent of businesses surviving to the second generation and 12 per cent making it to the third. Overall, around 70 per cent of longterm wealth management is estimated to fail. 'It's a scary stat,' Bobby says. Without clear core values or family policies, the uncomfortable risk lingers that the 'grandkids… have nothing left', he adds.
Sofia, who oversees R360's women's committee, is particularly passionate about ensuring female and spousal empowerment in families where businesses have been spearheaded by a patriarch, given that 90 per cent of wealth globally remains in the hands of men.
'It really touched me a lot that they care so much about bringing in the family,' she says. 'They want them to be involved so that they can learn how to continue that generational wealth.' Able to draw on her own experiences in business over two decades, she encourages all members to participate in family affairs to build resilience. 'God forbid something happens to your spouse… they know how to continue with that generational wealth and for it not to fall.'
Emphasis on the younger generation is reinforced by the production of artefacts. Included in the R360 membership fee is the option to commission a feature-length documentary and a 200-page book adorned with family photos that tell the story of a family's values, which can be passed down the generations.
'The question we ask them is, "What will your unborn, great, great, great-grandchildren, that you will never know personally, say about you?"' Cole asks. 'If we can create a film that talks about the significant events and influences the values… it creates context.' Bobby says the project 'takes a lot of time' but 'it's very powerful', forcing the Castros to constantly consider: what are the core values they want to pass on? 'That's a message that's going to be cascaded down to our grandchildren.'
There are other benefits of membership that provide significant return on the $180,000 investment, say Cole and Garcia. Members each have access to the Global Guardian app, which provides worldwide personal security services, including 53 air ambulance teams globally that can help in the case of accidents or medical emergencies. Cyber security is another important theme; families receive training given in consultation with a former FBI head of cyber.
The group also has a partnership with China-focused asset management firm KraneShares, which will allow ten members to join a delegation with JP Morgan analysts on a trip to China, with a focus on the impact of social investing. A chief philanthropic investor will join the R360 team, helping members maximise the impact of their giving. There's also a technology platform that lets members view their entire portfolio of investments on one digital hub, while the founders are planning a partnership with a risk-management software company to further enhance the offering.
'We've got unique financial technologies that aggregate all their assets together and do it at a price point that they couldn't get themselves,' says Cole. Given these extra features, Garcia often tells prospective members: 'If you can't get five [times the value of] your membership, then you know, it's probably not a good fit for you.'
For Bobby and Sofia Castro, who met in 1989, started a business that changed their lives over two decades ago and now have grandchildren, R360 feels like another new beginning. 'We have a big appetite,' says Bobby. 'I go down a rabbit hole with this stuff.'
Through R360, the production of their own family documentary is under way and the couple continue to work intensely to distil their values and shape their own 100-year legacy plan. As well as continuing to inspire entrepreneurs, Bobby plans to visit neighbourhoods and schools near where he grew up so that younger people can learn from his experience. 'I left at ninth grade… I want to help another Bobby,' he says. 'I know there's Bobbys out there that can do great things in this world.'
What's next for R360? Cole and Garcia weren't planning to expand the group's membership outside the US until 2023, although mounting interest persuaded them to admit a UHNW from Switzerland early. Garcia says now the ambition is relatively simple: 'To curate a league of 1,000 of the rarest individuals around the world – and to inspire and challenge future generations.
Image: Sam Churchill