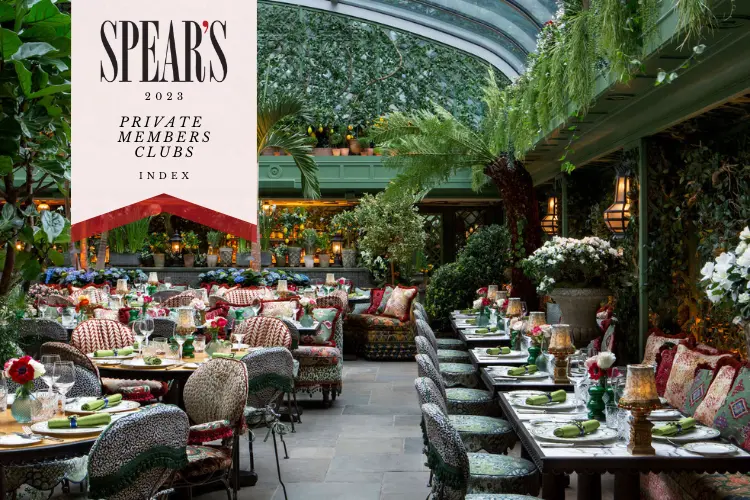 Part of the Spear's Lifestyle Index
Private members' clubs have long been a fixture in the lives of high-net-worth individuals. They can offer respite from the hustle and bustle of the city, serve as networking hubs, or provide a space to exercise or unwind. They can be centred around nightlife, such as Tramp or Annabel's, both of which have been longstanding features of the Spear's index, a professional community such as The Walbrook in the City or The Arts Club, or a social scene such as The Court. This year we welcome two private members' clubs located in the Middle East, where there is a fast-growing scene: Ned Qatar and Nasab Dubai.
The best private members' clubs provide an experience that reflects the interests and of their patrons, while providing the level of service you'd expect from a top-class hotel or restaurant.
Spear's has chosen the leading representatives of London's world-class institutions – a varied selection which reflects the diversity of private members' clubs that the city has to offer – and selected establishments from other cities around the world.
Spear's publishes annual rankings of the top private client advisers, service providers and institutions catering to HNWs. These are drawn up on the basis of peer nominations, client feedback, telephone and face-to-face interviews, data supplied by firms, as well as information gathered by the Spear's editorial and research teams.
The private members clubs featured are included in the table below, along with their Spear's ranking and focus. 
Click on the individual names to be directed to more detailed profiles of each club on spears500.com. The table is ordered alphabetically by name.
To explore all the Spear's indices, and to use our find-an-adviser tool to identify the private client adviser who is right for your specific requirements, go to the Spear's 500 website.
To receive relevant research updates from Spear's – and thereby give you and your firm the best chance of being included in future Spear's indices – please register here.
If you are an adviser featured in index and would like to update your profile or provide additional information, please email research@spearswms.com.