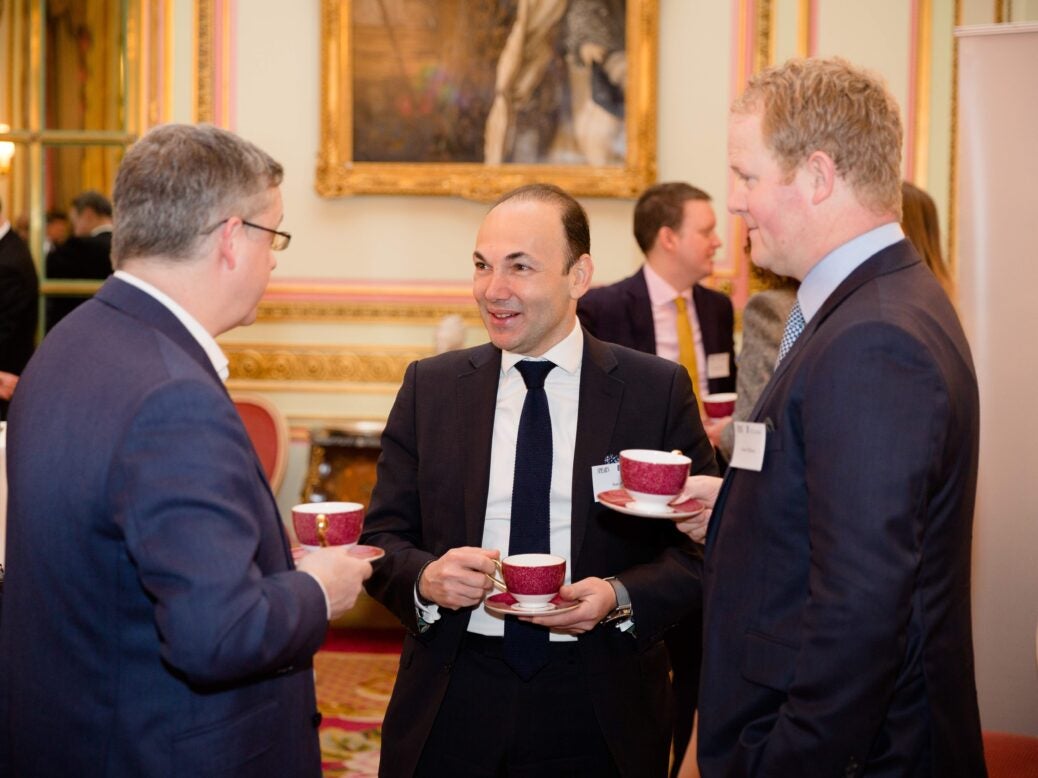 HNWs and their representatives gathered at the Ritz for the latest Spear's breakfast briefing held in association with IP Global
More than 30 HNWs gathered at the Ritz for the latest Spear's breakfast briefing, held in conjunction with IP Global, an international property services company headquartered in Hong Kong.
The aim of the meeting was to educate on how to succeed in the fluid global property market — a much-needed discussion: with Mayfair prices decreasing, volatility has been much on people's minds.
The panel, chaired by Spear's deputy editor Christopher Jackson, included Spear's own Catherine Moye – a writer on this issue of some 20 years' standing – Ross Elder, the CEO of boutique wealth manager Lincoln Private Investment Office and Paul Preston, the Director of Global Sales at IP Global: that was about 60 years of professional experience in itself.
HNWs in attendance included property manager Olu Akindeinde; Riyad Daud, the director of SBG UK Ltd; Mazy Moghadam, managing director of Julius Baer; founder and chief executive of Landmass Alan Waxman; legendary investment manager Lex Van Dam; the Hon. Tristan Phillimore, and art consultant Sonja Abracen.
The panel began by discussing the nature of property as an asset class. Moye cast her mind back and reminisced about the development of the boom in London property in the Blair years. 'Property became sexy to a younger demographic,' she recalled, adding that if she had been able to buy some of the Canary Wharf properties she'd reported on in those days, she'd now be as 'rich as Croesus.'
Elder came at the question of property from a different perspective, and told the audience how property can fit into a wider portfolio: 'At Lincoln we believe that property is an essential and fascinating way to increase performance,' he said, while admitting that stocks and shares still constitute the core of Lincoln's approach.
As the conversation developed, it became clear that finding value in today's market is increasingly difficult. Moye explained: 'We've had really strong growth in prices, and the job of the property investor is getting harder because we're not going to see the same level of growth over the next ten years that we've seen of late – that comes out of Knight Frank which is as close to gospel as you get in this area.'
Happily, Preston was on hand to detail IP Global's sophisticated approach, and its ability to identify 'robust opportunities'. Where are these? The panel identified a number including Greater London – IP Global has identified possibilities here for its client base in Woolwich and Croydon.
Preston also drew the audience's attention to Manchester: this is the UK's fastest growing property market at 13.3 per cent – according to the Colliers International Cities of Influence TLC Index 2017, it's the third most influential city in Europe.
In relation to Birmingham, Preston noted that IP Global is focused on regeneration schemes near to public transport links. The panel was also unanimous that HS2 is, in Preston's words, 'a game-changer'.
Farther afield, Elder noted that rent regulation had created 'value' in the New York market. For Moye – an approach with which Preston agreed – Berlin is also an area of significant promise: 'Berlin is booming now,' she said, observing that it is possible to enter that market in prime locations, in a way which isn't possible in London, New York and Tokyo.
By way of conclusion, Elder brilliantly explained the appeal of property from the perspective of a wealth manager: 'There are difficulties sometimes in chasing yield,' he said, pointing to catastrophe bonds and contingent convertible bonds as being particularly dicey. Elder explained that property provides a safe counterpoint to such complex instruments. 'I'd want to warn people about going too far into the long grass,' he added.
Moye also cautioned that the 'job of the property investor is getting harder than it was.' Throughout one had a sense of a fluid market – and that IP Global has positioned itself brilliantly to meet the demands that come with that.
Preston shared IP Global's approach going forwards: 'We're always looking to spearhead new markets….We're looking at Portugal – in particular, Lisbon. We've been to Frankfurt recently and we're actually looking at Madrid. And we like Dublin actually,' Preston added, pointing to improvements in lending conditions in the Irish capital.
So HNWs be advised: there's still plenty of opportunity even in an uncertain world – you just need to know the right places to look.
The Spear's breakfast briefing held in association with IP Global took place on March 20 at the Ritz. For more information about how IP Global can help with your property investments go to ipglobal-ltd.com