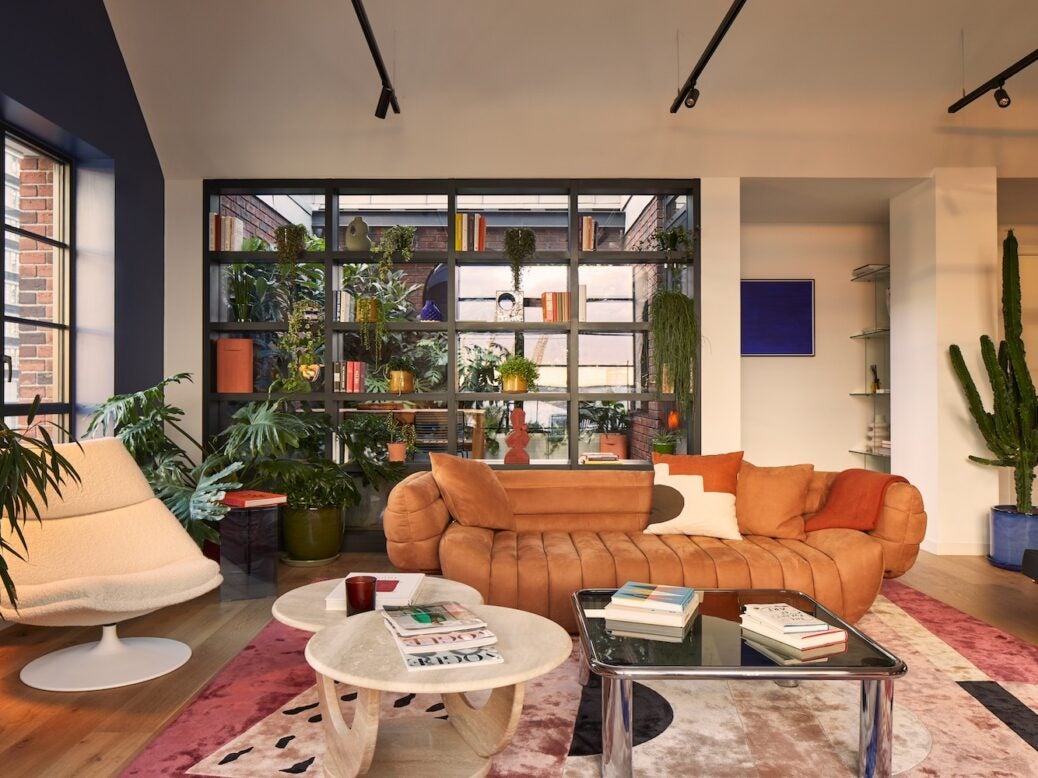 Every week, Spear's highlights one voguish prime property or development on the market. This week: a chic East London penthouse with a sky-view of the 02 Arena, that promises to be a young HNW's paradise pad or the perfect pied-à-terre
Set on the top floor of the vibrant Agar House in Goodluck Hope, a trendy new neighbourhood community emerging as the en vogue destination for young professionals in the rarefied world of international finance, is this stunning two-bedroom penthouse offering a panoramic view of London's skyline, with an ultra-rare glimpse of the O2 Arena from above bookmarked by postcard-perfect scenes of Canary Wharf and the City of London.
As you enter the apartment's chic central open-plan living space, visitors are immediately greeted by the leafy, spacious balcony accessible through the beautiful floor-to-ceiling glass panes. 
There, the Millennium Dome's mesmerising design is your own private show — with an unbeatable and near-irreplicable view of the landmark stadium. Harnessed and helmeted climbers can sometimes be seen happily bounding their way up the Dome's roof — a people-watchers' dream to be enjoyed by revellers at your private penthouse parties. 
The living space is knitted together by a harmonious selection of seating — with a main sofa cast in gloriously-sandy suede, as well as a vintage Barcelona-style black leather chair that's reminiscent of Ludwig Mies van der Rohe's designs in the 1920s, and an array of warmly-coloured footrests. A retro feel is completed by the chic 50s-inspired drinks' bar and a jazzy record player, while a carefully-curated spread of leafy plants offers a welcome touch of zen. 
A luscious blue emanates from the thoughtfully decorated main kitchen area, which is complemented by accented-gold handles and a stone-coloured island. As you rove past a secondary kitchenette — perfect for backroom dinner-party preparations to make the goings-on in your 'show kitchen' look like a breeze, you are greeted by the apartment's office, which comes with a Manhattan-inspired wooden desk and an authoritative swivel-chair fit for any C-suite executive or cultural impresario. The office too has its own balcony offering another charming Thames' view of the O2. Take your Zoom calls from here to impress or sip a whisky as dusk approaches to channel Mad Men's Don Draper.
A master ensuite bedroom is in a homely pastel purple with plush cushions on the king-size bed and gilded vanity mirrors on either side. Gold accents pair elegantly with the blue and white tiles in the shower-room, with the option for a relaxing soak in the tub in the main bathroom. 
The apartment's separate internal garden is leafy with wooden furnishings – an oasis of calm with spots of sun and shade. With summer approaching, it's the perfect hangout for sunny cocktails.
All the ultra-luxe furniture in the living room and throughout the apartment has been curated by AvroKO, a preeminent concept interior-design firm that's the toast of New York's architectural scene, which has kitted-out restaurants, bars and lounges the world over. 
A vast array of skyscrapers have sprung up in recent years offering young HNWs near-instantaneous access to work and play near Canary Wharf. Yet one thing the rarefied, fast-paced world of the Docklands-dwelling financier has lacked over the past decade has been a sense of community — a hearty pub they can call their local, a spa in which to unwind or the all-important access to culture, music and film.
With a charming Picturehouse showing exclusive film nights for residents, a state-of-the-art leisure centre complete with a sauna, jacuzzi and pool right on the Thames (and with that all-important view of the O2), the sense of community in Goodluck Hope is thriving. The development's sprawling green spaces have been designed to offer breathing space to the nearby wildlife and marshlands. 
The neighbouring London City Island development comes chockfull of cultural and lifestyle escapades, including the City Island Arts Clubs, a relaxed Clubhouse for locals, the oppressively-trendy Lockdown Room bar and — perhaps most significantly — the seal of approval from the English National Ballet setting-up shop there. With the O2 a short Clipper over the river, culture and fun are the aim of the game.
A paradise pad for fast-paced financiers, Goodluck Hope's O2-facing penthouse is a visual marvel both inside and out — and quite possibly the perfect stomping-ground for a next-generation HNW or pied-à-terre for an international family. Contact Goodluck Hope for more information.
Image: Goodluck Hope