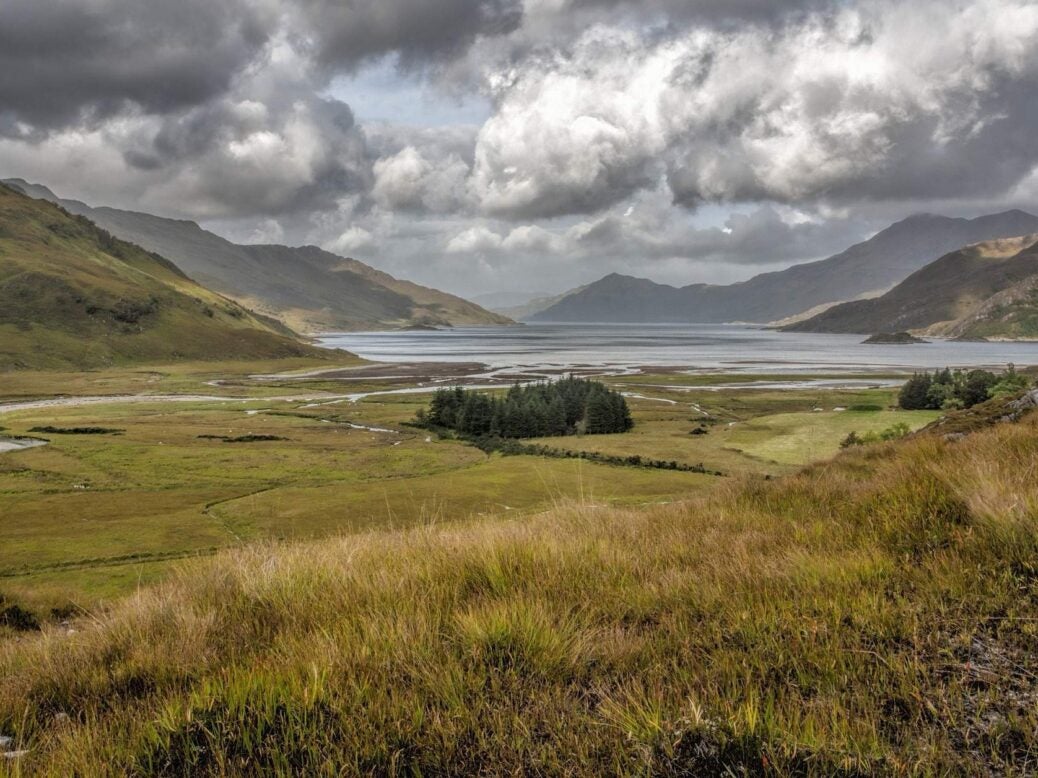 Endurance walking has become popular among stressed-out HNWs and entrepreneurs n search of a mental reset. But what worried William Cash was the physical part of the challenge…
After my wife observed that I was spending a lot of money asking my tailor to expand various suits, she sent me a brochure for a seven-day trek along the West Highland Way. This 105-mile walking marathon is not your average Mal-dives beach holiday. Before setting off, I was asked for details of my next of kin, forced by my doctor to undergo a medical, and issued with a 'survival' bag (including a make-shift thermal tent in the event of being hit by a rock avalanche).
I also had to spend several hundred pounds on mosquito repellent, walking poles, special nylon 'non-sweat' technical underwear and an emergency first-aid kit. After we were given team caps, we got a class in how to use our 'survival' equipment. The bag included a space-like capsule of edible chia energy electrolyte gel (like whole-grain mustard seeds) for 'extreme endurance', along with blister packs, magnesium oil, maps and a bandana. A slight upgrade on the bottle of Evian and bag of Maltesers that I had packed.
Perhaps worst of all, I was told: 'No iPhone allowed while walking.' But embracing a certain amount of pain and overcoming fear is the whole point of an emerging travel trend: the urge HNWs seem to have today to want to push themselves to extremes of endurance. Before I set off , my idea of a walk was a gentle stroll along the lane with my dog.
Shifting sandy
I was persuaded to sign up for this punitive week-long hike across the Scottish Highlands by Sandy Loder, a renowned 'maximum performance coach' who escorts HNWs and families on adventure trips that help with family bonding and raising self-esteem. Sandy is a former British army officer who was in charge of Brigade Squad, the officer selection course that has now been abandoned as it was seen as being too tough.
A Fleming family member, he was short-listed for Outstanding Achievement at the 2018 Spear's Wealth Management Awards. Loder works with family offices, burnt-out CEOs and top entrepreneurs who want to learn about who they really are.
'My trips are about opening doors to discovering your own potential and maximum performance level,' he says. 'You will start to feel differently about yourself over this journey, and what is possible.' The 'life-changing' experiences offered by his company, Peak Dynamics, are about as far removed from your average package holiday as flying Ryanair to Tenerife is from taking your Gulfstream IV to St Barths.
He now has an 'endurance' version of the seasonal social calendar for those seeking adventures far away from the old sports of clichés of skiing, stalking or fishing. His dog-sledding trip across Norway and Sweden (£4,600 per person) was a sell-out this year.
'Learning to adapt is an important life skill and is particularly relevant in the Arctic while dealing with the extreme climate, people and dogs,' says Loder. 'The expedition is all about taking people out of their comfort zones into challenging situations where decisions have real and immediate consequences.'
I was to learn this the hard way on the West Highland Way. I was already acquainted with one of our team, Ted Wilson, who looks after HNW private clients through his London boutique Wilson Wealth Advisory. Born in the Canadian Rockies, he is a beanpole-thin 6ft 4in and is used to trekking in the Andes, Pyrenees, Alps and British Columbia ('you have to keep talking as you walk so bears don't maul you'), and was wearing a brand new pair of size 14 walking boots.
Ted arrived with his 'extreme walker' friend Shona, a high-powered financial PR executive in her fifties who had her own pro-walking 'trainer' who has coached her to walk 'with her big toe first forward'. She carried a ready supply of cashmere cardigans, apples, water bottles, medical kit and nutrition bars in her rucksack at all times. My tiny rucksack contained a pair of spare socks and a few plasters.
'Done much of this sort of endurance walking before?' I asked as our suitcases were labelled and taken away on transport and transferred daily to our hotels and B&Bs along the route. It turned out that Ted and Sarah once did the Caledonia Challenge together, which covered part of our Highland route. That involved walking 54 miles in 24 hours – through the night and navigating by the moon. Yes, 24 hours.
But I was determined not to be a DNF (did not finish). That I didn't have the right kit didn't help. Before we headed off through an Olympian-looking starting archway by the pretty village bridge, it was clear I was the only one dressed in shorts, cotton boxer shorts (but with specially padded trekking socks with two linings), with my stomach bulging out of my XL size cotton polo shirt.
Positive energy
Long-distance walking trails are the new marathons for the sportif HNW classes. As we started off , Ted told me his walking destinations have included the classic Canadian hikes in Banff, Lake Louise and Jasper, as well as Scotland, the Lake District, the Andes, Alps and Tyrol, Corbières and Pyrenees. 'Nepal is next,' he added.
'These walks helped me to focus on myself in a positive way,' Ted confided. 'The challenge of the walk means living in the moment, not thinking of work but building mentally and physically. It's not just about doing the challenge; satisfaction flows too from the bonds you build and everyone getting across the line together. It's hard to imagine walking for drizzling miles, soaking wet, swatting off midges and horseflies, yet with banter and laughter it beats a beach holiday in Thailand any day.'
Sandy exudes calm authority ('I don't do negative energy,' he said as we set off. 'Let's go!'). A former international oars-man, he is regarded as one of the world's top performance and leadership coaches, so it was going to be interesting to see how he did with our motley crew. (A former hedgie failed to show up and was a DNS – did not start – after 'the world conspired' against his car making it to Scotland and he had to 'limp home'. So we were four.)
The West Highland Way follows a collection of ancient footpaths, drove roads, old military roads (many built by Thomas Telford) and old coaching routes that were used to move cattle, soldiers and prisoners around the Highlands. A map in multiple languages (incidentally there are very few English on the route, with the most being Czech, Swiss, Belgian or German) out-lines the route ahead: north towards Loch Lomond following Glen Falloch and on towards Rannoch Moor.
When people asked which charity I was raising money for and I replied, 'I'm doing it as a holiday,' they looked at me weirdly. But the honest truth was I wasn't at all sure in my own head that I'd make it.
When I mentioned to Sandy that I was hoping to return a 'new man', not a dead man, he said: 'That's a very negative way of thinking and that has to stop.' He went on: 'This week is going to change your life. I'm going to teach you to think in an entirely new way. Your self-esteem will change. You will have a real sense of achievement and overcome many of your personal fears.'
As we stopped in Cashel, he added: 'You're doing fine. Boldness has real genius and power. All you need to do is put one foot in front of other. Do not think about the outcome. Think about the process.'
No limits
Sandy's idea behind these trips is to help clients take themselves beyond their normal limits so that they are reinvented as a new person after conquering a challenge they never thought they were capable of achieving.
'It's about conversation, not being on Instagram the whole time, and having a laugh with new friends and switching off.' As somebody who is incessantly receiving emails, I certainly found informing people that I was 'out of contact for a week' liberating.
For the controlling CEO or self-starter entrepreneur types who have to manage teams of people, just being given a daily itinerary and not having to make any decisions is also part of the appeal of being led by a 'maximum performance coach' like Sandy.
As Ted and I walked along a desolate and ragged old military road with magnificent scenery out of a Walter Scott novel around us, we agreed that the appeal was about living in the present for a change.
'I'm finding the challenge of the walk means living in the moment, not thinking of work but building myself up mentally and physically, said Ted. 'It's a hybrid holiday that combines the pleasure of visiting somewhere beautiful with the feeling I will re-turn stronger.'
'It's a mental reset,' added Sandy as we walked along. 'Give your mind a holiday.' What's more, this quest for 'experience' rather than 'luxury escape' is growing fast, with companies like Peak Dynamics and Cookson Adventures filling the need successful people have for 'authentic' and 'impactful' (to use the jargon) experiences away from their iPhones, Netflix and long-distance flights to air-conditioned island huts that have been denuded of all nature and only take dollars or American Express. It's about reconnecting to the real and stunning world around us. It is 'slow travel' at its best.
Small world
Peak Dynamics takes corporate and private clients on experiences to some of the most challenging climates and areas of the world. Next March Sandy will be walking through the Dhofar with Bedouin tribesmen and clients. This autumn he is leading a pilgrimage to Rome along the historic pilgrimage's way.
The route will be the last 60 miles of one of the world's oldest pilgrim trails – passing through beautiful classical ruins and historic hills north of Rome – along the Via Francigena, Italy's 'Camino Way'. This is the same route that medieval pilgrims took from Canterbury to Rome.
The group will walk into the centre of Rome to celebrate the occasion of the canonisation of John Henry Newman, the first English saint to be canonised in nearly 50 years. Following my walking the punitive West Highland Way with Sandy, I've now been hit by the long-distance walking addiction.
As somebody who is – or was – bursting out of my suits, I don't know how I managed the West Highland Way, but reaching the end was a lesson in thinking differently about what one can really do. One foot forward at a time. And I'm now even back into my old suits.
Read more