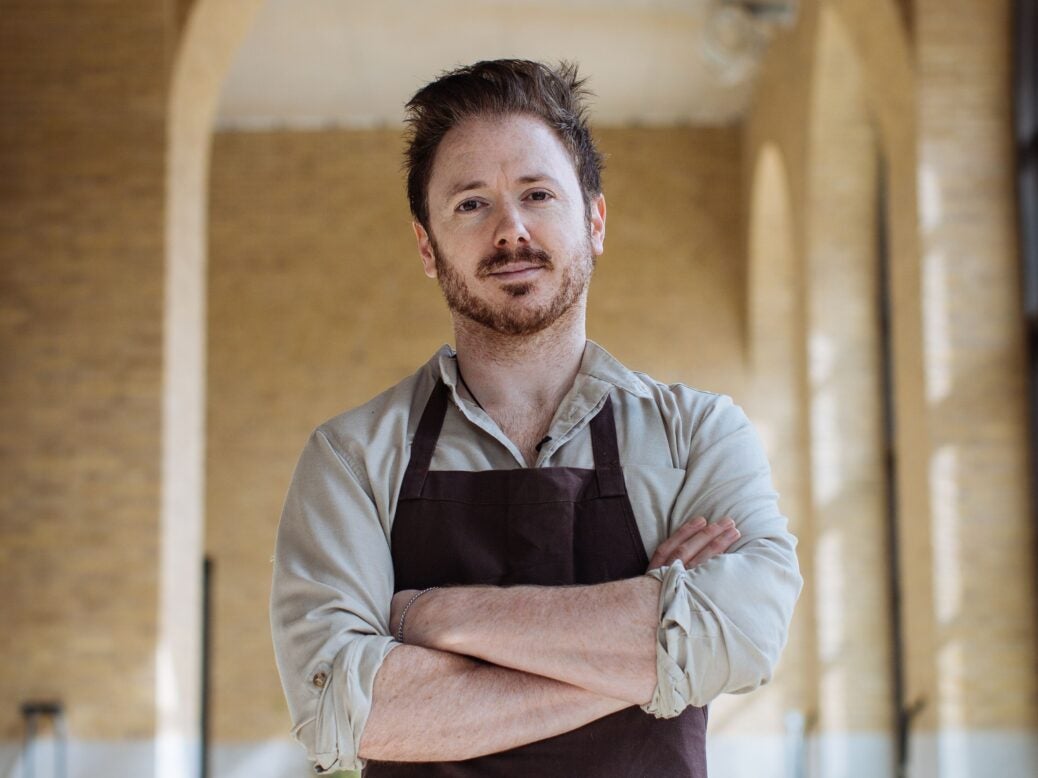 Arun Kakar talks to London's most talked-about chef before he kicks off his landmark residency at the new Chelsea Barracks 
'Hide has arrived fully formed, complete with knowledgeable staff and cinematic views over Green Park,' wrote staff writer Olenka Hamilton in the glowing Spear's review of Ollie Dabbous' second restaurant.
Opened last year, the sheer scope of Hide's ambitions instantly catapulted Dabbous as one of London's hottest chefs. Three storeys, a signature ten-course tasting menu and a 6,000 bottle wine list presented on a leather-bound iPad are among its key features.
Before opening Hide, Dabbous, 38, put in stints at a luminous list of eateries including Le Manoir aux Quat'Saisons, Hibiscus, Mugaritz, The Fat Duck, Noma and Texture. In 2012, he opened his eponymous, 'anti-establishment' Fitzrovia restaurant to much critical acclaim.
With Dabbous, the chef says he was 'shellshocked' by the experience of running a restaurant. 'I was still young, carrying that "I want to prove that" – Dabbous is quite anti-establishment in a lot of ways.'
Hide, on the other hand, owned by Russian entrepreneur Yevgeny Chichvarkin,  is a totally different ball game. With Hide, things are 'a bit more refined', he says. 'It's been amazing, we're still very busy.'
Chichvarkin, a regular customer at Dabbous, 'took a huge risk', Dabbous says, by transforming the site in Mayfair into one of the most opulent fine dining endeavors in the capital. 'He didn't have to set up the restaurant, or go to the kind of lengths that he did,' Dabbous says. 'Everything from our teapots to the napkins is done as well as it can be, he doesn't cut corners with anything.'
Its tasting menu clocks in at £115, with wine pairings ranging from £95 'Classic' to the £495 'Hedonism', named after the sister wine boutique in Mayfair. Open from 7.30 am to 1 am almost daily, it's also demanding, he says.
'We're not swanning around,' he says. 'It feels like I am busy all of the time – with the cooking and décor, it takes energy to make that stuff come to fruition. It's kind of unglamorous: it's getting your hands dirty, working lots of hours. It's funny, there's a juxtaposition between the front of house and the décor and the kind of grit it takes to make all of that happen.'
Thankfully, the reception has made the endeavour with the effort. Spear's is far from alone in its praise of the restaurant- the Evening Standard notably called it 'polished perfection'.
'We're really thrilled,' Dabbous says of the reception to Hide. 'When we set up Dabbous, you don't expect to necessarily replicate that level of success or critical acclaim.'
Ollie Dabbous' Chelsea Barracks residency
Up next for Dabbous is a pop-up at the Chelsea Barracks next week for the Chelsea Flower Show. The Barracks, a new development in Belgravia, will open to guests for the first time alongside the first two square gardens, which themselves will be on public view for the first time in their 150-year history.
Just like with Hide, Dabbous isn't doing anything by half here: his team will be serving 250 covers a day, and will as showcasing some exciting new dishes.
'I wanted to have quite a botanical theme, quite a lightness of touch,' Dabbous explains of the menu. 'As a chef, it's your favourite time of the year to be cooking with all the peas, asparagus, wild mushrooms – everything is at its best at the moment.'
There was a conscious effort with the menu, he says to create a sense of balance and class. 'We don't want to do a parody or pastiche,' he says, 'it's that level of charm without it feeling laboured.'
With the menu, it was important for Dabbous to capture the theme of the show but 'not in an overbearing, chucking flowers on everything' way.
Items on the menu at Chelsea Barracks fine dining menu include a slow roast Goosnargh chicken with a warm hay buttermilk, grilled leek vinaigrette and Jersey Royals, Loch Duart salmon tartare, and a Iberico Pork, barbecued with mustard leaf, toasted sweetcorn and white miso. A breakfast and lunch menu will also be available throughout the day.
Dabbous points out the papillote of Gigha halibut, mussels and yellow courgette with a warm nasturtium broth as a personal favourite of the Chelsea menu that 'looks really charming and quite rustic'. There's also the Garden Cupcake on the dessert menu that enticingly 'looks like something from Alice in Wonderland'.
He adds: 'Rather than becoming finicky, I want to it be quite charming, that sense of an English summer garden, and putting that in dishes.'
Ollie Dabbous' favourite restaurants in London
A Londoner through and through, Dabbous immediately points to steakhouse Smith and Wollensky as the place he goes to the most. It's 'like something out of Mad Men,' Dabbous says. 'It feels really timeless. It does feel like a bit of a treat when you go – its old school in the best possible way.'
Other choices include Japanese outlet Umu ('absolutely delicious'), Bombay Bustle ('It's fun and doesn't break the bank') and Italian Petersham nurseries ('doesn't feel like London when you're there'). Spear's is taking notes.
Olle Dabbous cooks at Chelsea Barracks from 20-25 May
www.chelseabarrackskitchen.com 
Arun Kakar writes for Spear's