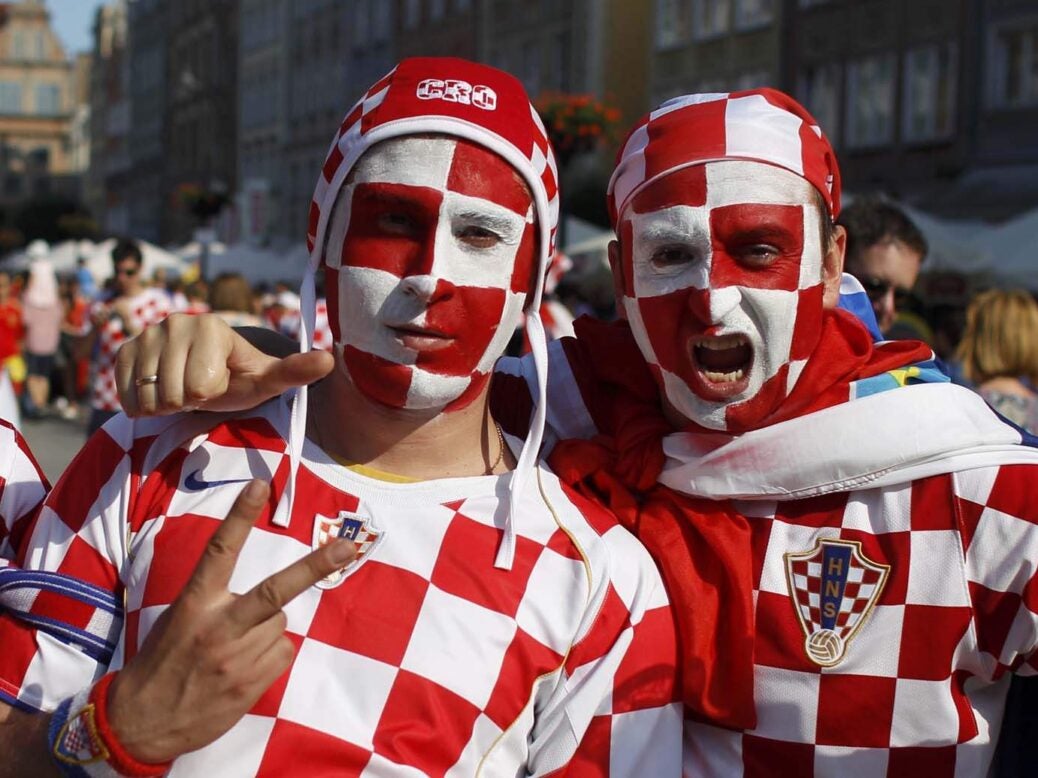 The eyes of the world will be focused on England's tie with Croatia, but what do we actually know about this tiny nation of just four million? The Spear's team offer a rapid primer
Who's the most famous Croatian?
Probably Goran Ivanisevic, the only person to win the men's singles title at Wimbledon as a wildcard – a feat he achieved in 2001. He had previously been runner-up at the championships in 1992, 1994 and 1998. It's important not to take this as a bad omen for tonight but the year he won he did beat Britain's Tim Henman in the semi-finals. But Gareth Southgate has probably got that covered.
Croatian strip
Croatia was the first country in Europe to have nudist resorts, which came into vogue when Edward VIII and Wallis Simpson are said to have swum naked off Kandarola beach in Rab during their Adriatic cruise, shortly before his abdication.  Kandarola is still known as 'English Beach', and more than a million nudists flock each year to experience Croatia au natural.
Croatia is a film star
Fans of Game of Thrones will know Croatia better than they think. The hit HBO series was filmed on the Dalmatian coast in both Split and Dubrovnik. The fortified walls of Dubrovnik acts as King's Landing, the capital of Westeros and the basement of Diocletian's Palace in Split acts as Daenerys' throne room. Croatia's starring role in the series has prompted other filmmakers to move in as Star Wars: Episode VIII and Robin Hood: Origins both filmed in Dubrovnik.
Size matters
Croatia is bigger than you think. At 56,594 square kilometers, it is more than twice the size of Wales. Spear's calculates that you could fit six million football pitches in Croatia.
Woof it down
Dalmatian dogs are believed to come from the Dalmatia region of Croatia. The spotted dogs can be recognised in altar paintings such as in the church of Our Lady of Angels in the town Veli Losinj, which dates back to the early 1600s.
Good sports
As well as Goran Ivanisevic and, clearly, their national football squad, Croatia's sporting prowess is not to be sniffed at. Janica Kostelić, a four-time Olympic gold medalist from Croatia, is considered by fellow ski racers to be the greatest female ski racer of all time. She has also carried Croatia's flag at the Winter Olympics three times.
Independence day
Having been an independent kingdom until the 1100, Croatia effectively became part of Hungary from 1102 with unification of the crowns of the two countries under Coloman the learned, king of Hungary and Croatia until 1116. After being fought over by the Ottomans, it became part of the Habsburg and then Austro-Hungarian empires, before becoming part of Yugoslavia after the First World War. Croatia only finally regained independence in 1991 – after nearly 900 of imposed rule.
For richer for poorer?
Croatians have 41 per cent of the EU average wealth, with around $12,500 per head or 55th in the word, individually just ahead of Costa Ricans and just below the residents of the island nation of Palau in the Pacific.
Big drinkers
The World Health Organisation ranks Croatia fourth in the world in alcohol consumption, out of 186 countries behind the Czech Republic and ahead of Austria. They drink 12.18 litres of alcohol per capita per year. The UK is 18th with 10.67 litres.