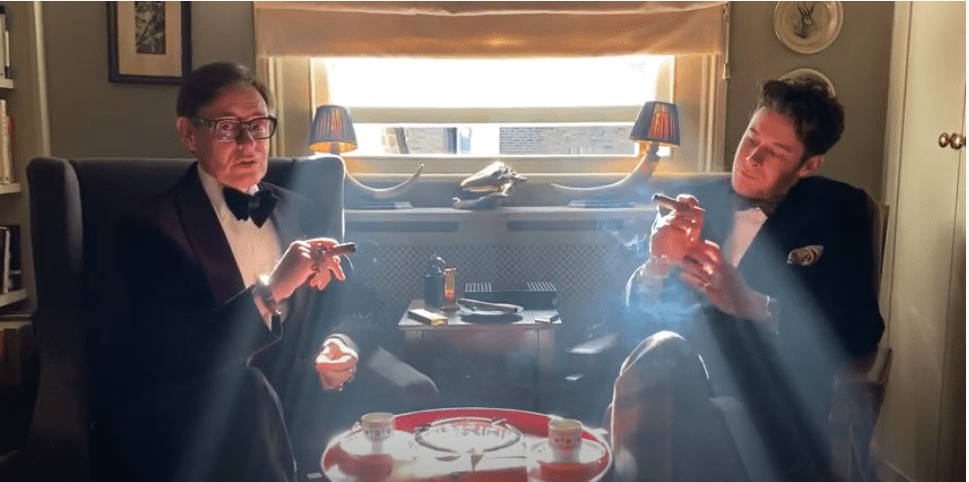 Starting a cigar vlog over lockdown has provided Nick Foulkes with more than a quarantine hobby
Back in the summer, at the end of lockdown, I filmed the last episode in season one of the Foulkes & Sons cigar broadcasts. I never anticipated running a family business, but then again back when I was at school receiving career advice I do not recall 'internet television stardom in the field of cigar broadcasting during a pandemic' being on the list of acceptable professions.
In my day it was the Church (not for me as I like my Sundays off), the army (I was not even cadet corps material), or the City (which appealed on the grounds of being able to wear a pinstriped suit and bowler hat on a daily basis).
In pursuit of the last option, I was invited to lunch at the top of the then recently inaugurated NatWest tower. At the time it was the tallest building in the UK and had been designed as a three-dimensional representation of the bank's chevron logo by one of my architectural heroes, Colonel Seifert, an underappreciated Brutalist/Rationalist/Modernist master. He was also responsible for Tolworth's eponymous Tower, the cryptically named No 1 Croydon, the intriguing Pirate's Castle in Camden, the drum-like Space House near Covent Garden, and the polarisingly brilliant Centrepoint.
He looked like he had been painted by Stanley Spencer, with a pipe seemingly genetically attached to his face… but I digress. Even the attraction of the bowler (or Coke) hat and lunch at the top of a Seifert masterpiece could not lure me to work among the worshippers of Mammon in front of blinking screens.
It was not so much that I was morally opposed, just that my maths was a bit shaky. But when it comes to cigar broadcasting, mathematics is not such a deal-breaker. It helps to be able to rattle off a few ring gauges, one or two lengths in millimetres and the occasional year of production.
Happily I can delegate all this to my Maxmilian, one of the two sons of Foulkes & Sons. Max is a qualified cigar merchant working at Davidoff who passed his Master of Havanas exams, making him the first member of our family to acquire a useful professional qualification.
The set (usually a room in what our viewer – always addressed in the singular – has come to know as the 'ancestral hovel') is designed by cameraman and film editor Freddie Foulkes, who is reading history of art the Courtauld and therefore eminently qualified for the position of artistic director of our family enterprise.
Observant readers will have realised that this division of labour means all that is left for me to do is slump in an armchair, set fire to a cigar and stay awake for 20 minutes or so. I try to model my television persona after the late Malcolm Muggeridge and occasionally quote from his immortal interview with Salvador Dalí.
We broadcast on Instagram and YouTube on Sunday evenings, much in the way the BBC likes to bring the weekend to a close with a comforting period drama.
Had we given any thought to this endeavour, we might have wondered whether there was a gap in the market for filmed entertainment comprising a father and son discussing cigars while wearing cowboy hats and bootlace ties, or Hawaiian shirts, or suits (alas sans bowler hats).
To be honest, I would have questioned if there was a market in which to find a gap. But we gave no thought, deciding that what the world needed during the pandemic was the above-mentioned format. I'd like to feel that this series has communicated something of our enthusiasm for the culture and pleasures of the cigar.
Moreover, if we have not seen the world, we have filmed from the marble-floored halls of Davidoff, with the fabled father-and-son duo Edward and Eddie Sahakian.
We have sipped Martinis (mine nonalcoholic) on the terrace at Mark's Club, from where, via the wonders of the web, we regaled quarantined members with our thoughts on slender ring-gauge cigars including the Rey del Mundo La Reina and the Cohiba Lanceros.
We were granted access to the wine cellar at the Richard Mille shop, where we matched a Mouton Rothschild with a Raikkonen wrist watch and a Cohiba Robustos Supremos. We even filmed a segment from Meyrowitz opticians, pairing cigars and sunglasses.
To say that we are in line for a Bafta might be stretching the truth beyond its usual elasticity, but we are planning a second season. After all, those cigars won't smoke themselves.
Nick Foulkes can be found on Instagram and Youtube 
This piece first appeared in issue 76 of Spear's, out now. Click here to buy and subscribe. 
Read more
Is Cary Grant's To Catch a Thief wardrobe the finest of his career?
This is a time for reflection, not 'revenge spending'
Britain's answer to Ralph Lauren