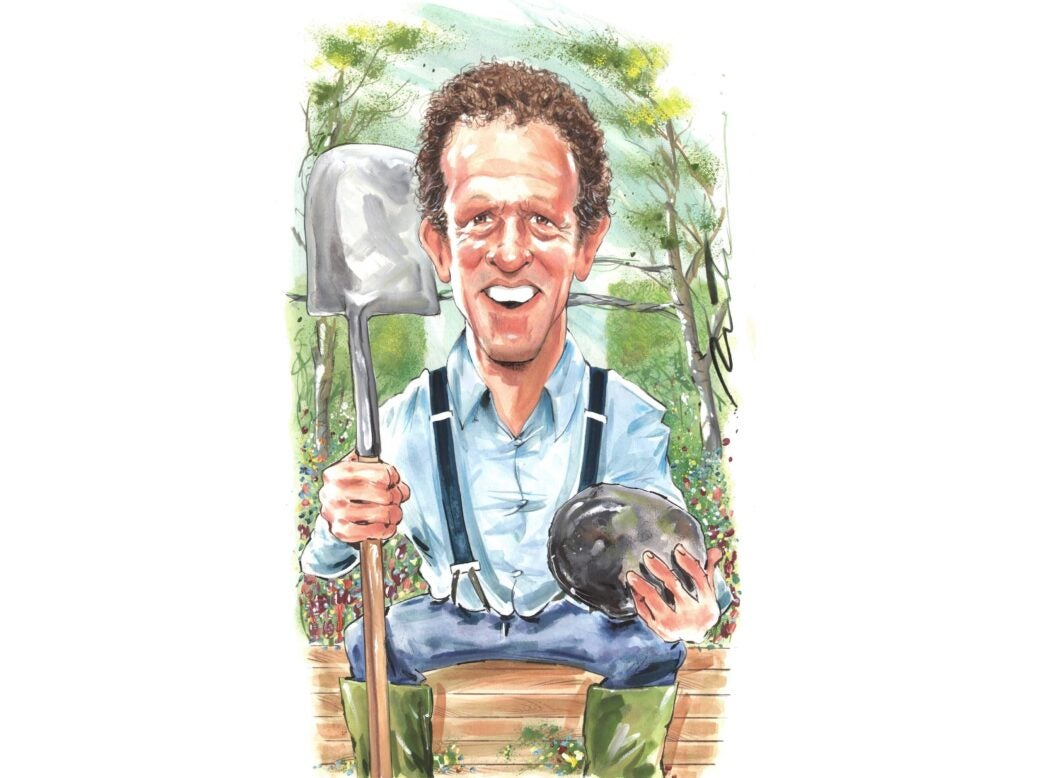 Gardening guru and writer Monty Don on his love of the great outdoors, his dogs… and a good stone
How much is an ounce of gold?
I have absolutely no idea, and absolutely no interest. But I would have thought around £1,000.
How did you earn your first pay cheque?
Working on a building site when I was 16.
Would you consider yourself more of a saver or a spender?
When I was younger I would borrow money, then save to repay it, knowing that interest rates were less than inflation. But my wife handles all the money; I genuinely don't know what I spend. I'm told at the end of the year.
Where did your relationship with the natural world begin?
I was brought up in the Hampshire countryside… There was a village hall and a church, a population of about 70, and I was related to at least 30 of them. I spent all my days outside, rambling and building tree houses and camps and walking the dogs. Lockdown has been tough on many.
Do gardening and being outdoors improve mental health?
Hugely. I think it's to do with being in the moment, of paying attention, of mindfulness. You can lose yourself, but on the other hand be wholly present because you've got to do this thing – whether it's weeding or pruning or deadheading. It's not so demanding that it's stressful, and you're completely tuned into the circadian rhythms: daylight, the seasons, the weather. I think that's really powerful.
Where is your favourite place in the world?
Our farm in the Black Mountains of Wales.
When you're not in the garden, what do you like to do?
We have the farm. I do simple jobs: drive the tractor, feed the animals. I also have a workshop where I carve, and I cut down the wood from our land to do it.
What is your most prized possession?
I think it's probably a stone – about the size of a melon – that I collected from Robin Hood's Bay in North Yorkshire in November 1979. It's the memory of that day, but also it's a very beautiful, natural object. It's not precious, has no commercial value at all. And I've had it for 41 years. I would be really sad to lose that.
Do you have a favourite season?
Yes, spring. September is beautiful, but it's tinged with melancholy. Spring to me is exquisitely beautiful, full of hope, and just tremendously exciting.
Are you a morning or evening person?
Morning, as anybody who has ever tried to get me to go to a party will tell you. I'm very happy getting up at five or six o'clock. Last night I went to bed at quarter past nine.
Perhaps you could tell me about your new books?
My Garden World has been brewing since I was a child, because my background is in the countryside – my parents would turf us out after breakfast and say: 'See you in the evening.' Through lockdown an awful lot of people had the time just to sit in the garden or even look out the window and observe what they have either taken for granted or never really noticed before. I wanted to make people realise that the natural world is not unattainable, but right on your doorstep. The other book, American Gardens, is really three journeys in America visiting gardens and celebrating them.
What is the best Christmas gift you have received?
I received one of my dogs for Christmas. She was called Red and was a Newfoundland and a labrador with a bit of husky thrown in – the most expensive mongrel in the world.
What is the most valuable piece of gardening advice you can give?
Don't fight nature, because she always wins. She's wiser than you.
More Midas