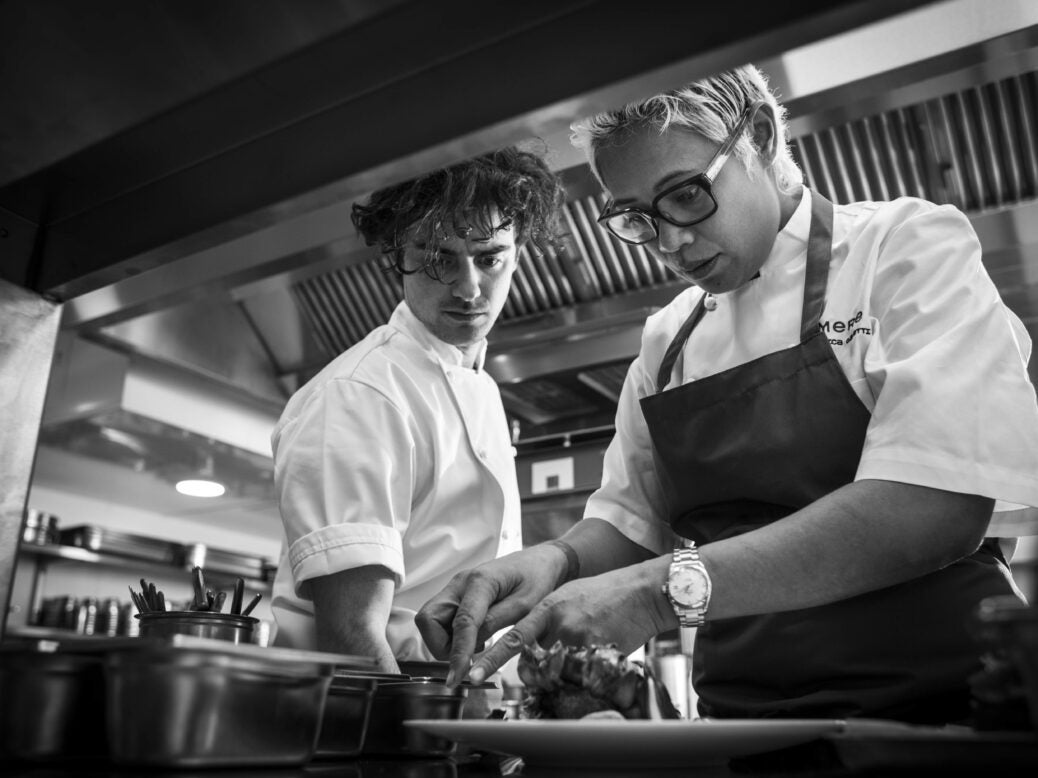 Monica Galetti has poured a blend of Roux magic and Antipodean heritage into her own restaurant, writes William Sitwell
On a cold, dark evening back in February, four people sat in the corner of an empty restaurant on London's Charlotte Street. They were the only guests that night, but there was considerable tension in the kitchen.
The two couples at the table chatted quietly after the maître d' poured their champagne. No menus were proffered, but out from the kitchen came a succession of dishes. There was marmite tortellini, a pork hock with watercress dumplings and horseradish, a dish of scallops with black curry and kumquat, chicken breast with bread sauce, a plate of beef heart and brisket, lobster with ginger and chilli, and finally desserts of banana and coconut pie and a delicate dish of pear poached in caramel.
A closer look at the guests would reveal two men who have towered over the London dining scene for decades, with their wives. There was Michel Roux Jr, chef patron of Le Gavroche, and his long-time colleague and former manager Silvano Giraldin – one of the capital's great maîtres d'. Emerging from the kitchen was a woman who learnt her trade at the famous Mayfair restaurant founded in the late Sixties by the original Roux brothers, Michel Sr and Albert.
Monica Galetti had found work at Le Gavroche having ventured to London after winning a series of cooking competitions in her native New Zealand. After 12 years at the restaurant, she had set out on her own. And now, just a week before opening Mere in Fitzrovia, she was cooking her heart out for her mentors.
'It was such a proud moment,' says Galetti, who co-owns Mere with her French husband David, whom she met at Le Gavroche, where he worked as head sommelier. 'Michel was like a proud dad,' she reflects. 'And because we have no family in this country they are like our family.'
They talked about the menu; Michel was curious about everything, says Galetti. With her former boss's seal of approval a few days later, Mere opened to the public and the critics.
It had been in the planning for some time, Galetti having grown in confidence partly due to the profile she had gained as a co-presenter with Michel on the BBC show MasterChef: The Professionals. So she hatched a plan with her husband to open their own place. 'Life was great but I had become part of the furniture. I was in danger of becoming complacent,' she explains. She gave Michel Jr plenty of notice, but 'I don't think he actually believed I was leaving. Six months later I said to him, "I'm serious!"' Now the restaurant, says Galetti, 'is finding its feet. We have a stable team and I feel we've been here for a couple of years, not just a few months.'
The menu combines the learnings of a decade at the side of Michel Roux ('Twelve years of French cooking and sauces,' says Galetti) combined with ingredients and ideas from New Zealand. 'I've been honed in the French tradition but I like to think I'm developing my own style,' she adds.
'When the place started the hours I was working were ridiculous, but I can sleep now. I risked my family to do this and I gave up time with my daughter.' But the place did open to good reviews ('I don't seek them out, but when they're good I give a sigh of relief'), and under the stewardship of Canadian head chef Renee Miller, Galetti can find time for filming.
Raised in New Zealand but Samoan-born, Galetti's own interest in food began at her mother's side. 'The culture was that girls had to learn to cook from their mothers and the boys had to learn to cook or they'd starve!' She scaled the early walls of her industry by competing in competitions which brought her to Europe, where she heard about Le Gavroche and sent in her CV.
'I've never worked so hard. I was heaving 25kg bags of sugar and flour but I was 23 and eager and keen. And with three rugby-playing brothers I was ready to fight anyone who got in my way. The hours were horrific, but we worked together and then all went out. The people I worked with were the only people I knew. But it was a wonderful mix – from Japan to Jamaica.'
Now a new chapter in Galetti's life is well under way. Her menus champion the main ingredients, from pumpkin and octopus to monkfish, squab and guinea fowl. There's a six-course tasting menu for vegetarians, an eclectic wine list thanks to her husband, and fortunately ten-year-old daughter Anais is also a foodie, who delights in dressing up and visiting her parents' restaurant for a mocktail. The Monica Galetti story is a delicious adventure and I reckon it's only just beginning.
Web mere-restaurant.com
Related
Meet Vineet Bhatia, the Michelin-starred chef who never sleeps