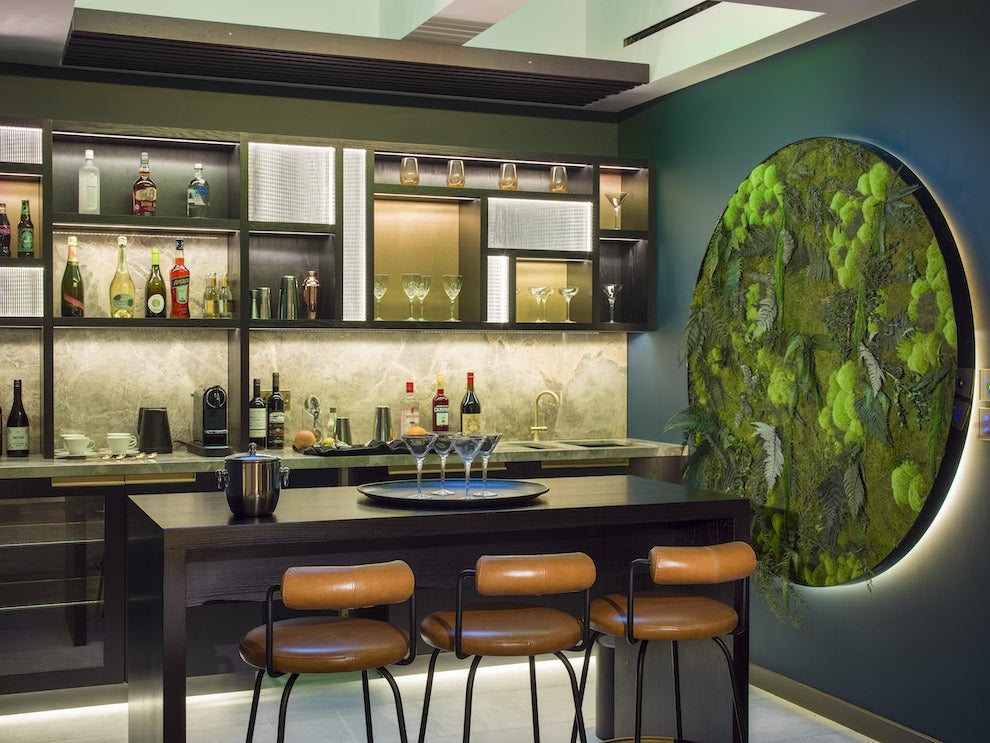 Since opening in October 2021, Middle Eight on Great Queen Street is a welcome addition to Covent Garden's luxury hotel fare, writes Tanya Ghahremani
There's no shortage of luxury hotels in Covent Garden. In fact, you'd probably struggle to not find one in the area. With such a surplus of options, a new hotel in the area needs to stand out — and that's exactly what Middle Eight, the new luxury hotel on the block, does.
Situated right at the corner of Kingsway and High Holborn, Middle Eight derives its name from the musical term of the same name — fitting, considering it's built on the foundations of Kingsway Hall, a music venue that fell into disrepair in 1998. The hotel opened in 2021, along with its restaurant the Sycamore Vino Cucina, its lounge-style all day dining area The Balcony and its basement speakeasy-style jazz bar QT.
My visit takes place on a gloomy Saturday, one with weather so grim that I'm deeply thankful to be seeking refuge from. The fact that I'll be seeing refuge from it in a luxury hotel? Even better. Check-in is a breeze — instead of taking place at the front desk as so many hotel check-ins do, this one is done while comfortably reclining on cushy chairs in the hotel's buzzy lounge, decorated to trend with gold accented furniture.
I'm taken to my room, one of the hotel's handful of suites, which start at about £800 a night. Instead of room numbers, each suite has a name, reflecting the unique personality of each suite. mine is Changes, which delightfully reminds me of the David Bowie song. Likely not a coincidence, considering the hotel's numerous musical influences — every room is named after songs with a middle eight bridge.
My spacious suite includes a stocked bar, a living room with large television, a massive bedroom with a (very comfortable) super king bed, a rainfall shower, and a massive tub that's perfect for long baths. Most strikingly, the room includes a full skylight over the bar, which can be controlled by a panel just next to a backlit art piece covered in leafy moss and grass. The lighting behind the moss piece is also controllable via the same panel — the colour of the backlighting can be changed to any shade on the colour wheel, allowing guests to choose the ambience they prefer most.
Of course, after a welcome cocktail that's kindly provided by the hotel, the first thing I do is settle in for a soak in the tub. Funnily, my observation that the tub was large ends up almost being an understatement: As I find out once I fill the tub and settle in, it's actually so big that I end up floating in it rather than lounging. No complaints here.
After relaxing for a few hours, it's time for dinner. And, unsurprisingly, my meal certainly did not disappoint. Dining at Sycamore Vino Cucina is simultaneously a laidback experience and a high-end experience — although the restaurant doesn't feel too uptight or fussy, the food is worthy of a Michelin star (or two). Serving classic Tuscan fare, the dishes at the restaurant are both thoughtfully created and seasonally minded. Amongst the menu standouts: the creamy burrata, the grilled prawns, the garlic mussels and the cacio e pepe.
After dinner, we head over to the hotel's speakeasy style basement bar, QT — just in time for the evening's jazz show, led by famed saxophonist musician Leo Green. Called The Green Room, after Green's successful Radio 2 show of the same name, the residency features a number of talented musicians performing modern hits with a jazz spin alongside Green. That evening, everything from Beyoncé's track "Love on Top" to Salt-N-Pepa's '90s classic "Shoop" were covered, encouraging audience members of all ages to sing and dance along. The Green Room performances take place every Thursday, Friday and Saturday, and tickets range between £25 and £45.
By the end of the night, I felt like I'd had a proper night out between dinner and the performance at QT — but I hadn't even left the hotel since I arrived earlier that afternoon. With all of the Saturday night options London has to offer, evening plans need to be particularly striking to draw you in, especially if you're a visitor to the city with a long list of things to see and do in the city. Between Sycamore and QT, I'm convinced that Middle Eight will have no problem enticing both guests and locals into spending their evenings entirely in the hotel.
Image: Middle Eight
Middle Eight
66 Great Queen St, London WC2B 5BX
https://www.middleeight.com/