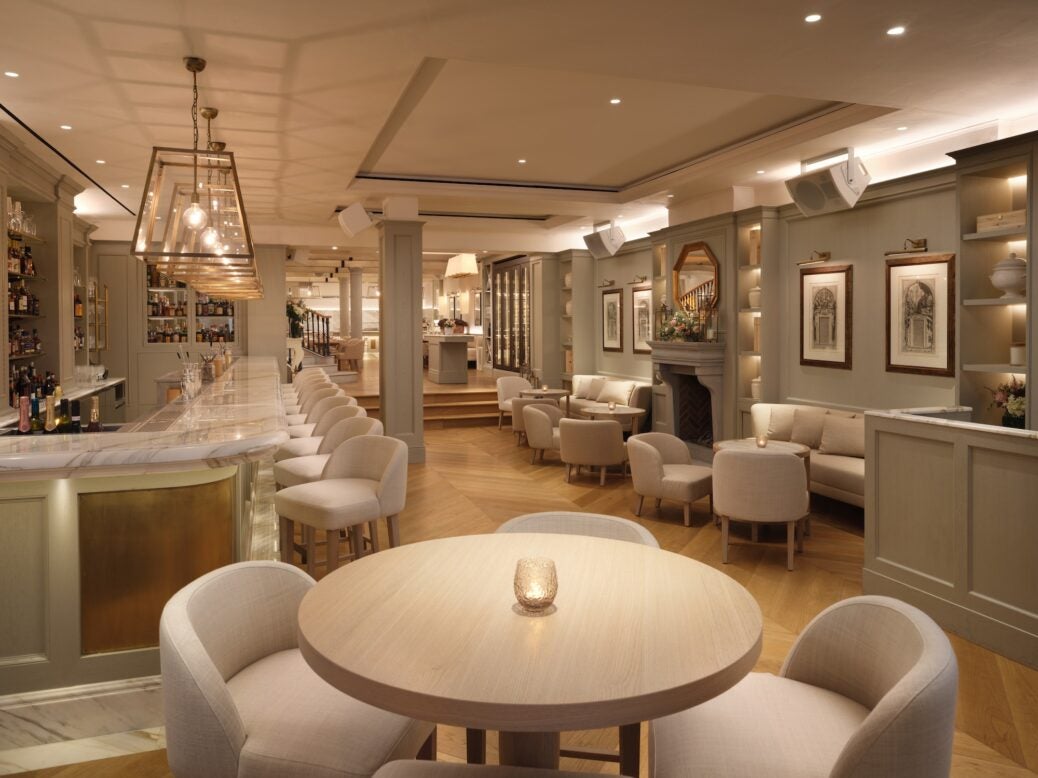 Since opening its doors in late 2021, Il Borro Tuscan Bistro on Berkeley Street makes Mayfair feel more like central Italy, writes Tanya Ghahremani
It was a cold, rainy night in London, but inside Il Borro on Berkeley Street, it may as well have been the middle of Tuscany.
The restaurant, which also has locations in Florence and Dubai, took the place of Nobu Berkeley Street in November 2021, and since opening its doors, it's been serving up classic Italian, Tuscan fare to guests like Lady Mary Charteris and Lady Amelia Windsor. With influence and culinary concept originating from the Il Borro Tuscan Estate owned by Ferruccio Ferragamo (the son of fashion designer Salvatore Ferragamo), the menu focuses on a farm-to-table approach, and uses organic ingredients from the estate, such as extra-virgin olive oil, flour, honey, seasonal vegetables, and pastas.
We visited on a Wednesday evening, but the restaurant was busy still. The décor is light and airy, with tones of white and beige that offer a warmth completely contract to the chill from the London air outside. The space has two levels, with the bar on the ground floor, and the main restaurant seating on the first floor.
Upon arrival, the Spear's team and I were whisked upstairs and seated promptly. Stools were immediately brought out to rest handbags on, and water was served around the table. We opted for a 'taster' of the most standout items on the menu, which meant we could sit back, relax, and let our waiter and our sommelier pick the food and wine that would best compliment one another that evening.
Our tour of the menu began with a series of antipasti, each presented on our table and then deftly served by our waiter. First, we tried the Carpaccio di rape rosse, a vegan starter that appeared similar to a classic carpaccio, however made with beetroot, pistachio and goat cheese instead of beef and capers. Although it didn't taste like beef, of course, the flavour profile was still complex — the sweetness of beetroot was ideally complimented by the creaminess of the goat cheese, and the pistachios added a welcome crunch to every bite.
Next was the crostini ai fegatini di pollo, a Tuscan chicken liver crostini. Personally, I have never been a fan of liver pâté dishes at all. In fact, I'd go so far as to say I'll avoid them at all costs. However, in the spirit of truly experiencing the restaurant and its food, I tried this dish to give it a fair shot — and, to my complete and utter surprise, I was floored by how much I liked it. Even my colleague who also noted that she generally did not like chicken liver dishes said she loved it, so it wasn't just me who was left pleasantly shocked by this starter.
Rounding off the antipasti course was the burrata di Andria, a burrata dish with organic tomatoes, basil, and extra virgin olive oil, the Panzanella, a traditional Tuscan salad with tomatoes, cucumber, onion and basil, the calamaretti e gamberi fritti, a fried baby calamari, prawn and courgette dish, and the bufala pizza, a classic mozzarella pizza. Each were consumed relatively quickly by the group — particularly the calamaretti dish, which had a few of us going for seconds.
When it came to mains, Il Borro didn't disappoint — unsurprising, of course, due to how impressive the antipasti course was already. Starting us off, we were served the Peposo dell'Impruneta, a traditional Tuscan braised beef dish served with a tomato sauce and unbelievably crispy polenta. This dish was without a doubt my favourite of the evening. The beef was perfectly tender, and seemed to just melt in my mouth with every bite. I feel I could eat just this for the rest of my life and be happy.
Next, we had the filetto di branzino, a grilled sea bass with a mint lemon butter sauce, and three sides: the spinachi all'aglio, which is simply sautéed spinach and garlic, the patate fritte della casa, which are the triple cooked fries, and the vedure grigliate, which are the grilled vegetables.
Of course, you can't visit an Italian restaurant without trying the pasta — so try we did. We were served two pasta dishes: the Tagliatelle al battuto di manzo, which is a tagliatelle pasta with a beef sauce, and the Pici all'aglione, a thick, hand-rolled pasta cooked al dente in a tomato and garlic sauce. Both made me feel as if I was sitting in Tuscany rather than London, although I favoured the tagliatelle due to the complexity of the sauce.
Finally, there was dessert, of which we were spoiled for choice. The tiramisu is something of a specialty at Il Borro (unsurprisingly), so of course that was served to us first. When it comes to tiramisu, it's historically not been my go-to dessert choice — but similar to the chicken liver crostini earlier, this tiramisu has me rethinking my stance on the dessert as a whole. It was just the right amount of creamy and sweet, and the kick of espresso in the lady fingers complimented the ample serving of cocoa power beautifully.
Next was the crostatina alle mele, which felt similar to Il Borro's take on a classic apple pie: A puff pastry with apple, almond custard and topped with vanilla gelato. This was also a standout, and the crunch of the puff pastry with the gelato was a great pairing.
My favourite dessert dish, however, was the torta al formaggio fresco, Il Borro's cheesecake with Tahiti vanilla pods and blueberry compote. I'm a huge cheesecake fan and somewhat of a connoisseur — and this one ranks as one of the top cheesecakes I've tried. I will be dreaming of this dessert for years to come, to put it simply.
Overall, Il Borro felt more like a dining experience than a simple restaurant, which, in an area like Mayfair with countless beautiful restaurants that all serve delicious food, is what an establishment needs to stand out.
Image: Il Borro Tuscan Kitchen
Il Borro Tuscan Bistro
15 Berkeley Street, London W1J 8DY
https://ilborrotuscanbistro.co.uk/