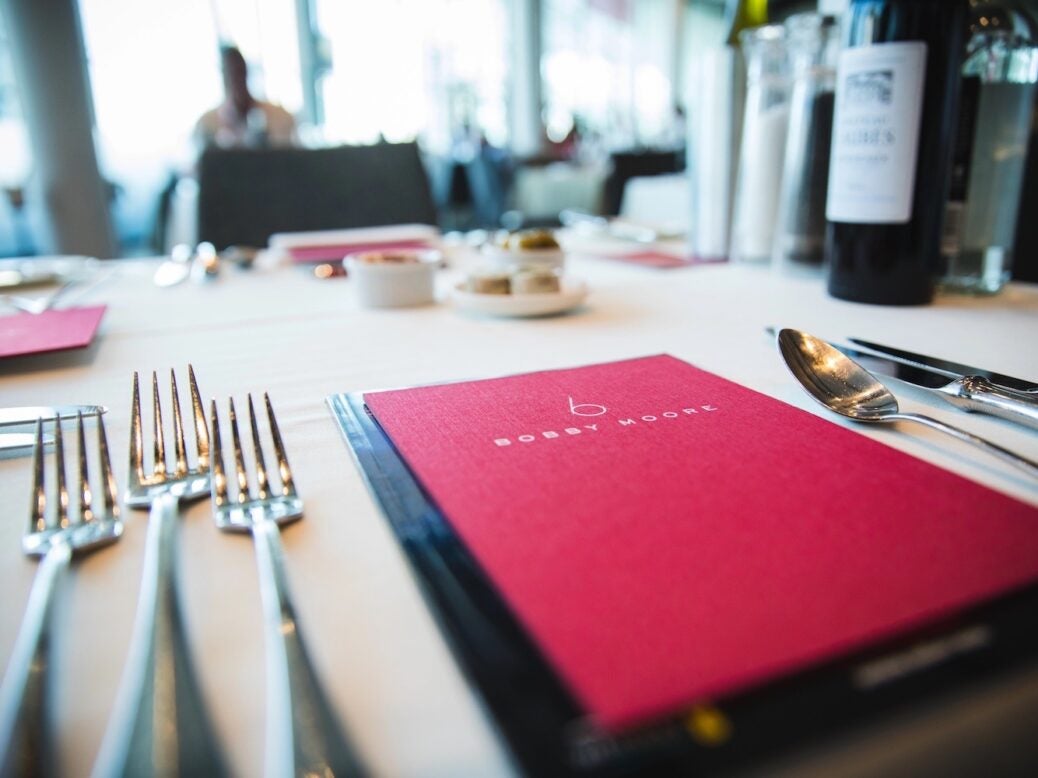 Tanya Ghahremani pitches a more luxury alternative to watching football from the stands.
I've always struggled with football, and I don't think I'm alone. I defy anyone to appreciate the beautiful game from behind a pillar, perched precariously on a fold-away plastic seat one hundred feet above pitch-level. It's like contemplating the Mona Lisa's smile from behind a gaggle of phone-waving tourists. You shouldn't have to buy a football club to have a luxury football experience. Fortunately for me, you don't have to thanks to Club Wembley.
On what feels like the first sunny, warm day of 2022, I headed over to Wembley Stadium in Northwest London to find out what luxury football was all about. The area surrounding the stadium is buzzing, and the upbeat energy emulating from the fans seems powered by what can only be pure excitement (and probably booze).
How much are Club Wembley tickets?
Wembley offers six different tiers of opulent game viewing experiences through its luxury membership-only offering, Club Wembley. They range from the Inner Circle, its least expensive offering at £2,466 which includes access to a number of bars and restaurants for dining options, special seats, and invites to events that allow members to dine in the stadium's changing rooms, to private boxes, its most expensive offering at £39,060 which includes, as its name suggests, a personal private box with a private butler and chef.
I'm there for the FA Cup semi-final between Liverpool and Manchester City, and for the day, I've been granted access as a member of one of the more expensive Club Wembley membership tiers, named 'Bobby Moore'. At £8,268 for membership, it's not cheap — but with perks like four course meals before games at the members-only restaurant (eponymously called Bobby Moore), unlimited Laurent Perrier Champagne, live bands, seats right by the dugout, live jazz bands and football legends greeting diners, it certainly offers bang for its buck.
I enter the stadium through the special Club Wembley entrance, and head up a series of escalators to the Bobby Moore restaurant and bar. Everything down to the member lanyard I'm given for the day feels luxe: it includes details about the match happening, and even an itinerary of the day. From the time I sit down at my table, my champagne glass is filled — and it feels like, for the rest of the day, the wait staff doesn't let it empty once. I should note, this isn't due to a lack of drinking on my part.
Lunch is a four-course experience, with a teriyaki salmon starter, a pesto halibut main, classic chicken and vegetable pies at half-time, and chocolate ganache dessert. Lunch is served before the match, and after mains are finished — and legendary former footballer Peter Reid has dropped by my table to say hello — I'm whisked outside to a seat so close to the pitch that it quite literally feels as if I'm on the dugout.
One of the biggest benefits of Bobby Moore membership is the fact that you're able to retreat inside the members only area during half-time and after the game, so you can relax without having to remain outside when the match isn't happening. On the day I visited, this was a welcome reprieve, due to an unrelenting sun and my lack of foresight to apply sun cream. After the match, members can remain for another hour to drink more champagne, unwind and, most importantly, miss the rush of spectators attempting to leave the stadium all at once.
After watching a match this way once, one feels as if it would be extraordinarily difficult to go back to watching football matches any other way — and luckily, Wembley isn't the only stadium offering luxury membership options for those seeking a unique and opulent experience when they watch their favourite team.
Do other football stadiums offer luxury tickets?
Tottenham Hotspur Stadium has its own premium offering, The H Club, which is described by the club as a 'private Members' Club thrust into the world of entertainment'. Perks include prime seats during matches, entry to Man of the Match ceremonies, training centre visits, access to the luxe Luminaire Bar and the Chef's Table for drinks and dining, and dishes by celebrity chefs like Bryn Williams.
Similarly, Arsenal has its Avenell Club offering at Emirates Stadium, which offers views of the pitch from the box level at the stadium, a private members' bar and lounge space, and, perhaps most notably, personalised coat hooks and seat plaques.
For football fans who want their matches complete with lavish details and champagne that feels like it never stops flowing, private members clubs within stadiums is the way to go — and, after visiting only once, I can guarantee you won't want to experience a match any other way.