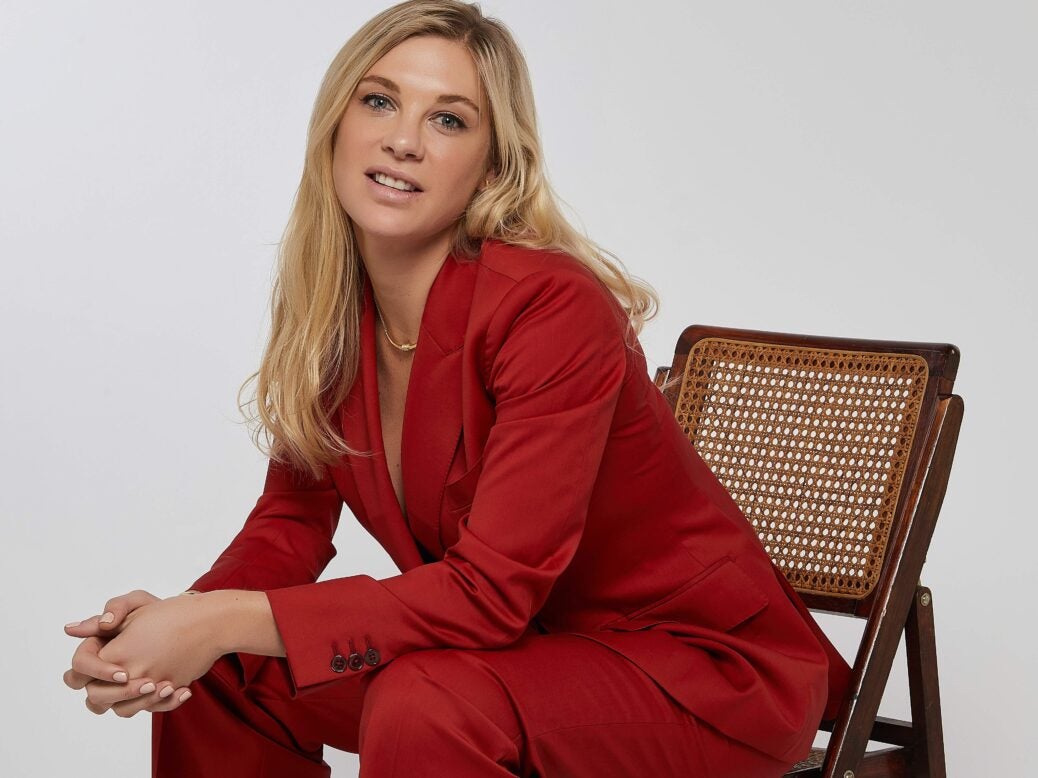 Chelsy Davy is making a name for herself for reasons that won't interest the tabloids – and, as she reveals to Ellen Lister, her home continent is the inspiration for it all
At her home in West London, on a sunlit terrace overlooking the river, Chelsy Davy has just asked me to marry her. Well, she wasn't serious. But the enormous emerald and diamond ring she's just slipped on to my wedding finger certainly is.
It's a perfect summer's evening and, as we enjoy a glass of rosé at the apartment she shares with her boyfriend (so much for that proposal), she laughs and chats as I admire the creation on my hand. Multiple large, rectangular diamonds are set in an uneven halo around a glowing Zambian emerald: shafts of white light emanating from a big green sun.
'This was bespoke. A gift from the husband,' says Davy, selecting another glittering ring that will soon be making its way on to the hand of a client. 'This was designed by an eight-year-old, for his mum. He was amazing, but we helped. He wanted to make a snake with emeralds and sapphire eyes and a little red tongue.'
She points to the tiny ruby snake tongue. 'I did try to talk him out of that.' Then, quietly, she holds up a pair of long emerald drop earrings to the light, studying them. 'See what I mean about the inclusions? You can see them all in there. It tells a tale. It's beautiful.' Of course, Davy needs no introduction to anyone who has seen a British newspaper in the last decade.
But the 34-year-old, Zimbabwe-born ex-girlfriend of Prince Harry – who attended his 2018 wedding to Meghan Markle – looks different in real life. She is as blonde, blue-eyed and tanned as in the pictures, but somehow looks more strikingly beautiful in the flesh. She is also an accomplished entrepreneur, having founded her Africa-inspired jewellery brand, Aya, in 2016.
Its bespoke service was introduced more recently and has fared well, even in the past few months. One of the less negative consequences of the terrible pandemic, Davy notes, is that 'people have had the time to sit down and design or talk about things that they want. They can do that from anywhere'.
Aya's debut collection was designed by Davy herself using a particularly African source of inspiration. 'The first collection was modelled on and inspired by the tusk,' she says. 'The shape of the tusk is very simple, but it symbolises Africa in a really elegant, powerful way.'
However, she adds: 'I would never have thought of myself as a creator.' She says the designs in the bespoke collection are now finessed with the help of a team. At school she thrived at maths and the sciences, while at Leeds University she studied law – all subjects that are more 'black and white'.
'You know what you're doing is right or wrong, so you can do a good job, whereas being creative – I found it very scary. I think I was always more on the business side. Being a "creative" is quite a personal thing, you have to put yourself out there, which I don't feel comfortable doing. I think when you design it's really exposing, and when someone doesn't like what you do it's like…' she gasps in mock horror.
However, Davy does still take a hands-on approach. In the week before our meeting, she made an emergency trip to Hatton Garden to check in on the progress of a piece for one of Aya's clients.
***
Davy began her working life training to be a lawyer at the magic-circle firm, Allen & Overy, in London. As a former magic-circle lawyer myself, I tell her I know the challenges that come with the territory: 'all-nighters', where employees work through the night for ultra-demanding clients, are frequent occurrences.
She was never sure if work would stop her making it home to see her family at Christmas. But she loved a secondment to the Istanbul office, which she describes as 'one of the best six months I've ever had' – even if the project finance work it entailed was less than riveting. A 'laugh a minute', she jokes.
After Istanbul, and two years at Allen & Overy, she decided to move on, although she was grateful for 'the set of tools' it gave her. 'I wanted to do something that would take me back to Africa or be linked to Africa – my heritage, where I'm from. I wanted to be able to go home more.' Initially she planned to start a business creating bespoke furniture, but 'logistically, it was a bit of a nightmare'.
Then, while travelling through Madagascar, she came across some 'star sapphires' for the first time. 'The inclusions in the gemstones create this weird phenomenon,' she explains. 'I think it's called asterisms – I was so fascinated.' She continued on her travels to Tanzania, where she found tanzanites, and then Zambia, where she found emeralds. 'There was something so unique about all these different, beautiful coloured gemstones; they're these beautiful little pieces of Africa.'
I ask her if she believes the stones have meanings – you know, rubies for love, emeralds for power. She takes off her sunglasses and gives me a slightly perplexed look. 'I'm more interested in the fact that these stones had to form in these very uncommon conditions, millions and millions of years ago,' she says. 'It's the fact that no two stones are the same. A high-quality emerald is much rarer than a diamond. It's my science background – I love how they're formed. And the meanings? Yeah, they're wonderful too.'
***
Several times during our interview, Davy mentions that if she'd known what she knows now about starting a business and how tough it would be, she might not have done it. One cruel twist of fate was that a new arm of Aya – a luxury travel offering specialising in Africa – was set to take off in March, just as the wider implications of the coronavirus crisis were becoming clear.
'I launched my travel company the week before lockdown. So, that's great,' she says with a laugh. 'I'm not going to lie – the travel hasn't gone swimmingly so far.' But she's trying to see the bright side.
'A lot of people are booking for next year. I've got the most amazing partner who's been in the industry for 25 years, and she's got the knowledge and expertise, and the passion, which we both share for Africa.'
That partner, Brigitte Walsh, has her own travel company and is known for delivering impeccable safaris. She also knows the industry already thanks to her father Charles, who made his fortune through safari and game reserves. 'I'm inspired by him to work like he does,' she says. 'He has this unwavering positivity, and when you're in business, the highs are high, but the lows are low, and that's something that I didn't realise.'
The bespoke luxury trips that Aya's travel arm offers will never include any destination that Davy or Walsh haven't been to themselves. Davy's dream trip, she tells me, would 'really showcase Africa'.
It would start in Cape Town, at the beautiful hotel Ellerman House. La Residence in Franschhoek would follow, then Matetsi by the Victoria Falls in Zimbabwe, and Mombo in Botswana's Okavango Delta.
She would finish off with a safari in the Lower Zambezi in Zambia, which is where her mother, father and brother are based. In addition to her father's counsel, she has also drawn on the support of a group called 'Female Founders', which was set up by Daisy Knatchbull, owner of women's tailoring house The Deck London.
'It's like 50 of us all around my age doing different things – clothing, nutrition, PR. It's reassuring there are other people trying to find their feet the way you are.' I ask Davy what else helps. 'Running is definitely something I do when I'm stressed. Or wine. Both are good.'
She recently bought a huge paddleboard, too, which leans against a door in her riverside apartment. 'For the puppy,' she says, conjuring up images of a waterborne version of dog-walking, before pulling out her phone to show me videos of a tiny cockapoo called Biscuit, who is due to join her soon. Apart from the arrival of Biscuit, I wonder aloud what's next for Davy – and if there's anything else she plans to turn her talents to.
'The big dream' is for Aya to become a fully-fledged African luxury lifestyle brand. 'I would love it to always be Aya,' she says. At the start of the brand's life she found herself questioning her decision. 'I was like, "Ah, what have you done, you idiot?!"'
Now, though, she has a renewed vision. 'I can see what Aya can be. I want to build this beautiful brand, that does amazing things and works with amazing companies and showcases Africa in beautiful ways. And I think, you know, we are getting there. Hopefully we will get there.'
Read more
Gidleigh Park hotel review: A country house staycation to savour
Cultural Desert: Inside the Arabian art boom
William Sitwell meets Claude Bosi: 'Some of my friends say I'm more British than them'