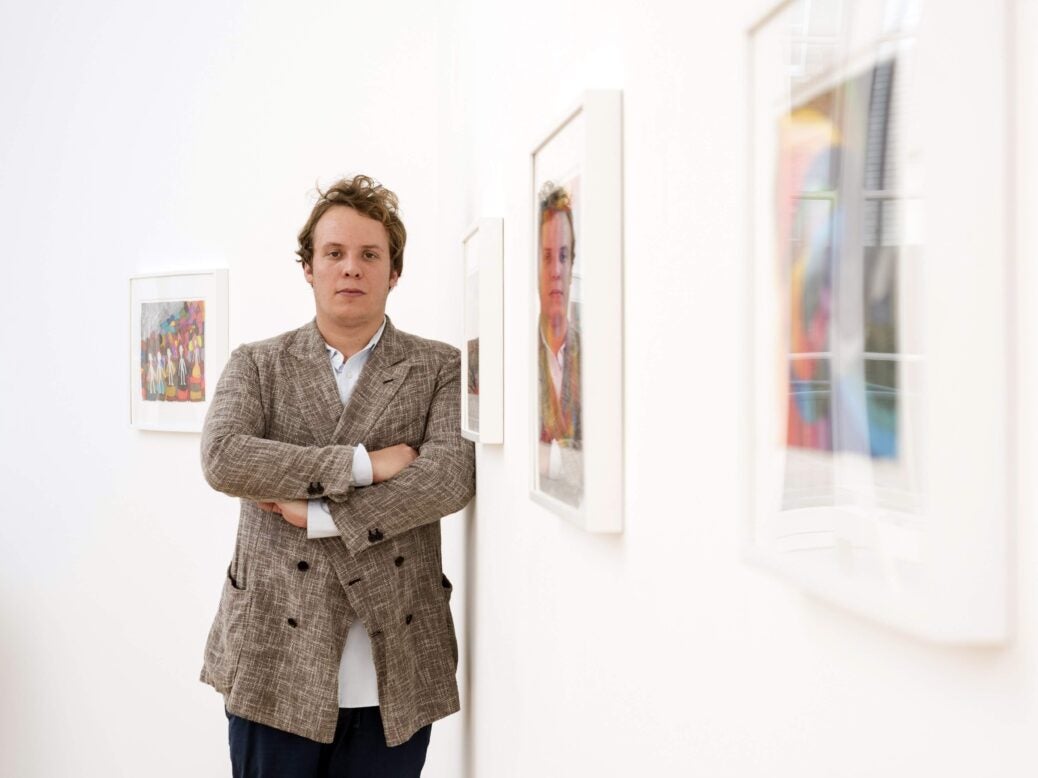 The director of Marlborough Contemporary talks to Spear's about the gallery sector in 2019 and the emergence of art fairs, writes Arun Kakar
Mayfair staple Marlborough Fine Art has been at the forefront of independent galleries worldwide since it was founded in 1946 by Frank Lloyd and Harry Fischer. In the years since, Marlborough has expanded slowly and steadily across New York, Madrid and Barcelona in lockstep with the emergence and evolution of modern art over the 20th century.
Max Levai is the son of Marlborough director Pierre Levai (the nephew of Frank Lloyd) and became principal director of the Gallery's contemporary outpost in Chelsea, New York, in 2012, when he was just 24 years of age.In May 2017, Levai expanded his programming to Marlborough's London gallery where he has been programming the second floor gallery space at Marlborough Contemporary on Albemarle Street, Mayfair, where Spear's caught up him to discuss he thoughts on the gallery sector and its future.
Marlborough's Mayfair branch
What are your general thoughts on 2018 in the gallery sector?  
It's a complicated time for galleries. While many are seeing a decline in attendance at the gallery, what is encouraging is that it feels like we are communicating with more and more open-minded collectors from different parts of the world than we ever have before.
How does this affect galleries? 
It affects a dealer's morale. The exhibitions in our galleries are a good dealer's primary focus, pride and joy. We would obviously prefer a model where everyone comes to the opening, where we engage with our audience directly and we get a newspaper review every month. That being said, a dealer interested in building a program of artists needs a space to create a culture around the work they show. An artist needs the gallery to work through their ideas and develop their oeuvre. These realities have not changed.
How have art fairs changed the market?   
The success of art fairs over the last ten years is a product of the international growth in the market and general interest in contemporary art more broadly. While many people love art and consider it a part of their life, not many can make the time to regularly visit the galleries. By bringing the galleries together and creating a party over a weekend in exciting cities such as Miami or Hong Kong, the fairs make it easy and fun for the collector. 2018 feels like the peak of the art fair, with a different fair in every month of the calendar year. Galleries have had to adjust and essentially now need two teams; one that holds down the gallery and the other on the road traveling from fair to fair. 
Why do you think the number of art fairs has increased drastically?  
We have reached a point where there are too many fairs. I think there's a misconception that fairs are always profitable for galleries. The collectors who have been going to the same art fairs for ten years might [become] sick of going to the same place – it's a hectic few days and the novelty feels like it is wearing off. Many collectors show up just for the preview hours now. Dealers are less excited about making the trip, so I wouldn't be surprised if things change gradually. Something has got to give.
Arun Kakar writes for Spear's
image credit: Marlborough London and Deniz Guzel