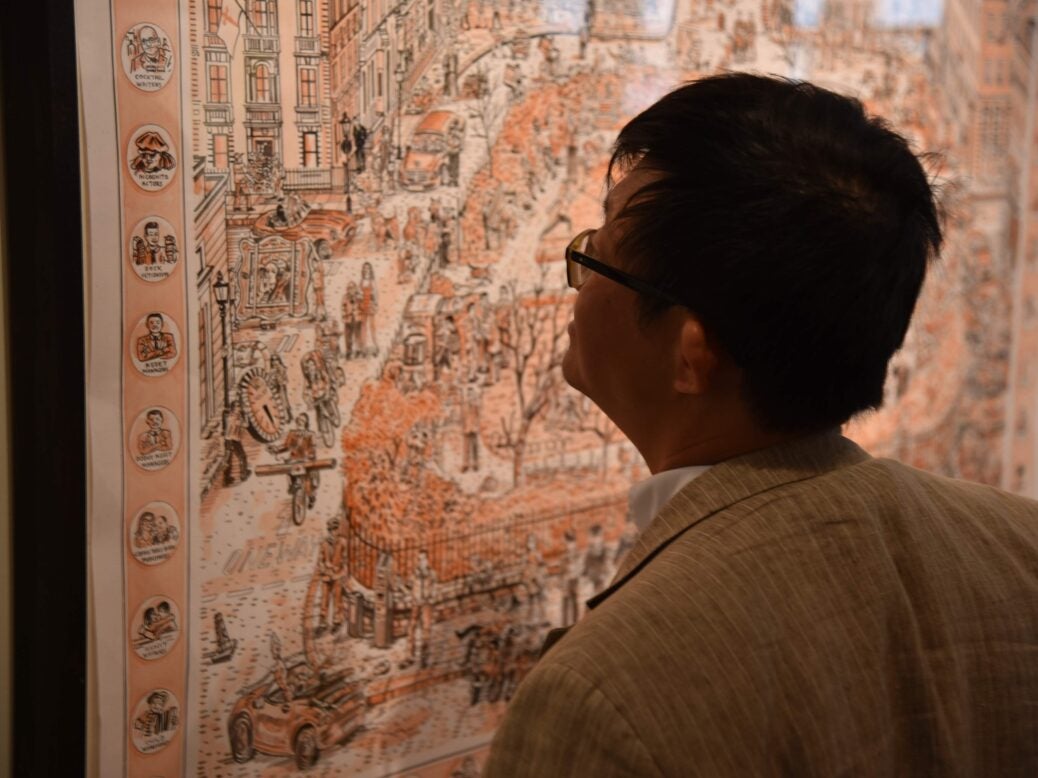 Spear's' favourite artist is ecstatic at the launch of Maps of London and Beyond, a hand-drawn guide to the City's eccentricities, writes Arun Kakar
England's impending defeat to Belgium in the world Cup did little to deter a busy and buzzing crowd last night at the Map House for the Launch of Spear's artist Adam Dant's new collection, Maps of London and Beyond. Wielding Hendrick's gin and tonics, guests were shuffled around the House's network of rooms, where works from Dant and others lifted from its 10,000-strong inventory were on display.
Published in large format by Batsford, in conjunction with Spitalfields Life – a blog that covers the curiosities of East London – Maps of London and Beyond is a kaleidoscopic view into the history and life of the capital, as realised through the artist's trademark inventiveness. Readers of this title will be familiar with Dant's quirkiness and with a cast of characters including Shakespeare, Barbara Windsor and Wary Wollstonecraft, he remains true to form.
Greeting guests as they enter is the striking London Enraged, a chart tracing the history of London's most significant riots, from Poll Tax to Tottenham. Along the way, Shipwrecks charts the sunken vessels lying underneath the Thames, and St. James Square is a veritable 'guess who' of colourful characters, from Christie's dealers to Uber drivers hectically populating the scene.
Dant, the official artist of the 2015 general election whose work can be seen adorning the covers of Spear's, was beaming throughout the evening as guests pored over the details in a forensic manner.
No doubt most were alerted to the news of the day that this artist, a great chronicler of gentrification, is soon to find his own studio a victim of his most renowned subject. Making no mention of the news that his Shoreditch studio might soon be demolished, Dant's short speech graciously thanked both the audience and the store, which will host the display until the 14th of July. One anticipates that London holds plenty more for him to lend the wit of his pencil to in the years to come.
Adam Dant's Maps of London and Beyond exhibition is presented by TAG Arts at the Map House, London.
Arun Kakar writes for Spear's